The Barclaycard Arrival Plus card sign up bonus is currently 40,000 miles. You can redeem the miles for a $400 statement credit. You'll get an extra bonus on the travel redemption, so it's really a $420+ offer!
It's our Free Money offer this week.
How to Get Your Sign Up Bonus
Apply for the Barclaycard Arrival Plus* card.
Earn 40,000 miles after you spend $3,000 in 90 days.
Redeem your 40,000 points for a $400 travel credit.
*Find and compare all current credit card offers in our credit card directory.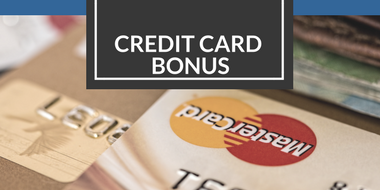 Terms and Conditions
$89 annual fee, waived for the first year.
This offer is available to new cardmembers only.
A travel redemption is defined as: airlines, hotels, motels, timeshares, campgrounds, car rental agencies, cruise lines, travel agencies, discount travel sites, trains, buses, taxis, limousines, and ferries as defined by the merchant category code.
More on Barclaycard
Earning Miles. The Barclaycard Arrival Plus will earn 2x miles per dollar on all purchases.
Redeeming Miles. To redeem your miles, log into your account and select "Pay yourself back for travel" to receive the full value of the offer. Here are step by step directions on How to Redeem Your Barclaycard Miles for Travel. If you do not redeem for travel, cash back statement credit redemptions start at 5,000 miles for $25.
5% Bonus. You will earn a 5% bonus on redemptions. The math on the bonus is very bizarre, but if you redeem for travel, you'll get a 5% bonus. It's really a way to increase your cash back with the card. For example, if you make a $400 travel purchase, you can redeem a $400 travel statement credit by redeeming your 40,000 miles and you'll earn an additional 2000 miles to redeem later (worth another $20). Your purchases will then stretch to your overall earnings to 2.1%. If you consider that you could earn another 5% bonus when you redeem the 2000 miles later, the cycle will continue to repeat and your earnings will grow. To see a breakdown of the math, see the Best Way to Maximize Barclaycard Arrival Points.
Intro Rate. 0% Introductory APR for 12 months for each Balance Transfer made within 45 days of account opening.
More Popular Free Money Offers