Posted by
Kristen
on January 5, 2017
Get organized and simplify your bill paying process. It's one of the most popular ways to get your personal finances organized.
One of the most common New Year's Resolutions people will make this year is to get organized. While it is always helpful to get organized around the house by cleaning out closets, under the bed, the garage, and wherever else is messy, it's always a good idea to get organized with your bills.
Easy Ways to Organize and Simplify Your Bills
Getting your bills organized and developing a more efficient way of paying these bills each month, can reduce the stress of paying them, can eliminate late fees, and can ultimately improve your financial health. Here are some tips for getting organized with your bills every month.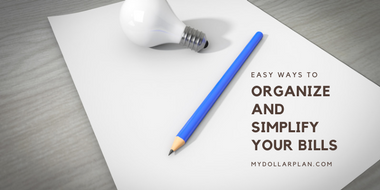 Organize Your Bills
Update your account settings.
Sign onto each of your accounts to update your settings regularly. Make sure you have the correct mailing address, e-mail address, and phone number so you are getting all of your bills, new cards when the old card expires, and any notifications about changes to your account or any updates of fraud. In many cases, you can also choose if you want to eliminate paper statements altogether and get your statement online instead. Do what works best for you. If you move around often or are an avid online banker, it might be a good idea to do it online. If so, find out whether you will get an e-mail statement or if you will have to log into your account to view your statement. For me, I like the traditional method of having paper statements.
Organize your office area.
Whether you have a separate office or simply a specific folder in a convenient drawer, there should be a designated place for your bills. Simply throwing them in a drawer or on the counter can result in you misplacing it or forgetting to pay it all together. Designate an area that bills go before you pay them. This is especially important if there is more than one person bringing in the mail everyday. Once you pay the bill, where will it go? Designate an area where past statements go and how to indicate that the bill is paid.
Start looking at your statements.
Many people simply pay the bill each month without taking time to look at the statements. But doing so can prevent fraudulent charges or something you may have been wrongfully charged for.
Get on the same page as your partner.
If you are married or paying bills jointly, work on your communication so you can be on the same page. Is one person in charge of paying the bills? Is one person in charge of specific bills? You want to avoid thinking your partner has paid something only to find that neither of you has paid the bill and you now have a late fee. How will you keep track of bills being paid? Who will balance the check book? When are the bills getting paid each month?
Make a single e-mail address for bills.
Create a separate e-mail address for all of your bills and accounts. This way they do not get lost amongst coupon deals, work e-mails, e-mails from friends and family, and any junk mail. Update your accounts with this separate e-mail. Make it easy to spell and say so if you are communicating it to a customer service representative, it is easy for them to understand. Check this e-mail regularly to stay up to date on any notifications or changes to your account. This is helpful because you can put important e-mails in a separate folder such as your log in information or other important account information. You can create a separate folder for bill confirmations so you can keep track that you paid your bill.
Sign up for automatic payments.
If you can, enrolling in automatic payments is a great way to stay organized with your bills. It will help you pay your bills on time since it is simply deducted from your account on the day it is due. This is also beneficial since it will help eliminate any late payments that will result in pesky late fees, a rise in your interest rate, and even bad reports that could negatively impact your credit report and rating. Better yet, some companies will even offer more benefits to signing up for automatic bill pay like a percentage off each month or a lower interest rate. The key here is to always make sure you have money to cover your bills in your checking account that is connected to the bill account. Because you are not actively signing on to pay the bill or writing a check to pay it, you may not budget for it or deduct from it from your checking account. Be sure to still keep track that this money is going out.
Schedule your bills like you schedule your events.
Do you have a calendar where you write down plans with friends and doctors appointments? What about a calendar on your phone where you keep track of all events you have coming up? Just like you schedule in these events, keep track of when a bill is due. Since chances are you have more than just a few bills you pay every month between utilities, cable, internet, cell phone, memberships, credit cards, student loans, and so on, it is easy to forget one. Once you pay the bill, cross it off, make a check mark, or do something else to signify that it is paid.
Try to reschedule your due date.
Some of your bills that you are paying, may offer a flexible due date. If you can, call customer service to see if you can move the due date each month for your bill. Schedule it so it is on the same days as other bills you may not be able to move. Having the bills due around the same times as opposed to scattered around the month will make it that much easier to keep track that you paid it.
How do you plan to get more organized this year? What are your best tips for staying organized with your bills every month?
More Ways to Get Organized
---

You can get my latest articles full of
valuable tips
and other information delivered directly to your email for
free
simply by entering your email address below. Your address will never be sold or used for spam and you can unsubscribe at any time.