Posted by
Kristen
on December 9, 2013
The holiday season is often thought of as a fun, festive time filled with wonderful memories that are shared with your family and friends. But it can also be a stressful time and wreck financial havoc if you are not prepared with a budget. Before you head out and stock up on all of your holiday gifts this year, you should make a game plan on how much you're going to spend and how much money will go where. Here is a guide to making your holiday budget this year and some tips on how to stick to it.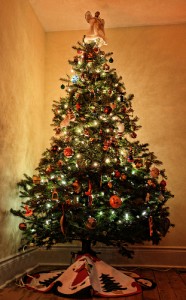 Photo Credit: bambe1964
Make a Holiday Gift Budget This Year
Just like you figure out your monthly income and monthly expenses to come up with a budget to help you stay on track, you can do the same for your holiday gift spending. Besides keeping you organized on who you need to buy for, you will also avoid overspending, which is a huge problem this time of year.
A holiday gift budget is just like a regular monthly budget – figure out how much money you can start with, how much you want to spend and make it balance by allocating the money appropriately. Here is how to make your holiday gift buying budget:
How to Create a Holiday Gift Budget
First, determine the amount that you can spend on holiday gifts this year. This is particularly simple if you have been putting money aside specifically for holiday gifts. If you have already been saving money, you can skip ahead to the next step. Keep in mind this is only for the holiday gifts.
If you have not been putting money aside or saving for your holiday gift shopping; you need to determine how much you can spend. Sure, you can simply throw your gifts on your credit card or take the money out of your bank account, but you would probably like to avoid dipping into the money you need to pay other bills. Charging your holiday gifts can make them cost much more since you are then paying interest on whatever you charge. While many people do it around this time of year, it is best to avoid going into debt to celebrate the holidays.
To figure out what your budget is and how much you can afford to spend, first determine if you have any extra money for the month by subtracting all of your bills and expenses for the month. If you have extra money, that is what you can use for holiday shopping. If you don't have extra money, can you cut back somewhere? Skipping going out to dinner, cutting back on food costs, and taking public transportation instead of the car are just a few ways you can save a little for your gifts. On the other hand, you can also try to earn extra money during the holiday season. Take on extra hours at work, pick up a part-time job, take on a freelance gig, try to earn extra cash by babysitting, walking a dog, or so on.
Now that you know how much you can spend on everyone on your list set that amount aside.
Make a list of everyone you need to buy for. Your list may include your immediate family as well as cousins, aunts, uncles, and so on. Other people on your list may include your friends, coworkers, boss, neighbors, teachers, children's teachers, a secret Santa or grab bag in any club, class, or your job, and more. Think about your daily, weekly, and monthly routines. You may remember someone you originally missed. Think back to last year and who purchased you a gift.
After you make your list, you can then disburse your amount amongst those who you are buying for. You may need to do it a few times to make the amount balance, but once it is done, you will know how much you can spend on each person.
Don't forget to account for other costs such as shipping, packaging materials, wrapping paper, gift tags, bows, and so on.
Stick To It
Try to combine recipients if you can. Purchase a gift for an entire family opposed to each person in the family. Check out our gift guide for couples for budget friendly ideas to give the couples on your list.
Check out our gift guides for reasonably priced gifts for each special person. Whether you want to buy something personalized or if you're shopping for a Secret Santa gift under $20, you can find an affordable option.
Find the deals. Many stores offer great deals this time of year so do your research before heading out.
Sign up for a store's e-mail list. You may receive coupons and notices of promotions and sales.
Before you make a purchase online, visit Retailmenot.com to see if there is a coupon code you can enter to save a percentage off.
Use wrapping paper, bows, tissue paper, and other gift packaging from last year if you have saved it.
Another option is to ask friends and family to set a limit or price range on how much gifts should cost.
Keep track of the exact amount you are spending on each person. Sometimes if you are grabbing one part of the present at one place and the next at another, you can end up spending more than you had anticipated.
While you are keeping track, write down the actual cost. While a shirt may cost $20, after shipping and/or tax, it could cost $30 instead.
If you're shopping online, consider doing a bulk of it from the same store. Many times stores offer free shipping if it is over a certain amount.
Consider an alternative to a purchased gift. If you bake or cook something that the recipient enjoys, make it along with a nicely printed recipe or a nice note to go along with it. If your crafty or artsy you can make something for them. Make them a scrap book or photo book with all of your memories you have with them. For more ideas see the list of 37 Frugal Homemade Gifts Under $20.
Do you stick to a budget while holiday shopping or just spend as you go? How do you save on holiday shopping?
More Holiday Spending Tips
Check out today's hottest holiday
Lightning Deals
. Hurry, they change fast and sell out quickly!
---

You can get my latest articles full of
valuable tips
and other information delivered directly to your email for
free
simply by entering your email address below. Your address will never be sold or used for spam and you can unsubscribe at any time.