Posted by
Kristen
on December 6, 2012
The holiday gift guide series is all about teachers this week highlighting inexpensive gift ideas for teachers!
With the holidays quickly approaching, how to save money on presents is a concern for everyone no matter who we have to buy for. Between stocking stuffers and buying for our friends and family, we might forget to buy something for an important person – the teacher in our lives. Whether it's your children's teachers or you are in college yourself and have your own teacher, giving a holiday present to show our teachers how much we appreciate all of their hard work is important. You don't have to spend a lot of money to give your teacher a great present.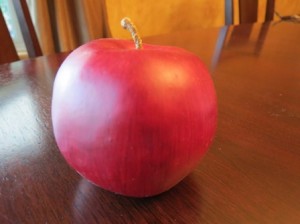 Source: Kristen
Inexpensive Gift Ideas for Teachers
A good book. Most teachers love to read and can always appreciate a good book. You can find discounted books on Amazon, at used book stores, and even at sales your local library may be having. Give your teacher a book about a subject matter you know is important to him or her. Or, you can also give them a book that was inspired by something you or your child has learned from them.
Spa products. Teaching is a rewarding career, but it can definitely be stressful. Give your teacher an aromatherapy hand soup, lotion, or candle. This way they can wind down over their holiday break. Besides stress relief products, any type of antibacterial product will never go to waste for a teacher. You can find antibacterial soaps, hand sanitizers, and lotions in holiday themed scents in almost any store you walk into.
Homemade food. Making something yourself with the help of your kids is a thoughtful and much appreciated gift for your teacher not to mention easy on the wallet. It can be something simple like baking cookies, brownies, or cupcakes. Or you can even think outside the box for something unique. If you make a delicious homemade sauce, jar it for a gift. Whether its jelly, chocolate covered pretzels, or even homemade wine, a homemade food gift is practical for both of you. Before you head out to buy your ingredients, be sure to look for deals, clip coupons, and keep in mind the other ways to save money on your grocery bill to make the present even more affordable.
Homemade products. You don't just have to be a great cook to give something homemade and heartfelt to your teacher. With your child, make a craft project to give instead. Your child's teacher would love to have something that their student made. You can find inexpensive craft projects like painting a jewelry box or making a blanket or scarf. If you're feeling extra creative, you can even make homemade soap or a candle. To make it personal, try to do a project inspired by something your child learned throughout the school year so far.
Office Supplies. Office supplies may sound boring at first, but they definitely don't have to be. Teachers are constantly using them so why not give the something they actually need. Personalized or decorative stationary or post-its, good pens, and stylish storage bins are just a few things you can give. A pocket or desk calendar is another good idea to help them stay organized.
Coffee gifts. Seeing that teachers are getting to school early to help and staying up late to create lesson plans and grade papers, anything coffee related is useful. Gourmet coffee is always a welcomed gift. A convenient coffee traveler mug to carry with them back and forth to school is always a good idea. If you're not sure if your teacher is a coffee drinker, you can't go wrong with hot chocolate or tea instead.
Art supplies and products. Art supplies are like a revolving door in any teacher's classroom. Construction paper, paint brushes, paints, stickers, stamps, chalk, stamp ink, and much more don't cost much, but they will go a long way.
Gift certificate. In the past, I've always avoided giving gift certificates because I was trying to cut back on the price of the gift. But a friend of mine gave me a simple $5 gift certificate to a sandwich shop in the area, and it was a great gift. I appreciated the thought of her essentially paying for my lunch one day. And then I realized, just because I don't want to spend $25 or $50 on a restaurant or clothing store gift certificate, doesn't mean I still can't buy give a great gift. A $5 or $10 gift card can buy your teacher a gourmet cup of coffee from a local coffee shop, a great pair of earrings from a clothing store, a movie ticket at a theatre, supplies from a craft or office store, lunch from a reasonably priced place, and a whole bunch of songs on iTunes. Check out the list of gift card deals for more ideas.
I really can't afford a gift for the teacher this year…
If you are really pinching pennies, and it just is not possible to pay for a gift for your child's teacher this year, you don't have to feel guilty. There are lots of ideas for free Christmas gifts for teachers:
Have your child write a long, heartfelt note about what they love about their teacher, what they have learned, their favorite classroom activities, and their favorite topics will definitely be appreciated by any devoted teacher.
You can also donate products to your teacher's classroom. Many teachers spend their own money to fund extras for their classrooms like toys, games, art supplies, and books. If your child has anything they don't use anymore, offer to donate it to your teacher.
Another completely free option is to volunteer your services to whatever he or she could use help with. Teachers can always use help cleaning up their classroom, getting organized, setting up bulletin boards, or running a type of event for the students. Besides giving your teacher a huge helping hand, you also get the chance to be a part of your child's education and show that you are a caring, involved parent.
What inexpensive gifts do you give teachers? What are homemade gifts that you give teachers?
More Inexpensive Christmas Gift Ideas
Check out today's hottest holiday
Lightning Deals
. Hurry, they change fast and sell out quickly!
---

You can get my latest articles full of
valuable tips
and other information delivered directly to your email for
free
simply by entering your email address below. Your address will never be sold or used for spam and you can unsubscribe at any time.