Posted by
Kristen
on November 29, 2012
The holiday season is filled with joy, love, and excitement, right? For the most part, it definitely is, but there's also another side of the festive season. The holidays can wreak havoc to our budgets and be quite financially stressful. But you can still have a great holiday season without going broke. If you're like me and most other people, the main cause of your wallets being drained is of course, the gift giving. But with some planning, you can end that this year. Here's how to plan out your gift buying, ways to save money on gifts, and unique alternatives to gift giving.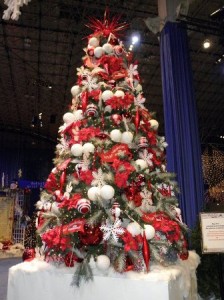 Photo Source: Kristen
Steps for Planning your Gifts
Every year, I head to the mall with the intention of "Christmas shopping." When I get there, it's chaos. I overbuy, I spend too much on some people because I'm not keeping track of my spending, and I end up impulse buying. By setting a budget and making a plan, you can avoid extra, unnecessary spending.
Make your gift budget.
Just like how the best way to save on a vacation is to make and stick to a budget, keeping to a limit with your holiday gift spending is vital for your finances. Determine how much you can comfortably spend without getting into debt.
Make a list of everyone you have to buy for.
Every year while I'm Christmas shopping, I seem to remember someone else I have to buy something for. If you make a thorough list ahead of time, you'll be much more efficient. Besides family members and friends, consider any neighbors or coworkers that you could overlook. There are also people such as your child's teacher, your family babysitter, a doorman if you live in an apartment, or even a community leader that you may want to add to your list.
See who you can eliminate.
After you have your list of people you want to buy gifts for, go through each one, and see if you could cross any off. Maybe you can suggest not exchanging with your sisters and brothers or a group of friends this year to save money.
Put an amount next to each person.
Chances are you're not going to be spending the same amount on everyone. Since you already have a set amount of how much you can spend on your gifts, you can divide it up as a set amount for each person. Amongst your family, close friends, and co-workers, set a price limit of what you can spend on each other. This way you don't have to be concerned with receiving a gift worth much more than what you spent.
Start brainstorming.
Once you have your list of everyone you need to buy for and how much you're going to spend, you can plan ideas of what to give them. Planning ahead allows you to avoid multiple trips in shopping which wastes time and will help you save money on gas. This also gives you time to find the best deals.
Ways to Save
Start shopping early.
Plan ahead, and start shopping early so you're not pressured for time. If you're picking through shelves on Christmas Eve, chances are you're not going to be able to have your budget in mind and going to have to grab whatever is there.
Do a grab bag.
Instead of buying for everyone, you can just buy for one person instead with an organized grab bag.
Set a limit.
As I mentioned before, when you're exchanging with a group of people, set a specific limit. This way you're not spending more than you need to.
Look for coupons and deals.
The same way you look for sales and clip coupons when you're trying save money on your grocery bill, is the same way you should be trying to save on your gift giving. Certain stores offer coupons and rewards by doing an e-mail sign up.
Skip expensive wrapping and ribbons.
Wrapping paper looks beautiful, but it takes three seconds to rip it off the gift before it goes in the trash. You are literally throwing money away with spending a lot on wrapping. Opt for cheaper wrapping, or homemade wrapping and skip the fancy ribbons and bows. Have your kids make wrapping paper by painting or coloring paper instead.
Shop smart.
You don't have to spend a lot of money to give a good gift. A simple necklace or a pretty scarf is a great gift for your fashion forward friend. Kids can love coloring books and crayons. Coffee, a bottle of wine, candles, and picture frames are all affordable options. Visit the dollar store for great additions to your gift. Wine glasses fit with a bottle of wine, a mug is a great addition to coffee, and dish towels are great for family and friends that love to cook.
Alternatives to Gift Giving
Showing someone how much you care about them doesn't necessarily mean spending a certain amount of money on them. Instead of using your money to buy them a gift, there are alternatives to spending your cash:
Make something as a gift.
Homemade gifts are personal and thoughtful. Whether it's a photo album, blanket, homemade cookies, or scarf, use your talents to make something unique. This is a great way to get the kids involved. Help them make ornaments, picture frames, or other crafts for your entire family.
Get together instead.
Suggest getting together with your family, friends, or co-workers instead of gift giving. Ask them to bring a dish or a drink instead of a gift for a fun party. Suggest a fun outing or a dinner out with friends instead of a gift.
Do something for them.
In many cases, people will appreciate you doing them a favor more than they'll appreciate a gift. This is especially easy to do if you're open with your family and friends about your debt not wanting to spend a lot of money. Offer to babysit your friend's kids so they can go out to dinner, help them with a home improvement project they've been trying to do, or cook them a delicious dinner.
How do you save money on holiday gifts? What are alternatives to gift giving you enjoy?
More Ways to Save During the Holidays
Check out today's hottest holiday
Lightning Deals
. Hurry, they change fast and sell out quickly!
---

You can get my latest articles full of
valuable tips
and other information delivered directly to your email for
free
simply by entering your email address below. Your address will never be sold or used for spam and you can unsubscribe at any time.