Posted by
Madison
on March 17, 2015
I know many of you who also pick up some side money selling on Amazon have been waiting for these numbers… last year our Amazon business generated over $100,000 in total profits!
We had just over $290,000 in sales and sold over 8,400 items last year. Here's how!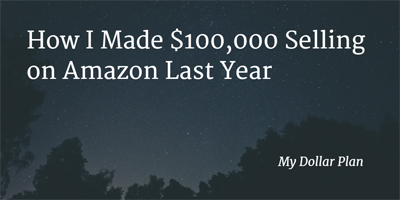 Background
If you are a new reader, and this is the first you've heard about my adventures selling on Amazon, here is some background on how it started.
What began as a side project after reading Selling On Amazon: How You Can Make A Full-Time Income Selling on Amazon turned into a $10,000 profit in the first year, a $50,000 profit in second year, and now in the third year met my goal of making six figures selling on Amazon.
Since I've detailed my experiment selling on Amazon from the beginning I know many readers are also trying it out, sharing their success stories along the way.
Many of you have expressed that you use these income reports as a comparison for your own profits to analyze how you are doing and compare results. Let's break it down!
Profits From Selling on Amazon
Here is how my Amazon FBA Seller numbers broke down for 2014:
Sales: $292.6k
Cost of Items Sold: $113.8k
Shipping, Warehouse, Overhead, Workers, etc: $16.3k
Amazon Fees: $72.4k
Base Profit: $90.1k
Additional money made on the purchases (which included online cash back, credit card rewards, a free trip to Steamboat etc): $12.1k
Total profit: $102,200.
As always, because Amazon allows holiday returns through January 31, I make sure that January this year isn't a negative number. If so, I'd need to mentally subtract it from my 4th quarter profits last year. Just like the prior year, sales continued and more than outweighed any returns in January. We ended January 2015 with a base profit of $3k after all the holiday returns.
In addition, we carried over quite a bit of inventory into the new year. I wanted to adjust my expenses to properly account for prepaid expenses that weren't sold yet. I calculated my inbound shipping and packing expenses that were prepaid at $1.60 per item. I also adjusted for any credit card bonuses and cash back on the unsold inventory. The net change was actually only $2k difference since the changes offset each other. Since it was such a low amount relative to the overall numbers, spending the time running the numbers both ways was probably a big waste of time!
Successful Doubling of Profits
As I mentioned we made $50,000 Selling on Amazon Last Year. What's the difference between the 2 years and how did I double it?
There were three factors that I implemented this year that made the majority of the difference:
Outsourcing. I outsourced all of the inventory processing this year. I used My Inventory Team to receive, prep and ship all of my inventory to Amazon this year. This was a major improvement in process that allowed me to scale the business.
Innovation. After a lot of thought (because I'm a huge cheapskate and buying a $200 book makes me ill), I bought a used copy of Online Arbitrage. I will write a more detailed review in the future, but implementing some of the strategies in the book more than paid for it. I was already buying the majority of my inventory online, but it opened my eyes to buying inventory directly from Amazon! In addition, it gave me some ideas that I used to brainstorm other ways to innovate and automate my purchasing.
Time spent. While I didn't ship much this year since I outsourced that piece, it did take a significant amount of time just to purchase and track over $200,000 in purchases. 80% of the purchases were done during October and November. If I had to guess, I probably spent 5-6 hours a day while the kids were in school over about 7-8 weeks. I also spent another 1-2 hours per day during December for monitoring prices, bookkeeping (I use QuickBooks), and staying on top of everything. Almost all the work was done during the 4th quarter; overall I spent about 300 hours total.
Making Improvements
Inventory. We ended the year with $98k in inventory. In the previous year I sold too much inventory the week after Thanksgiving and didn't have enough to sell in December. I handled that much better this year, but I obviously swung too far the other way and ended up carrying a little too much inventory over into the New Year. However, it is a nice cushion to provide additional profits (like the $3k in January) without much work.
Taking Losses. Some of the inventory above that I carried over may not be very profitable. In addition Amazon changed some of their long term storage rules so I'll have to focus heavily this year on How to Cut Your Losses Selling on Amazon. Hopefully, the future profits will offset any of these losses!
Action Plan
While in reality I didn't spend a lot of hours on this project (compared to other ways to generate a similar income… like an actual job), it was a lot of my time and it did feel a bit all consuming during the 4th quarter. It was on my mind all the time during the holiday season!
It's a fun hobby, but as we all know, I have lot of other money making ideas that I like to pursue. In addition, I need some time to focus more on my first priority… writing here for all of you! I'm sure I'll pick it up again in 4th quarter, but I think now that I proved to myself I could meet my stretch goal, I'll probably scale it back to a more reasonable time commitment. My ideal would be to find a sweet spot where I minimize my effort and time and maximize the profit.
Once again, I'm happy to answer to do another Selling on Amazon: Reader Q & A. What questions do you have?
If you have an Amazon business, how did you do last year?
More on Amazon
---

You can get my latest articles full of
valuable tips
and other information delivered directly to your email for
free
simply by entering your email address below. Your address will never be sold or used for spam and you can unsubscribe at any time.