Posted by
Madison
on April 19, 2017
Private label Amazon results are in! Last year I explored a new way to make money selling private label products on Amazon.
Before I pour all my energy into my newest project (the new travel blog), I promised an update on the private label products!
The first year was a financial success. It turns out you can make money selling private label products. Here's how much I made, what worked and what didn't, the mistakes I made and why I don't love it.
Private Label Amazon Background
Last year I launched a new private label product to sell on Amazon. Before that I was selling on Amazon in retail arbitrage. However, after making $100,000 Selling on Amazon one year, I was ready for something new!
I followed the free Jungle Scout video series and web app to launch the first product.
These are the results from launching the new product last year.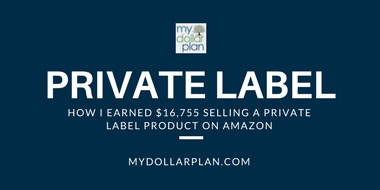 Profits From Selling on Amazon
Here is how my first private label product broke down last year (although it wasn't a full year since I started last spring). The numbers from QuickBooks:
Sales: $70.2k
Cost of Items Sold: $21.5k
Amazon Fees: $19.5k
Ongoing Expenses – Shipping, Warehouse, Inspections, Advertising: $13.1k
One Time Expenses – Promotions, Samples, Photography, Office Supplies, Logo, Website: $1.6k
Base Profit: $14,500
I put the purchases on our Capital One Spark Cash for Business for the $500 Sign Up Bonus and 2% cash back. The credit card rewards earned an additional $930.
In addition, I earn credit card cash back on the advertising and ongoing expenses each month, rotating through cards in my $4,292 Credit Card Application Spree and the $3,878 from American Express in 5 Months to meet spending requirements. That accounted for another $1,325 in rewards!
Total Profit: $16,755
Behind the Scenes Look at Pricing, Competition and Inventory
Pricing. I started with $30+ product as planned. It started selling too fast… a nice problem to have, but I quickly realized that I would sell out before we were ever able to restock. I raised the price above $40 to try to stay in stock. It sold out. It was out of stock for two weeks. Never wanting to go out of stock again, I ordered a FULL container!
Competition. Like every business out there one person's success is another person's opportunity! The huge run-up in price and going out of stock was great for my initial profitability. Unfortunately the success was also probably its worst enemy. It must have triggered every product tracker like Jungle Scout that indicates new products selling well!
Almost twelve weeks after going out of stock, I had about a dozen new competitors selling similar products. Many were competing on price. I decided not to compete on price since I believed my product was superior, however, the sales slowed down.
Overstocking. Let's get back to that container! Determined not to run out of stock ever again, I swung way too far in the other direction! I now had too much inventory and I made the mistake of sending it in to Amazon. Since the product was selling slower with the new competition and I had to pay for increased warehousing during the holidays, my expenses were starting to stack up.
Faced with long term storage fees, I finally gave in on the price and cut the price by about $10 to quickly unload some of the overstock. Since then, I've slowly increased the price to try to identify the price point that makes the most overall profit.
Going Forward
Currently, the product sees steady sales at a profitable price point. However, the inventory on hand needs to match the sales so that warehousing and storage fees don't erode the profit. I'm carrying about $60,000 worth of this product, so the numbers this year will likely reflect some of my poor choices on overstocking it.
In the long run, I think it will do well. At the same time, based on the success of the first product, I also expanded to second product that was a variation of the first. I have the third product in the line ready, but I'm holding off for now.
Why I Don't Love It
I mentioned that I don't love it. It's not that I don't like the process of selling private label products. In fact, I thought it was fun to analyze all the numbers and play with the advertising reports.
It's the product I chose. The product is boring. So boring in fact, that I have a hard time paying attention to it. If I was passionate about the product it might be easier to keep expanding it.
If you are considering selling private label products, choose a product you are interested in!
Now that the product is up and running, I'm debating whether to continue selling it or to sell the product line to someone else.
Have you thought about selling private label products on Amazon?
More on Selling on Amazon
---

You can get my latest articles full of
valuable tips
and other information delivered directly to your email for
free
simply by entering your email address below. Your address will never be sold or used for spam and you can unsubscribe at any time.