Posted by
Madison
on May 24, 2017
Three months goes by quickly! That means it's time for an application spree. Sign up bonuses from credit cards are one of my huge money makers. The cards with travel bonuses also fund our family travel.
I'm continuing on with the third application spree in a row for myself to see how far I can push it before alternating back to my husband. If I can keep going, maybe I will be able to eventually clear him for 5/24 (see more about that below).
So far, the results have been positive and I've picked up over $10,000 during the last two sprees over the last six months. It's time to add some more bonuses!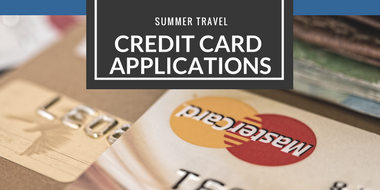 Credit Card Application Spree
This time around I'm focusing slightly more on travel rewards since summer vacation is almost here and we're planning some big family trips. You can follow our travels on our new family travel blog.
Don't forget this strategy isn't for everyone and it has to be done very carefully!
Credit Card Application List
American Express Hilton Surpass. 100,000 points + Free Night. The limited time offer from Amex for 100,000 Hilton points and a free weekend night certificate on the anniversary expires May 31. Since it's a limited time offer, I want to get this application in before it expires.
New US Bank Altitude Reserve. $742-$877 bonus. The 50,000 points can be worth $877! Getting the new altitude reserve card is one of my top priorities. The big bonus, travel credits and global entry put this card near the top of my list. You must be an existing customer to apply for the Altitude reserve card. You can pick up the US Bank Cash+ card first and then apply for the altitude card a month later.
Chase British Air. 100,000 Avios. The offer is back! We took advantage of the British Airways 100,000 Avios promo years ago and we were able to maximize the Avios for quite a few flights.
US Bank Skypass. 30,000 miles. I may be pushing my luck with US Bank since I already have a few cards, however, using Korean air is such a cheap form of mileage to fly roundtrip to Hawaii for 25,000 miles that this 30,000 mile bonus via Doctor of Credit is also near the top of my list.
Chase Disney. $200 bonus. The Disney visa card offers a $200 gift card right now. In addition, the card offers referrals, so my husband will refer me and we'll pick up another $50.
Navy Federal Flagship Rewards. $400 bonus. Navy Federal sent a mailer for their flagship travel card. It was perfect timing to pick up 40,000 points, which can be redeemed for $400. Watch your mail if you are a member.
American Express Platinum Ameriprise. $200 Airline credit. The Ameriprise Platinum doesn't have a sign up bonus, but it does have a $200 airline credit and credit for global entry or TSA precheck. Since there's no annual fee for the first year, we'll come out ahead. It also helps that you can get authorized card holders for free the first year which will help our family with the lounge access cards all being in my name.
BOA Merrill. 50,000 points. You have to call in to apply for this one, but the offer is worth $1000 towards airfare. It was expired, but Reddit users are reporting success this week.
BOA MLB. $100 bonus. The $100 from Bank of America is a quick and easy bonus, so I'll apply for it on the same day as the Merrill card from BOA for one inquiry.
Citi Expedia. 15,000 points. The points are worth $200 towards on a hotel stay through Expedia. I may also circle back and pick up another card for the 8th day Citi application, but I haven't decided which card yet. I'm hoping another card will pop up with the non-24 month language.
Credit Cards Not in My Spree
Each application spree has personal constraints based on the cards you currently have. In addition, the 5/24 rule from Chase is another constraint.
To make this application spree more helpful, here are some of the cards I'm skipping because I can't put on the list. I keep a running list of target cards for each application spree and why I'm not including them. Here's my current list:
Chase cards limited by 5/24. I couldn't apply for some cards I would normally want to target including the United card, the Chase Sapphire Preferred, the Southwest card and the big Chase Sapphire Reserve card.
In addition, the following cards would normally be on my list, but I currently have these cards:
Chase. Of the Chase cards that aren't subject to 5/24, I currently have the Hyatt card, IHG card, Amazon card and business Marriott card.
Citi. I currently have multiple American Airlines cards, a Prestige card and various other cards.
American Express. I picked up 8 new Amex cards worth $3,878 which included various Platinum cards, a Delta card and a Starwood card.
Other cards. I also recently picked up another Barclaycard Arrival and BOA Alaska card.
Overall Value
The total for all of the sign up bonuses is: $3,027 + 100,000 Avios + 100,000 Hilton points + a roundtrip flight to Hawaii. Redeeming the points at a minimum 1 cent/point for Avios and at 0.4 cent/point for Hilton makes those worth at least $1,400 for flights and nights when we travel. The flight to Hawaii for us is worth more than $500.
Total value: $4,927+. The actual value of this application spree will be much higher, but I'm trying to calculate the minimum we'd be able to redeem all the points for!
Credit Card Application Links
All of the links I used for the application spree (unless noted above) are now listed in our credit card directory.
Credit Card Application Rules
I plan all of my application sprees within the application rules for each issuer including:
American Express: one signup bonus per lifetime on each card; maximum of five credit cards at a time (unlimited charge cards); one credit card application plus unlimited charge card applications in one day.
Citi: won't allow a bonus if you've opened or closed a card in the same brand in the last 24 months; 2 applications per 65 days (1 every 8 days).
Capital One: One application per day. 1 application every 6 months.
Chase: See the 5/24 rules above.
Previous Application Sprees
Here are some of my previous application sprees if you are looking to target different cards: $4,292, 5,325, $4,500 $4,420, $3,000, $2,075, $1,525, $750, $1,720, $1,800, $2,000 and $2,325.
More on Credit Cards
---

You can get my latest articles full of
valuable tips
and other information delivered directly to your email for
free
simply by entering your email address below. Your address will never be sold or used for spam and you can unsubscribe at any time.