Posted by
Madison
on August 25, 2017
The British Airways mega sign up bonus returns. The Free Money offer from British Airways makes your trips significantly cheaper!
We recently picked up this card in our $4,927+ Credit Card Application Spree for Summer Travel.
British Airways is offering 100,000 Avios points when you get a British Airways card.
How to Get Your 100,000 Avios
Open a new British Airways card*.
Earn 50,000 Avios after $3,000 in purchases within the first 3 months of account opening.
Spend $10,000 total, also in the first year, and earn 25,000 more Avios.
Spend $20,000 total in the first year and earn 25,000 more Avios.
Redeem your Avios for reward flights.
*Find and compare all current credit card offers in our credit card directory.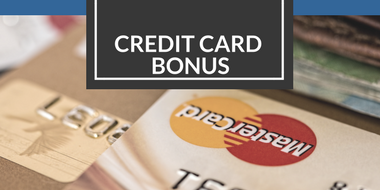 British Airways Terms and Conditions
All reward flights are subject to taxes, fees, charges and surcharges, including airline sur­charges.
After qualifying, please allow 6 to 8 weeks for bonus Avios to post to your account.
This one-time bonus offer is valid only for first-time cardmembers with new accounts. Previous and existing cardmembers/accounts are not eligible for this bonus offer.
More on the British Airways Card
No Foreign Transaction Fees. Pay no foreign transaction fees when you travel abroad.
Annual Fee. The annual fee for this card is $95.
Companion Tickets. Every year you spend $30,000 on your British Airways Visa card, you'll earn a Travel Together Ticket good for two years when you redeem for a flight on British Airways. If you hit the spending requirements above, you'll be 2/3 of the way there.
Earning Avios. In addition to the sign-up bonus, you'll earn 3 Avios per dollar you spend on British Airways and 1 Avios per dollar for all other purchases.
Chase 5/24. The British Airways card is not subject to the Chase 5/24 rule.
Tips and Tricks to Maximize the Avios
The key to this offer is maximizing your use of the Avios at the lowest possible cost. Here's a collection of tips and tricks that I keep to reference whenever British Airways rolls out their big mileage offers:
Consider Non-European Destinations. While you can redeem the Avios for transatlantic reward flights, including flights to Europe, you'll still have to pay the taxes and fees on the free tickets. Since the taxes on flights to Europe are higher than other continents, you can actually save even more money vacationing elsewhere. Of course, if you really want to go to Europe, this is still a cheap way to do so.
Merge Family Accounts. You and a spouse can each get your own British Airways card. They'll allow you to combine the accounts into one family account. Obviously, I don't have to tell you that getting 200,000 Avios for you and a spouse is a great thing! With the change to Avios, it looks like you have to call to do this now.
Fly on Partner Airlines. Ironically, this deal gets even better if you don't fly British Airways and use the British Airways Avios on one of their partner airlines, where the taxes and fees are significantly less. Some of the partner airlines include American Airlines, Qantas, Japan Airlines, Royal Jordanian, Iberia, Finn Air, and more.
Fly Domestically. Since American Airlines is listed in the partner list, you can use your British Airways Avios for multiple domestic flights, again minimizing the taxes and fees.
Use for Hotel Stays Instead. Readers have expressed frustration on redeeming British Air miles for flights. A reader, Todd, suggests that you skip the flights and redeem for hotel stays instead. He said that 50k miles should get you about 4 free nights ($400-$600 value). Thanks Todd!
More Popular Free Money Offers
---

You can get my latest articles full of
valuable tips
and other information delivered directly to your email for
free
simply by entering your email address below. Your address will never be sold or used for spam and you can unsubscribe at any time.