Posted by
Madison
on February 4, 2016
It's time to make money selling private label products on Amazon!
After meeting my goal of making $100,000 Selling on Amazon in 2014, I was ready to move on.
As most of you have probably noticed over the years, I set a goal, and once I achieve it, it's not really my style to just keep repeating something; I find it boring. So I scale back using the 80/20 rule and free up my time to find something new! And I've found the new… private label selling on Amazon!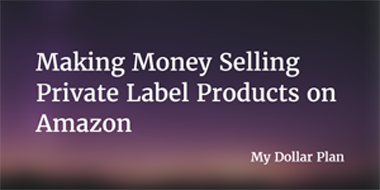 Old Arbitrage Method
For the last 3 years, I sold arbitrage style based on books like Online Arbitrage, Retail Arbitrage and Selling On Amazon: How You Can Make A Full-Time Income Selling on Amazon. It's relatively straight forward since it's based on buying items at a discount at regular stores and then selling on Amazon.
I still sold on Amazon last year using the arbitrage method, but only in the 4th quarter and I outsourced almost everything. I'll have a full write up soon about the profits, but I am projecting they'll come in at about 70-80% of the prior year. Which is fantastic… since I spent about 20% of the time on it!
New Private Label Method
However, arbitrage is not the only way to sell on Amazon. There's also many other models including wholesale and private labeling. The Wikipedia definition of private label is:
Private-label products or services are typically those manufactured or provided by one company for offer under another company's brand.
Does Kirkland brand at Costco sound familiar? These are private label products.
I always thought private labeling sounded strange in the context of selling on Amazon and I was turned off by all the courses that are out there promising to tell you how to do it for thousands of dollars. I always prefer free resources!
Wouldn't you know, I stumbled across a free private label launch video series at Jungle Scout! It's listed as the Collaborative Private Label Product Launch category on the blog. You can rewatch the series that changed my mind on private label.
Inspired by the videos, we are now launching our new private label product line this month!
How it Works
There were essentially four phases in bringing our product to the Amazon marketplace:
Product Selection. I used Jungle Scout to select my product. The web app had a free trial to get started. I also used the free Unicorn Smasher tool to verify my product selection.
Manufacturer Selection. I got quotes from about a dozen manufacturers in China, ordered product samples from five, and then negotiated a final contract with our final choice. And of course, I paid using a credit card to maximize my cash back!
Product Details. Once we had our product and supplier, there were quite a few steps during this phase including product packaging, shipping, inspections, photography, brand registry, and more. If there's interest, I'd be happy to write more about all of these steps.
Launch. We're now beginning the launch phase of our product. In this phase we are focusing on advertising, reviews and selling our new product. It's really exciting and I look forward to seeing where it might go.
Profitability
For our first test run product, we plan to sell around a $30-$33 price point. Once the product arrives at the Amazon warehouse, we'll have about $10 in cost of goods. ($12 if you include the one time costs). Profits before advertising will range from $9-$13.
I'll post an update with actual numbers once we settle on an average price and determine the final cost of advertising. Oh yeah, and sell the product.
Update: How I Earned $16,755 Selling a Private Label Amazon Product!
Tools I'm Using
Here are the tools and information sources I used to get started and learn more about the process:
Have you sold or ever thought about selling private label products on Amazon?
More on My Amazon Selling History
---

You can get my latest articles full of
valuable tips
and other information delivered directly to your email for
free
simply by entering your email address below. Your address will never be sold or used for spam and you can unsubscribe at any time.