Posted by
Kristen
on May 21, 2012
Most people believe that passing on restaurant dining and fast food can save a good amount of money. And in many cases, that is right. But what people don't realize is that this is only true if you know how to shop at a grocery store and are scoring the right deals.
If you're wandering down aisles just throwing items in a cart with no plan or preparation, chances are you aren't saving a penny and could even be spending more. Here are 14 ways to save on your next grocery bill.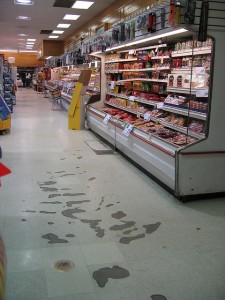 source: redjar
How to Save Money on Groceries
Look at sale ads. Go online or check out the paper sale ads to see what's on sale at your grocery store. Knowing what's on sale allows you to stock up on essential items you're always using and plan your meals around what the deals are. Take a glance at other store's you don't shop at often. You can easily spot a great deal that's worth the trip.
Clip coupons you need. Find coupons at your grocery store, in newspapers and magazines, on a specific product's website, at a store's website, and on helpful coupon sites like Coupons.com. But only clip or print the items you know you'll need or would be willing to try. If you're like me, you may be tempted to clip all of them, but that will lead you to be unorganized and not know what great deals you really have.
Join store loyalty programs. Be sure to sign up for your store's grocery rewards and loyalty programs. This allows you to save on several products and receive coupons in the mail. Even sign up for store's you don't go to often. That way if you're there by chance, you don't have to miss out on a sale price.
Plan ahead. Whether it's a three day, weekly, two weekly, or monthly plan, devise a food plan that works best for you and your family. While you're making your plan, look at what you already have on hand, what is on sale, and what coupons you have to know what you can cook.
Have a budget. Your monthly budget should have a decent portion for food. Once you figure out a comfortable amount you should be spending, stick to it. If you add a few dollars each time you go to the store, this could end up being hundreds at the end of the year.
Skip convenience products. A whole head of lettuce is a fraction of the cost of the bag that is already chopped and washed. For the little amount of time that it takes to wash and chop the lettuce, it's worth it to buy the whole head. The same goes for shredded cheese, chopped vegetables and fruits, and precooked meals.
Buy in bulk. For products you use often, you'll save by buying in bulk. If you don't have a need for a large amount of it, check if your nearby family, friends, and neighbors would like to split it with you so you can save without wasting.
Use your freezer. Anytime frozen vegetables are on sale, stock up. They're great to add to soups, stir frys, and pastas, and they'll never go bad. You can also freeze meat when it's on sale as well.
Know if you're really getting a deal. You look at two bottles of ketchup. One is a dollar less. Of course that's the better deal, right? Not necessarily. Check the ounces. Bottles and packaging could be deceiving, and you may be getting much less.
Be flexible. If a recipe calls for diced canned tomatoes, but stewed tomatoes are on sale, go for the sale item if it won't negatively affect your dish. Continue that flexibility with brands. People become comfortable with specific brands, but venture out to cheaper items or items on sale to save a bundle.
Keep leftovers in mind. Choose recipes that allow you to take the leftovers and make a new meal. If you make baked chicken one night, make a little extra chicken so you can have chicken quesadillas the next night.
Buy in season. Fruits and vegetables are much cheaper when they're in season because there is more available. Pick the veggies that are on sale. Here's a great picture showing which vegetables are in season by month.
Watch the scanner. It's not uncommon for the scanner and the cashier to enter in the wrong price. Sometimes sales and coupons don't register, and if you're not paying attention, you might miss out.
Don't throw away your receipt. While you're putting your groceries away, you may realize you bought the wrong item, the eggs were broken, or the produce looked better on the outside than inside. Having your receipt will make it easier to get your money back.
More Ways to Save on Groceries
---

You can get my latest articles full of
valuable tips
and other information delivered directly to your email for
free
simply by entering your email address below. Your address will never be sold or used for spam and you can unsubscribe at any time.