Posted by
Jill
on December 13, 2011
I love buying books as gifts for holidays and birthdays. They last forever, you can find one for any audience, and it's easy to spend as much or as little as you please.
If you're having a hard time finding gifts for people on your list this holiday season, check out the ultimate book gift guide below.
Book Gift Ideas
I've included money-related books and others, including some of my own personal favorites and things I've personally given as gifts.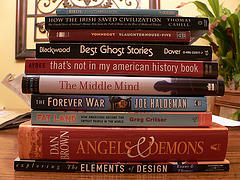 source: Brody4
For the Frugal/DIY Set, or Those Who Wish They Were
For Anyone…From Your Favorite Money Bloggers
For Future Millionaires
By future millionaires I mean….anyone, if they read these books!
For the Sports Lover
For the Politico
Game Change: Obama and the Clintons, McCain and Palin, and the Race of a Lifetime by John Heliemann and Mark Halperin. $27.99 list, $10.19 Amazon. Regardless of who you voted for or how you feel about the 2008 election results, you have to agree that the race was pretty interesting! I read this book when it came out and loved it.
Primary Colors by Anonymous. $5.49. One of the most popular political books of all time, but newly-minted politics lovers may not have read it yet – do them a favor, and change that!
All the King's Men by Robert Penn Warren. $22.00 list, $14.96 Amazon.
For the Perfectly Proper or Perpetual Party Host(ess)
These books also make great hostess gifts if you're looking for something fun to bring to a holiday party!
For the Recent Graduate and/or Newly-Employed
I have lots of ideas for this category, because I couldn't choose between my favorites – I have both received and given most of the titles on this list.
For the Bride-, Groom-, or Mother-of-the-Bride To-Be
For New Parents or Babies
Love you Forever by Robert Munsch. $5.95. A perennial favorite in my family.
If I could Keep You Little by Marianne Richmond. $15.99 list, $10.87 Amazon. I stumbled across this while looking for a gift to bring to a book-themed baby shower. I have now given it to multiple parents of new babies. It's a tear-jerker that is sure to become a family keepsake!
For Tweens
I skipped children's books altogether because there are HUNDREDS of classics and you can't go wrong with any of them. The same goes for tweens, but here are two timeless books I particularly remember enjoying in my later elementary years.
The Boxcar Children by Gertrude Chandler Warner. $4.99. Actually the first in a series – so if your recipient enjoys it, there are many more to give later!
Number the Stars by Lois Lowry. $6.99.
Other Gift Tips
What your your favorite books to give as a gifts?
Check out today's hottest holiday
Lightning Deals
. Hurry, they change fast and sell out quickly!
---

You can get my latest articles full of
valuable tips
and other information delivered directly to your email for
free
simply by entering your email address below. Your address will never be sold or used for spam and you can unsubscribe at any time.