Posted by
Madison
on September 14, 2015
In my spare time, I like to make a few extra dollars selling on Amazon. Last year I Made $100,000 Selling on Amazon. The majority of this money was made during the holiday season.
Steps to Prepare for the Holiday Season Selling on Amazon
Preparation is key to being successful and making money on Amazon. If you are an Amazon seller, here's how I prepare for Q4 and the holiday season. I like to break my preparation into four distinct categories including planning and organizing, maximizing product profits, minimizing time, and maximizing secondary profits.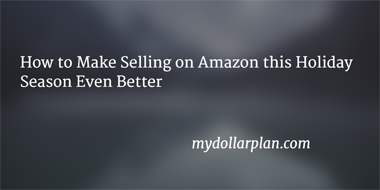 Plan and Organize
Set your Goals. Before I made $100,000 Selling on Amazon Last Year, I set my goal and made a six figure action plan. In order to set profit goals, you need to know your expenses and markup to determine how much inventory you'll need to buy.
Look at your Calendar. Review your calendar for 4th quarter. Determine when all of your products must be shipped in for the holiday season and put together a plan based on your available time. Last year I had purchased 70% of my inventory during September and October since that's when my kids are in school. This year we're taking the kids to Disney World right in the middle of my "prime" purchasing month! No problem, I'll just block out that week and adjust my purchasing requirements below.
Calculate Purchase Requirements. Review how much inventory you purchased each week last year. Then adjust it to match the amount you need to purchase to meet your goals. For instance last year I purchased about $30k worth of inventory in September and $100k in October. If I wanted to keep my goals the same, I'd make a point to purchase $130k in the next 6 weeks before we leave on our trip. That's roughly $4k in purchases per day if I want to stick to my schedule.
Reorder Supplies. What Supplies Do You Need to Sell on Amazon? Make sure you have all of your supplies. Replenish any supplies. Here's my list of closet supplies I check: Orange-Sol De-solv-it, Dymo Labels, 3 inch tape, Boxes, Poly bags and printer paper and ink.
Maximize Product Profits
Review your Most Profitable Items. Don't reinvent the wheel and look for new products. I start by reviewing my best selling and most profitable items from last year. I use Quickbooks to track all of my inventory and produce these reports. These are the first items I will plan to reorder. There's no need to look for new products until you've reordered all your proven money makers.
Expand on your Most Profitable Items. In addition to reordering your most profitable items from last year, use them for inspiration. Look for other size, colors and variations of your product. In addition, look for accessories that go with your product. Amazon makes this easy, since they recommend items that are frequently bought together further down the page. For example, people who buy a Spirograph also buy colored pens. Amazon also suggests pages of other items customers bought who bought your product. Review the suggestions for ideas.
Expand in Most Profitable Stores. I also like to review where I bought my merchandise and how well it performed. If one source consistently delivers profits on the inventory you buy, it makes sense to expand some of your shopping there!
Eliminate Least Profitable and Troublesome Items. If I never see another Lalaloopsy Fairy Fern Doll in my life it would bring me great pleasure. Sometimes you have to Cut Your Losses Selling on Amazon and dump terrible products. Just learn from it, and don't buy any more. And think very carefully about buying additional products in the same line of a bad performer. In addition to eliminating items with poor profitability, I also eliminate any products that caused a lot of headaches with higher than average returns.
Minimize Time
Document Repeated Tasks. I keep a log of workflow processes. That way, when I have to repeat it, I have a system in place. For example, I keep a spreadsheet for the inventory I order. I record the order number, date, purchase price, quantity, ASIN, credit card used, cash back earned, tax exemptions, rewards to redeem, when it's received and when it's shipped to Amazon. I also record any follow up items, record it in Quickbooks, upload it to Amazon, and determine the initial selling price, profitability, break even point, and ROI.
Identify Tasks for Automation. I look for ways to automate any of the repetitive tasks and replace my documentation system. Any way that you can minimize time spent on repetition is opportunity to spend time on more profitable tasks.
Outsource. I outsourced all of the inventory processing last year. I used My Inventory Team to receive, prep and ship all of my inventory to Amazon. This was a major improvement in process that allowed me to scale the business.
Eliminate Time Consuming Tasks with Low Value. Just like eliminating unprofitable items, I also review time consuming tasks that earn very little return. Then I eliminate them.
Utilize Tools. Many of my task automation involves using tools. I mentioned some of the basic tools and a few books I bought when I started (including Retail Arbitrage and Selling On Amazon: How You Can Make A Full-Time Income Selling on Amazon) in How to Make Money on Amazon. Over the last few years, I've added many tools. The three tools that added the most lift were Seller Engine, Keepa Alerts, and Feedvisor.
Maximize Secondary Profits
While making money selling the products is the primary source of profit, earning indirect profits (including things like online cash back, credit card rewards, free trips, etc) is a big contributor to my bottom line. Since it's also the link between many of the free money offers at My Dollar Plan, it's one of the most enjoyable parts of selling!
Plan Application Spree. You'll notice I usually plan a fall credit card application spree to take advantage of credit card sign up bonuses and 0% on purchases. It's easy to Meet Spending Requirements for Sign Up Bonuses buying inventory. The bonuses also provide a large secondary profit!
Maximize Cash Back Rewards. In addition to the sign up bonuses, I'll make a list of target cards for holiday shopping to maximize 5% Quarterly Rotating Cash Rewards.
Stack Bonuses. Taking advantage of the Discover it $100 Sign Up Bonus & Apple Pay 10%-20% Cashback for a $2,000 savings on buying inventory is obviously at the top of my checklist this holiday season! I keep track of all the bonus offers to make sure I meet all the requirements.
Action Plan
I'll use all the steps above to create my action plan for the holiday season. In addition, I'm always on the lookout for new ideas and ways to innovate. Last year I bought a used copy of Online Arbitrage. While I was already buying the majority of my inventory online, it opened my eyes to buying inventory directly from Amazon! In addition, it gave me some ideas that I used to brainstorm other ways to innovate and automate my purchasing.
What are your plans for Amazon selling this holiday season?
More on Amazon Selling
---

You can get my latest articles full of
valuable tips
and other information delivered directly to your email for
free
simply by entering your email address below. Your address will never be sold or used for spam and you can unsubscribe at any time.