Posted by
Kristen
on December 16, 2014
Our holiday gift guide series highlights gifts for the foodies on your list. Do you have a food lover in your family?
Wondering what to buy for the food lover in your life this year? We've got great suggestions perfect for your foodie and just as delicious for your wallet. Whether they love to cook, like trying out the newest restaurants or new foods, or simply love to eat, we've got an affordable gift for them.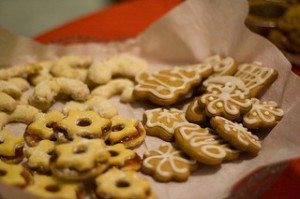 (Photo Credit: splityarn)
Holiday Gifts for Food Lovers
Cheese grater. This rotary grater can grate cheese and other foods in a quick and simple way. You can choose if you'd like it to grate food coarsely or finely depending on the insert you choose. The description says that clean up is a breeze, and it's designed for both left and right handed people so the left handed foodies won't be left out.
Sauces. Skim the sauce aisle at a local grocery store, and you'll find some gourmet sauces like barbecue sauce, spicy mustards, horseradish sauce, and much more. You can sometimes also find gourmet sauces at restaurants. Check out this genuine sauce set from Budweiser that has four sauces including original barbecue, honey barbecue, smoked barbecue, and tangy wing sauce. Whether it's burgers, chicken wings, or pork chops, any food lover would love unique sauces to spice up their meal.
Spices. Spices turn everyday ingredients into something extraordinary. The good thing about buying spices as a gift is that they generally have a long shelf life. If you want to give them a unique spice, head to an ethnic grocery store. You may find things you won't find in your ordinary grocery store. Best of all, many times they will be less expensive as well.
Zagat book. If your food lover likes to check out the best restaurants, give them this Zagat guide with a guide to the greatest restaurants in the country. The book describes and scores the food, décor, service, and cost of each restaurant and also organizes it alphabetically and geographically so it's simple to find what they're looking for.
Cooking utensils. If they love to cook, they can always use an extra cooking utensil to keep on hand. This bamboo cooking set contains seven pieces including a spatula, spoon, a rounded fork, single hole mixing spoon, slotted spatula, and a bamboo holder to keep it all together in.
A fun cookbook. Anyone who loves food can never have enough cookbooks. See the Holiday Book Gift Guide for Everyone on Your List for cookbook ideas.
Something edible. It's pretty obvious that if they love food, they will love a gift you can eat. Opt for items that don't need to be consumed right away, don't require a lot of work, and don't need to be refrigerated. Sweets like chocolate, candy, cupcakes, and cookies are a popular choice. This list of Homemade Gifts Under $20 has plenty of edible items.
Cheese board. A cheese board is ideal for serving a variety of cheeses to guests. There is a large variety designed for specific types of cheeses, some that come with tools for slicing, and more. You can also find cheese boards with a slicer connected to create a thin slice of cheese. This cheese board is unique because you can write the name of the cheese with chalk next to it so guests can easily identify what it is. When you're done, simply wipe it off, and you're ready for your next type of cheese to display.
Donut maker. This Sunbeam Mini Donut maker makes seven donuts with each batch, and the description explains it takes less than 5 minutes to make. This particular gift is not only great for bakers, but for those foodies that love to cook with their kids. Kids will love the chance to ice the donuts and decorate them. Plus, since it only takes a few minutes to make fresh donuts, it is ideal for parents in a hurry and want a last minute dessert.
BBQ gear. If your food lover likes to grill, it opens up the door to buying them something specifically for the barbecue. Wood chips for smoking can add a robust flavor to meats. Barbecue sauces are useful for glazing onto meat. Skewers make cooking meat and vegetables that much easier. You can also opt for some new barbecue tools, like this stainless steel set from Brinkman with four pieces. It includes tongs, spatula, barbecue fork, and a duel head cleaning brush.
Your home cooked specialty. If you cook something that your friends or family members love, give it to them as a gift. One year, my cousin gave each family member a loaf of her famous Irish soda bread. She wrapped it in a festive green foil and attached the recipe for us.
Peppermill. Whether they love to cook and use pepper to add to their recipes or simply like to have the spice on hand to enhance something that has already been prepared, a peppermill is a must in any foodies' kitchen. You can find peppermills in a variety of colors to match the décor of their kitchen. This particular model is eight inches tall with a walnut finish. To make it even better, purchase fresh pepper at your local grocery store so they can try it out right away.
Restaurant gift certificate. Your foodie friend will love the opportunity to try a new restaurant. You can find deals on Groupon, Restaurants.com, or Living Social. Check for gift card deals at restaurants that may offer bonus gift certificates around the holidays. For example, they might give you a $5 gift card for every $25 you spend in gift cards. So not only will you give a great gift, you'll be able to save on your next meal, too.
What are you buying your favorite foodie this year for the holidays? How do you save money on edible gifts? If you are a foodie yourself, what would you want this year?
More Holiday Gift Ideas
Check out today's hottest holiday
Lightning Deals
. Hurry, they change fast and sell out quickly!
---

You can get my latest articles full of
valuable tips
and other information delivered directly to your email for
free
simply by entering your email address below. Your address will never be sold or used for spam and you can unsubscribe at any time.