Posted by
Kristen
on December 18, 2014
We just highlighted gifts for food lovers and wine lovers in our holiday gift guide, but what if your gift is for a beer lover? Don't worry we've got you covered!
Wondering what to get your beer lover friend this year? Of course beer makes the perfect gift, but you might want to think outside the box a bit to give them something fun and useful. Here are some inexpensive gift ideas for beer lovers.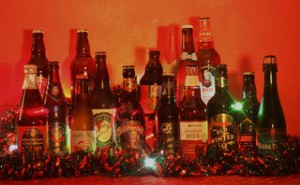 (Photo Credit: Drunken Monkey)
Holiday Gifts for Beer Lovers
Reusable bottle caps.
Beer lovers will get a lot of use out of these reusable beer saver caps which are designed to keep beer fresh in bottles after it has been opened. This was useful for me when I only needed a portion of a beer to cook delicious brownies, and I wasn't ready to drink the rest quite yet. It's also great if you are doing a beer tasting and only want to use a little taste of the beer at first or if someone opens a beer they do not care for but doesn't want to throw it away.
Take them to a brewery.
Plan a day out by taking your beer lover to a local brewery. Many times, you'll find an inexpensive or even free tour of the brewery and samples to go along with it. They'll get the chance to speak with the brewer, get a quick beer education, and get an inside look at the beer production. At some breweries, you'll even find beers that are only available there. To find breweries near you, check out Craftbeer.com's beer finder to find all the breweries in your city.
Beer and food pairing book.
The only thing that makes craft beer better is pairing it with your meal. This book, Beer, Food, and Flavor: A Guide to Tasting, Pairing, and the Culture of Craft Beer, features a guide for menus and tasting notes. You can find plenty of beer and food pairing books online or even at a used book store.
A gift certificate to a local beer store.
Some liquor stores offer a great selection on craft beers while others leave something to be desired. Check out Yelp to find out which stores offer a nice variety of beer, and grab a gift certificate so your beer fan can choose what they'd like.
Beer sign.
When a beer lover travels, chances are they are going to be ordering a beer. This vintage tin sign with directions on How to Order a Beer Around the World is something any beer fan could hang in their bar area. It includes the translation in Danish, Irish, French, German, and several more.
Beer glasses.
Each style of beer has a specific type of beer glass that it should be served in. You can find beer glasses at most home goods stores but also at home brew supply stores, breweries, or even liquor stores.
Take them to a beer event. There are plenty of fun events you can find involving beer. Check out restaurants, liquor stores, specialty stores, and breweries. You may find cheese and beer pairings at a deli or chocolate and beer pairings at a candy store. Beer dinners, where the chef of a restaurant pairs their meal with different beers, are also becoming increasingly popular. Some beer stores may even offer free or inexpensive tastings of a particular type of beer.
A growler.
A growler is great for visiting local breweries and grabbing a fill of whatever they have freshly brewed. You can find a growler at many breweries, any place that sells home brew equipment, or you can order this solid glass growler which has a chalkboard on it so you can write down which beer you just picked up.
Bottle cap catcher.
Anytime I'm entertaining and friends are having beer, I'll always find a bunch of bottle caps around. With this bottle cap catcher your beer lover won't have to deal with the mess of cleaning up bottle tops. This is especially beneficial if there are small children or pets in the house where a bottle cap on the ground can be dangerous. This particular catcher immediately puts the bottles in the clear case, and it holds 30 caps.
A cooler.
Any type of cooler is a practical gift for a beer drinker so they're able to transport their beer while keeping it cool. Whether they're headed to tailgate, the beach, to a friend's house, or any other place where they'll be bringing their own beer, a cooler comes in handy. This 6 pack beer cooler holds 12 ounce cans or bottles, and it will keep it cold for up to four hours. Made out of wet suit material, the description also says that it is able to be machine washed and is stain resistant.
Beer markers.
You may have seen wine charms, a tiny charm or band that goes around a wine glass so everyone knows which glass is theirs. These Beer goggle markers are perfect for those times when a group of friends is all drinking the same beer. This will prevent beer mix-ups or wasting a beer since you don't remember which one is yours.
Coasters.
Whether they drink out of a can, bottle, or glass, a coaster is always essential to avoid damage to a table top or counter top. Coasters are always a safe bet as well because you can never have too many since you can store them in different areas of your home. You can find coasters to match a décor, personalize with photos or monograms, or opt for these beer themed stone coasters.
A beer cookbook.
If you love to drink beer and you love to cook, chances are you'll enjoy cooking with beer. What better way to inspire some beer and culinary delights with a cookbook devoted to the subject? This book, The CraftBeer Cookbook: From IPAs and Bocks to Pilsners and Porters, includes 100 recipes for cooking with beer. You can also find a variety of cookbooks online or at a used book store.
What are you buying your beer lover this year? If you are a beer lover yourself, what is on your holiday wishlist?
More Holiday Gift Ideas
Check out today's hottest holiday
Lightning Deals
. Hurry, they change fast and sell out quickly!
---

You can get my latest articles full of
valuable tips
and other information delivered directly to your email for
free
simply by entering your email address below. Your address will never be sold or used for spam and you can unsubscribe at any time.