Posted by
Adrienne
on December 11, 2012
Our holiday gift guide week continues with Christmas gifts for babies.
With the holidays approaching you may have some shopping for children to do. Gifts for kids vary a lot by what age group you're looking at. Unless your own kids are young it's also hard to remember what gifts are appropriate for what ages. To help you out I've created some lists of gift ideas focusing on specific age groups: Babies, Toddlers and Elementary School kids. (I've left out teens because honestly once kids reach that age I usually give money or a specific item from their wish list.)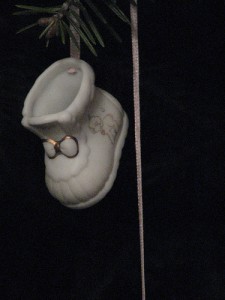 source: Christina Welsh
Today's list is Christmas gifts for babies. There are a few ways to go with babies. You can buy something that they can use now, something they will grow into, or something that's really more for the parents. The following list has examples of each. So without further ado here are my gift ideas for babies.
10 Christmas Gifts for Babies
Shape Sorters. Shape sorters are containers that have various shapes of holes (circle, square, triangle, etc.) and various pieces that only fit in one of the holes. It seems like a simple toy but my kids loved them. They come made out of many different materials but I always go for something that won't hurt too much when it's thrown at your head. They're a great toy to give because it's a learning toy as well as a fun one.
Keepsake Ornaments. Since this is the baby's first holiday it's nice to commemorate the occasion with a special ornament. You can find ones that hold a photograph of their first holiday or you can personalize one with their name or even create one that has an imprint of their little hand or foot. As they grow older kids love to see their special ornament. It will be a gift that is remembered year after year.
Board Books. Who doesn't love books? Well unfortunately babies love to eat them (or rip them or drool on them). That is why board books are so great. While not completely indestructible they come pretty close. Many popular children's books come in board book form. A few of my favorites are Good Night Gorilla and The Runaway Bunny and Goodnight Moon.
Gift Cards. One thing about babies is that they are ever changing. What they need this month can be totally different than what they need next month. With the holidays they're probably getting a bunch of things they can use right now but maybe not so much for what they'll need down the road. The gift card gives the flexibility to the parents (which they'll probably appreciate when baby is outgrowing their coat in the middle of winter…).
Door Bouncy. This was another favorite of my kids. I can't count the number of hours they spent jumping away in a bouncy. It's a seat that attaches by a long bouncy chord to a door frame. It is not only fun but good exercise too!
Photo Albums. This may seem old fashioned in the days of digital photo sharing but I'm a big fan of photo albums. Yes the new parents may be taking a bazillion pictures of their new little one but have they really had time to put together an album? Have them send you their pictures and you can put it together for them. (It took me a few years to finally get the baby pictures printed and in albums but both my kids love looking back at them now.)
Money for College. It seems like college is a long way off but it is often on the minds of new parents. Baby may have more than enough toys right now (and honestly at this age the kid doesn't really understand "gifts" anyway). Give a gift that will help set their parents minds at ease and be useful for them in the future. Review the Comparison of College Savings Plans to see which one is right for you.
Backseat Car Mirror. A baby in an infant seat faces backwards for safety. While this is great for safety reasons it is not so great for dealing with the baby in the car because you can't see them. The solution to this problem is a backseat car mirror. This is something I never thought of before I had kids but quickly became a lifesaver.
Mobile. Another great gift for babies is a mobile. Babies find them fascinating and there are tons of different options. This one is even small enough to travel. It will keep their attention and maybe even help them sleep (yaaay sleep!).
Babysitting Ticket. Giving a babysitting ticket is a wonderful gift for parents. Even if you've babysat before they may be hesitant to ask too much. A gift of babysitting lets parents know you expect to babysit and gives them the freedom to ask.
Good luck with your baby gift shopping. Stay tuned for the gift ideas for toddlers and elementary school kids!
More Holiday Gift Ideas
Check out today's hottest holiday
Lightning Deals
. Hurry, they change fast and sell out quickly!
---

You can get my latest articles full of
valuable tips
and other information delivered directly to your email for
free
simply by entering your email address below. Your address will never be sold or used for spam and you can unsubscribe at any time.