Posted by
Kristen
on January 3, 2013
There's a common misconception that in order to make healthy choices in your life, you need to have money. After all, buying organic food, gym memberships, vitamins, and other health and fitness items will cost you more than you think. And it always seems like the junk food is what's on sale when you're trying to save money on your grocery bill and the best meal deals are the ones at the greasy fast food place. As you work on your New Year's Resolutions, I wanted to explore different ways to still be healthy on a tight budget. First, I'd like to offer budget friendly health tips for your diet.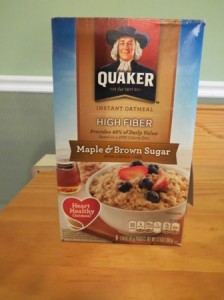 Source: Kristen
Budget Friendly Health Tips
Drink more water.
It's natural, it's free, and best of all, it's healthy. Water is beneficial for everything from your digestive track to your skin. For a healthy twist, add lemon, lime, or cucumber slices for a hint of natural flavoring.
Watch your portion size.
Portions in the U.S. are often more than double what they are in other places in the world. Which could be the reason why obesity is a horrible epidemic in the country. You might be surprised how easy it is to cut your portions. Putting less on your plate and eating small meals throughout the day are a great way to cut down your portion size. And obviously eating less will save you money.
Eat breakfast.
When you're rushing around in the morning, breakfast can easily get overlooked. But eating breakfast is beneficial for both your health and your wallet. Studies show that if you eat breakfast, you're starting your metabolism which is improving your digestive system and can help you maintain a healthy weight. Eating breakfast will save you money because it prevents you splurging on a mid-morning snack, and according to more studies, you will eat less during the day. A box of high fiber oatmeal is $2 or you can make a smoothie with frozen fruit you find on sale.
Buy in season.
Certain fresh fruits and vegetables can be a little pricey, but you will find that those that are in season are much cheaper than things that aren't. Even if you wanted a specific item, be flexible, and use what's the best price. Whenever I spot a sale on things like raspberries, blueberries, mangos, pineapples, and strawberries, I buy them, and freeze them. Having the fruit frozen is even better for smoothies.
Skip the junk food.
This sounds like a no brainer, but yet, the chip and snack isle is still the most popular aisle every time I'm in the grocery store. Everyone likes an occasional guilty pleasure, but keep it as a rare occurrence. Sugary cookies and candy and salty chips might be inexpensive, but they're still wasting money. Filled with sodium, fat, and sugar, they are harming your health. They don't provide nutritional value and will rarely fill you up or satisfy you.
Stock up on health foods during sales.
When there is a healthy food you enjoy, watch for it to go on sale. Items like almonds, baked chips, frozen vegetables, and canned tomatoes are healthy and have a long shelf life, so you can buy a bunch without having to worry if it's going bad.
Learn how to read labels.
Something at your grocery store may appear healthy, but you might be shocked to learn that's just the way it's marketed. For example, the term "Made with Whole Grains," can literally be made with a tiny, minuscule amount. Be sure to look at the sodium content, calories, fat, sugars, and what types of vitamins are in it. Also be sure to look at the serving size. I was shocked to learn that an individual sized bottle of juice I drank everyday in the morning was actually supposed to be 2 servings.
Dilute your juices.
When you're buying juices, opt for 100% juice and all natural varieties. Either way, you can add a little water to your juice to dilute it. This will stretch out your juice but also limit the amount of calories and sugar you're consuming.
Sign up for rewards at healthy grocery stores.
As much as I would love to, I can't always shop at the "healthier" grocery store in my town. Their prices are a little more expensive than my usual place I shop. But I signed up for e-mail alerts and now I receive coupons, promotions, and see what's on sale.
Skip prepared foods.
I'll be the first to admit that frozen dinners were my go-to in college when money was tight. I thought I was saving money, but in reality, I was not. Frozen dinners are so small, and if you made the same meal with fresh ingredients, you would be saving money. Besides the financial benefit of skipping frozen meals, your health will improve as well. Even frozen meals that claim to be healthy or good for your weight, are loaded with salt to help preserve them and a large amount of sugar.
Cook at home.
Learning to cook at home is one of the best things you can do for your health and your bank account at the same time. Preparing your meal at home will cost you a fraction of what it would if you ate out at a restaurant. But, if you do it right, it's also much healthier. You are able to control the amount of salt, butter, and oil you put in the food. I can't tell you how many times I thought I was ordering the smart choice at a restaurant only to later find out that that salad I ate was almost 1,000 calories.
Grow your own garden.
If you're looking for a new hobby, try gardening. With your own garden, depending on your climate, you can grow a multitude of vegetables, herbs, and fruits for less than what it costs to buy them at the store. Having these fresh, healthy ingredients will make it much easier to cook and eat them.
What are your budget friendly diet tips to stay healthy? What are inexpensive, healthy meals you cook at home?
More on Budget Friendly Foods
---

You can get my latest articles full of
valuable tips
and other information delivered directly to your email for
free
simply by entering your email address below. Your address will never be sold or used for spam and you can unsubscribe at any time.