Posted by
Madison
on October 2, 2008
Apparently I struck a spot close to your heart (and your stomach) with the Ideas for Frugal and Easy Cooking. In a time where food prices are on the rise, it's more important than ever to find frugal recipes that fulfill your need to eat healthy and satisfy your taste buds.
Sue Bette to the rescue! Sue writes recipes and reviews at feelgood eats. Today Sue presents a recipe for chicken soup. Not only is it a fun and basic recipe, for my newly developing cooking skills, it's a crowd pleaser and a dollar stretcher!
Sue and I have teamed up to exchange articles where feelgood eats and My Dollar Plan intersect. Later in the year, I'll present a budgeting article perfect for readers at feelgood eats. Subscribe to feelgood eats for more great recipes!
Chicken Soup Recipe
Greetings from Sue Bette, natural foods chef and author of feelgood eats, a food blog centered on the use of whole, local, and seasonal foods.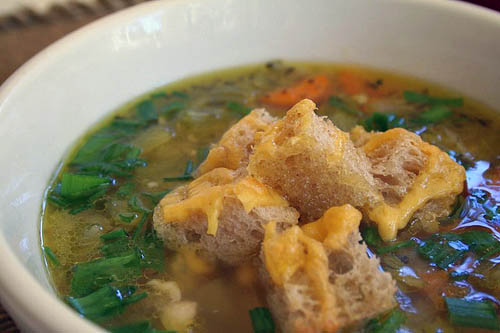 If you are looking to create satisfying, comforting, and tasty meals at home while staying on budget, look no further than soup. From Italian minestrone to Vietnamese phó, soup has traditionally been the food of working people, valued not only as a dollar stretcher but also because it packs a strong nutritional punch.
The secret to soup success is the broth, which is loaded with minerals and other therapeutic components (check out the Weston A. Price nutritional group for more details). I am a strong advocate for making broth at home. Canned and boxed broths contain higher sodium levels and additives, and from a budgeting standpoint, why buy something that is essentially a by-product of the cooking process?
Homemade Broth The Easy Way:
I find it is easiest (and, according to Consumer Reports, more energy efficient) to make broth in a crock-pot, which slowly coaxes out all of the minerals and other good stuff, resulting in an enriched and delicious broth.
Start by having your butcher quarter a whole chicken, which will fit easier in the crock-pot.
Before you head off to work in the morning, add the quartered chicken, 7 cups of water, 1 carrot (roughly chopped), 1/2 onion (roughly chopped), and 2 stalks of celery (roughly chopped).
When you get home (or after 6-8 hours), strain the stock into a large pot, discard the vegetables, and shred the chicken off the bone. Now you have stock that is ready to go, chicken that is already cooked, and a wonderful aroma in your kitchen!
Tasty Soup in Under 30 Minutes:
Start by prepping your ingredients.In culinary terms, this is called mise en place. Basically you want to have everything ready to-go when you begin cooking:

You want the ingredients to cook evenly, so try to chop the ingredients to roughly the same size (except the onion, which is minced into fine pieces). Don't stress about fancy knife skills or perfect cuts; just try to get everything in a uniform, bite-size piece and you will be doing great! Below is my set-up for slicing the celery. I break it down length-wise and then width-wise to create uniform chunks:

When heating your oil, you will know it is ready when you throw in a piece of minced onion and it dances a little bit (a slight sizzle). If the onion starts moving very quickly and almost starts to fry, your oil is too hot and you need to start over again.
Throughout the recipe I call for adding a pinch of salt – this is generally what you can pick up between your thumb and forefinger and is usually about 1/4 teaspoon. Adding the salt is an important seasoning step as it will help build and develop flavor throughout the cooking process.
The soup can be packed and stored in the refrigerator for 3-4 days or placed in the freezer for 6 months. If you do freeze the soup make sure to leave a couple of inches in your container because it will expand when frozen.

Chicken Soup with Cheddar Croutons
(serves 4-6)
Broth Ingredients
7 cups of water
1 chicken, quartered
1/2 onion, roughly chopped
1 carrot, roughly chopped
2 celery stalks, roughly chopped
4 peppercorns
Soup Ingredients
1/2 onion, minced
sea salt
1/4 teaspoon dried oregano
1/4 teaspoon Herbs de Provence
3 celery stalks, chopped into bite-size pieces
3 carrots, chopped into bite size pieces
3 cups cooked, shredded chicken
1 bunch green onion, chopped (for garnish)
Crouton Ingredients
4 slices of bread, cubed
1 tablespoon extra-olive oil
1 cup shredded cheddar cheese
Preheat the oven or toaster oven to 400ºF (for croutons).
For Broth
Add the chicken, onion, carrot, celery stalks, and peppercorns to a crock-pot and set on low. Allow to cook for 6-8 hours and then strain the broth, discarding the vegetables and shredding the chicken. You will have more chicken than the soup calls for; I like to use it for chicken salad or add it to other dishes throughout the week.
For Soup
Set a large heavy-bottomed pot or a dutch oven over medium-high heat. Add a dash (1 tablespoon) of extra-virgin olive oil. Allow the pot and oil to come up to temperature (this will take about 2 minutes). Once the oil reaches the desired temperature, add all of the onion and a pinch (about a 1/4 teaspoon) of sea salt. Sauté the onion for 3-5 minutes, until it softens and becomes somewhat translucent.Add the dried herbs, celery, and carrot with another pinch of sea salt. Sauté the vegetables until they soften, about 10 minutes, stirring fairly frequently. (During this time I usually try to clean up the kitchen.) Finish by adding the chicken and broth, and allow to simmer for another 15-20 minutes.This will allow the flavors to develop and mingle. When ready to serve, make the croutons.
For Croutons
In a medium mixing bowl add the bread cubes and olive oil and toss to coat. Lay the bread cubes onto a foil-lined baking sheet (this will make for easier cleanup). Toast the bread cubes for two minutes, until they become stiff and crunchy. Remove the baking sheet from the oven and sprinkle the cheddar over the cubes. Toast the croutons again until the cheese melts, about a minute.
To Serve:
Ladle the soup into bowls and garnish with chopped green onion and croutons. Enjoy!
---

You can get my latest articles full of
valuable tips
and other information delivered directly to your email for
free
simply by entering your email address below. Your address will never be sold or used for spam and you can unsubscribe at any time.