Posted by
Kristen
on May 2, 2012
As soon as people start making a budget or trying to save more money, the first item to usually take a dive is going out to dinner. And I don't blame them. With appetizers, desserts, drinks, and the tip, one night out can quickly add up to being a whole week's budget for food. But just because you're on a budget you can still have fun with food and make eating an experience and adventure without maxing out your credit card. Here are six alternatives ways to enjoy food without going out to a restaurant for dinner: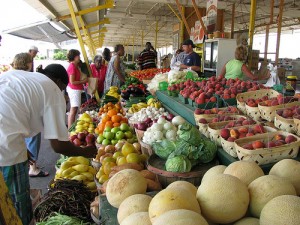 source:NatalieMaynor
Alternatives to Dining Out
Visit a Farmer's Market. Farmer's markets can give you more excitement and entertainment than a restaurant can for a fraction of the cost. You'll be able to chat with the farmers who have grown the food and have access to these super fresh and local ingredients at reasonable prices. There's a great chance that you'll be able to score things that aren't available at your regular, everyday grocery store. Besides fruits, vegetables, and herbs, many farmers markets have homemade cheese and other artisan foods. You may also come across cooking demonstrations, jewelry and other crafts being sold, and better yet, free samples.
Invite friends for a pot luck. One of my favorite things is to go out to dinner with a group of my friends. But what I soon realized, it wasn't the overpriced drinks and menu items that I was enjoying. It's trying new foods and sharing that experience with the people I care about. Instead of going out to dinner, organize a pot luck with your friends or family. If everyone brings a small dish, you'll still be able to try new foods and save money in the process. To bump it up a notch, have a theme to your pot luck. Ask your friends to bring a certain ethnic cuisine, a bite size snack, a new recipe they've never tried, or focused around a specific ingredient, like bacon or garlic.
Attend a free tasting. It might sounds too good to be true, but free tastings do exist. Breweries, wineries, and liquor stores often host free tastings of wine or beer to get you in the store trying new products. Besides being able to try the new drinks, these tastings most likely come with some type of snack or food, too. At smaller food stores, there's a good possibility they'll offer free samples of their products as well.
Learn to cook. If you're not a person that loves to cook, the task can seem daunting. It gets even more exhausting when you toss in a lack of time with work or kids or life in general. But you can make cooking fun and tailor it to your needs and abilities. Cooking will end up saving you a ton on going out to dinner. Learn to cook by simply watching cooking shows, borrow cooking books from the library, searching for tutorials online, or asking your friend that loves to cook to give you a few lessons. Check out your local community center, park districts, and farmer's markets that can offer free cooking classes or demonstrations. Once you start cooking, make it fun. Cook with your friends, spouse, and kids.
Have a themed day. I love to cook, but even I will admit that sometimes it doesn't meet the criteria of a fun filled night. But if you turn it into a theme night accompanied by activities, it becomes something more. Cooking Italian? Break out the wine and watch a movie that takes place in the scenic country, like Under the Tuscan Sun. Making Mexican? Crank salsa music and decorate the table with colorful plates or flowers. Your theme doesn't only have to be an ethnic or cultural one. Recreate a meal from your first date or wedding and walk down memory lane with photos.
Skip the dinner. Cooking, tastings, and farmer's markets are great, but something I'm eager to try a new restaurant I've been hearing about. With that, I've found you can still go to restaurants without spending a lot of money by just skipping the dinner. Instead of a full-size meal, split a few appetizers with friends or get one appetizer and a drink. Check to see if the restaurant has a happy hour special with specials on food or drink. If you have a sweet tooth, skip all of that and head straight for the dessert.
More Ways to Save on Food
---

You can get my latest articles full of
valuable tips
and other information delivered directly to your email for
free
simply by entering your email address below. Your address will never be sold or used for spam and you can unsubscribe at any time.