Posted by
Kristen
on September 13, 2012
Everyone is always looking for a new way to save money on their food bill. Besides finding alternatives to going out to restaurants, the best way to save is by lowering your cost at the grocery store. One of the best and easiest ways to save money on how much you are spending on your groceries every month is by buying produce that is currently in season. When produce is in season, it is much cheaper than the fruits and vegetables that are out of season because there is much more available for use. I always see sales on the in season produce as well. Plus, in season foods taste great since it is at the peak of freshness. Since fall is rapidly approaching, it's only appropriate to explore some great inexpensive produce you'll start seeing on the shelf.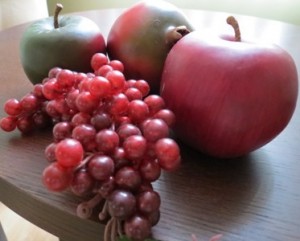 Photo source: Kristen
Inexpensive Fall Produce
Here are four fall produce finds you'll find on sale and how to cook them:
Sweet Potatoes. Sweet Potatoes are such a versatile food. You can really substitute them for anything you would do with a regular white or yellow potato. What is even better yet is they are so good for you and filled with vitamins A and C. You can mash them just like you would mash regular potatoes. Adding ingredients while you're mashing them makes them even better. Add cheddar cheese and chives or even a little maple syrup and cinnamon for a sweeter option. Try them as a baked potato topped with your favorite toppers like sour cream or guacamole. My favorite way to cook them is to peel them, chop them into bite size pieces, and roast them in the oven. You can season them however you like. I usually just stick to garlic salt and black pepper so I can taste their natural goodness.

Money saving tip: Don't buy the individually wrapped sweet potatoes. Some stores sell single sweet potatoes with a label that says they are washed and ready to bake. One potato will cost you as much as a whole bunch would.

Pumpkin. You don't have to save buying pumpkin just for pie after Thanksgiving dinner or just for carving on Halloween. Pumpkin can be used in both sweet and savory dishes. Besides pie, use it in bread, cake, pudding, and smoothies. For a savory dish, roast it in the oven with your favorite spices. Pumpkin also works great in pasta dishes or pureed to make a creamy and delicious soup.

Money saving tip: Compare the price of fresh pumpkin to the canned variety so you can choose the cheapest option. You don't have to worry about not getting the same vitamins that the fresh pumpkin offers you. The canning process actually makes the pumpkin even healthier.

Apples. Apples aren't just a healthy snack to eat on its own. They are an inexpensive and healthy ingredient you can add to meals and cook with. Add apples to both homemade and boxed stuffing for a sweet twist. Chop apples and onions in bite size pieces to roast with pork chops or chicken. One of my favorite things to do with apples is slice them up and add them to grilled cheese sandwiches.

Money saving tip: If you eat apples often or are planning to use a lot for a certain meal, buy a bag of them. In most cases a bag of apples will be cheaper than buying apples by the pound. Be sure not to chop or cut the apples until you're ready to use them. They will oxidize from being exposed to the air and then turn brown. You can always toss chopped apples in a little bit of lemon juice from preventing this from happening.

Cranberries. Just like apples, cranberries can be used in both sweet dishes and savory dishes. Cranberries are slightly sweet and slightly tart so they add a unique flavor to your meal or dessert. For sweets, you can throw them in cakes, muffins, cookies, and pancakes. On the savory side, cranberries can be used in stuffing or as a sauce or glaze for pork chops, roast turkey, or chicken. I love using cranberry sauce as a substitute to mayo on turkey sandwiches. As a fantastic bonus, cranberries are beneficial to your health since they are filled with antioxidants and flavonoids.

Money saving tip: Cranberries come in many different ways. You can find them fresh, dried, and canned. Compare prices before you purchase and of course, keep in mind what type of recipe you are wanting to put them in.

How do you save money on produce? What are the best fruits and vegetables to buy in fall?

More Fall Finance Tips
---

You can get my latest articles full of
valuable tips
and other information delivered directly to your email for
free
simply by entering your email address below. Your address will never be sold or used for spam and you can unsubscribe at any time.