Posted by
Jill
on December 9, 2015
Our holiday gift guide series continues! This week we are highlighting gift ideas for your employees!
If you own a business or serve in a supervisory position at work, you might be fretting about what to give your employees for the holidays… and you're running out of time!
You don't want to spend too much…or too little. You don't want to get too personal (unless your office is a small one, where people are more friends than coworkers). And you probably don't want to give cash, unless you're prepared to give a fairly substantial holiday bonus.
Inexpensive Christmas Gift Ideas for Your Employees
Our list of items is inexpensive but thoughtful, and all can be purchased easily while you're out running last-minute errands.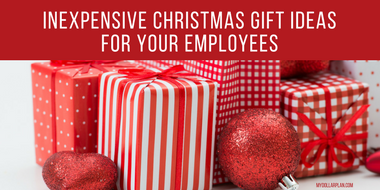 Inexpensive Christmas Gifts for Employees
Bottle of wine. Use this wine gift set as inspiration. Pick your favorite red or white, and throw a festive ribbon on it. You can make it look extra snazzy by wrapping it in cellophane, like you would a gift basket. Many liquor stores and even grocery stores give a 10% or more discount when you buy 6  bottles – so this makes a great gift for a large group of employees.
Monogrammed blanket. I know lots of mall stores are doing free in-store personalizing. A nice warm blanket is always a useful and appreciated gift, and you can make it more meaningful by personalizing it.
iPod speakers. If you let your employees listen to music at work, you can give a small dock that will allow them to hear their favorite tunes in the office.
A classic book. Give copies of your own favorite classic, or one your employee has mentioned never reading before. You can also give a book about succeeding in the workplace, a book related to your professional industry, or one about managing money. Check out our book gift guide for more ideas.
Gift baskets. Speaking of gift baskets…those make a great gift for employees! You can do a fruit basket, an office supply basket, a baked goods basket, a wine and cheese basket, a cold-weather themed basket (hot chocolate, blanket, scarf, etc.). The possibilities are endless!
Tickets to a local sporting event or show. Is a fun act playing in your town soon? My city goes crazy over the annual Trans-Siberian Orchestra concert. For sports fans, basketball tickets are also sure to be a treat. You can also give movie tickets if you're looking to spend less, or look for deals by using Groupon or Living Social for local shows.
Food. Who doesn't love to eat? Plus with the amount of entertaining people do over the holidays, extra food in the house is always welcome. Give whatever is traditional in your part of the country – in Texas it's tamales, pralines, grapefruits and/or baked goods.
Coffee/hot chocolate. My boyfriend once scored big in a gift exchange when he won a Starbucks gift set that included two mugs, a special hot chocolate mix, and a mini bottle of hazelnut syrup. You can always find coffee, tea or hot chocolate samplers at grocery stores. Trader Joe's is a great place for this, and so is World Market – both provide gift-worthy products at low prices.
Headphones. If you don't care if they listen to music, but can't allow loud music in an open area, consider a nice set of headphones instead.
A family game. Encourage family togetherness by giving a game that's appropriate for most ages, like Cranium or Pictionary. My family also likes The Big Taboo. You can add to the family night atmosphere by including a gift card for a local pizza place or ice cream/coffee shop.
Candles. Scented candles can be as expensive or inexpensive as you want them to be, and they make any house feel instantly more cozy. Bath and Body Works often sells them for about 50% off during sales. You can increase the gift by adding a festive candle holder.
Kitchen items. I know lots of people who love a good kitchen gadget – think corkscrew, cheese knives, or anything else to help entertain. Things like aprons and dishtowels are festive but not too personal, and someone who likes to cook can never have too many of either. I like Restoration Hardware for items I'd never think of buying until I see them!
Ornaments. I think I've mentioned before that my family believes in ornaments for EVERY occasion – we often give them for birthdays and other special occasions. You can find them for $10 or less at Marshall's or Target, or make your own! If you're not sure if your employees celebrate Christmas or put up a tree, this might be one to avoid.
Gift Cards. I know there are some people who try to go gift-card-free, but if you're really not sure what will make your employees happy, there's nothing like the license to treat yourself to something fun/yummy! An Amazon gift card allows the recipient to buy just about anything. You can also give a gift card to a local grocery chain to help out with the holiday meal, or to a restaurant to help recover from the holidays! Don't forget to check our list of gift card deals, or shop at Costco/Sam's Club to find discounted gift cards for movie tickets, restaurants, and iTunes.
Holiday lunch. Close up early one day and treat the group to a late lunch. You'll make them even happier by allowing a plus-one. If you'd rather not buy a tangible gift for each employee, you can use your office lunch as a chance to host an office-wide gift exchange.
Bonus vacation day. If you can afford it, offer your employees an extra vacation day to be taken sometime during the next year, or surprise them by offering them an extra holiday – one year my company made everyone's year when they announced TWO extra paid holidays for the end of the year.
Increased benefits. Once again, if you can afford it, you could THRILL your employees by increasing their benefits package. Pick up a larger part of their health insurance tab, increase your contributions to an HSA, or offer a paid gym membership.
Office improvements.You could also give an office group gift of sorts by improving your office space – add an employee lounge, or in-office gym, upgrade your desk chairs, or increase your network speed.
A sincere thank you. If holiday gifts aren't part of your company's tradition, or just aren't in the budget this year, remember this: a sincere thank you, verbal or written, goes a long way toward maintaining employee morale!
More Inexpensive Christmas Gift Ideas
Check out today's hottest holiday
Lightning Deals
. Hurry, they change fast and sell out quickly!
---

You can get my latest articles full of
valuable tips
and other information delivered directly to your email for
free
simply by entering your email address below. Your address will never be sold or used for spam and you can unsubscribe at any time.