Posted by
Jill
on December 19, 2011
The gift basket is a longtime favorite for holiday gifts. They're a great way to give a family gift, which is one of my favorite ways to save money on holiday gifts. You can make the basket as small or large as you want, including small "filler" items as a way to give more for less.
If you've never put together a basket before, read on for ideas on how to make a holiday gift basket and what to put in it.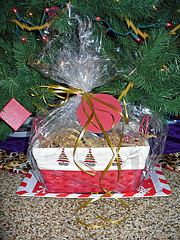 source: smiteme
Making a Holiday Gift Basket
Pick your theme. See below for suggestions. All items in the basket should relate somehow to the theme.
Pick your basket. Your basket can be large or small and basically any shape you want. Look around your house for options before rushing out to buy something! But if you do have to buy, look at places like Michael's or Hobby Lobby, and use a coupon. You can be creative here – all you need is a receptacle to hold multiple items. You could do a silver beverage bucket for a bar night or backyard party theme. You can also do a tray if your items can all fit on one flat surface.
Buy your items. Be creative – you will need items of different shapes and sizes. Many inexpensive items fill your basket better than a few pricey items. Look at places like The Dollar Tree and the dollar section at Target.
Put together your basket. Use newspaper or plastic bags to fill the bottom of your basket, so your items will rest on top of it. Then cover the filler with tissue paper or basket filler. Put your items in your receptacle. Start with the largest items. Fill corners with smaller items. And use tape to secure the smallest items to the top of other items. Build up first, and then out.
Wrap your basket. The best way to keep everything together is to wrap your basket with cellophane or shrink wrap. You can also buy a cellophane bag if your basket is small enough. You can find cellophane at any craft store, or at Wal-Mart. You can also sometimes find the cellophane bags at a dollar store.
Complete the finishing touches. Use decorative ribbon and a fun tag to finalize your presentation.
Theme Ideas for Holiday Gift Baskets
Movie night: A couple of DVDs, a box of popcorn and some movie-style candy form the start of this inexpensive basket. Jazz it up even more with some popcorn containers and maybe a copy of the latest Entertainment Weekly.
Cupcakes: I've seen countertop cupcake makers at Target and other places recently. Take one of those, add a cupcake cookbook and some decorative liners, and fill the basket with decorating tips and frosting. I'm also newly obsessed with this cupcake pen (hint – you can also use it for pancakes!), and think it would be a great addition to your gift. If you don't want to spend money on the cupcake maker, purchase mini-cupcake tins – they fit well in a basket and make any batch of cupcakes feel like a party!
Breakfast basket: My family received one of these as a gift recently. You can order them from places online, or make one yourself. Purchase or make mixes for traditional breakfast items like waffles and biscuits.  Include locally-sourced honey, jams, and spreads. Add fruit, coffee or tea for the final touch.
Baking basket: All the items needed for a day or night in the kitchen – measuring cups and spoons, a wire whisk, mixing bowl, cupcake tray or baking sheet, etc. You can also add decorative baking items like sprinkles, cookie cutters, and food coloring. Personalize this basket by adding some of your favorite recipes.
Baked goods basket: Our family's favorite token holiday gift – a basket or bag of homemade baked goods. We do chocolate chip cookies and have also started adding these quick and easy pretzel M&M treats. This year we plan to try our hand at Crock Pot Candy. Homemade banana or pumpkin bread is a great way to fill up a larger basket.
Game Night: Find a couple of board games that can work for a large group of mixed ages. In my family we like Cranium, Guesstures, Apples to Apples and Taboo. If you give a game like Pictionary, add fun accessories to ramp up the party, like a mini dry erase board and markers. If you need additional items to fill up your basket purchase decks of cards, poker chips, and inexpensive kids' games like pick-up-sticks. Add sodas or candy to round out the night.
Bartender: Grab a book or even DVD with cocktail mixing instructions. Buy a small bottle of your recipient's favorite liquor, along with assorted mixers.  Add inexpensive barware like a cocktail shaker and stirrers, and maybe some martini or margarita glasses – we found some beautiful blue martini glasses at the Dollar Tree this fall! Finish it off with jars of peanuts or olives.
Spa Night: Include a mix for a homemade face mask and/or foot scrub, or the ingredients/instructions for the recipient to make her own. Add a loofa sponge, a pumice stone, some nail polish and maybe a sleep mask.
More Holiday Gift Ideas
Check out today's hottest holiday
Lightning Deals
. Hurry, they change fast and sell out quickly!
---

You can get my latest articles full of
valuable tips
and other information delivered directly to your email for
free
simply by entering your email address below. Your address will never be sold or used for spam and you can unsubscribe at any time.