Posted by
Kristen
on March 10, 2014
Getting a tax refund is always the best part about filing taxes and the entire tax season. Now for the part that can be both fun and a little stressful – you have to figure out what is the best thing for you to do with this lump of money, whether small or large.
Whatever the amount is, there are several smart things to do with your refund. We discussed some suggestions if you're in college, a parent, or just how to spend your tax refund wisely in general, but what about newlyweds?
After you peel that "Just Married" sign off and real life starts to settle back in, it's time to face the music including bills, working, and trying to navigate through finances. Financially, it is a whole new experience combining accounts, money, expenses, and sharing your financial goals with your partner. One of the many discussions, compromises, and decisions you face as a couple will be what to do with this tax refund this year. Here are 7 ways for newlyweds to use their tax refund this year.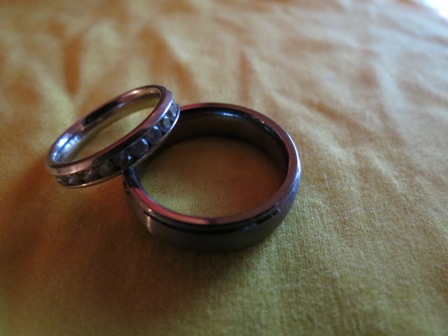 Photo Credit: Kristen
Great Ways Spend Your Tax Refund
Pay off any debt from your wedding.
It is estimated that the average American wedding will run a couple at least $27,000 and depending on where you live and what your wedding was like, it can easily triple that amount. If you weren't able to save up that money beforehand or didn't explore how to save money on the wedding, chances are you now have bills from vendors or even worse, credit card bills rapidly accruing interest from charging wedding purchases. Weddings are wonderful, unforgettable celebrations, but to be in massive debt at the start of your marriage, or at anytime for that matter, is not good for anyone. If you did over indulge for your wedding or had unexpected costs, use your tax refund to pay off your debt and rid yourself of that nagging stress.
Pay off other debt.
Chances are if you're just starting off together, you may have some other debt around. If you recently graduated from college, you more than likely are trying to deal with student loan debt every month. Instead of splurging with your tax refund, make a large payment to your student loans. Any debt from credit cards, car payments, medical bills, or any other type of debts can be helped with your refund. Of course, if you have any debt with a higher interest rate, you should pay that off immediately. Having this lump sum will really let you both make a dent in your debt and kick off a fantastic path to getting rid of the debt that hangs over your shoulder.
Save for housing improvements.
Many newlyweds are in either new or temporary living situations. If you are moving in together, you'll soon learn that moving costs are expensive, and you can use your refund to put towards those costs. If you're a newlywed starting out in an apartment and hope to buy a home, put your tax refund towards a down payment on a house. And if you're already living in a home together, there's always something that can be improved upon to add value to your property. If not, put it in a rainy day or emergency fund for all of those little unexpected costs that occur with home ownership like a furnace breaking, plumbing needing repair, or a hike in your property taxes.
Go on a honeymoon.
Use your tax refund to travel together, even if it is just a weekend away. Taking a break from every day stress and all the hectic changes when you're getting married is vital for your relationship. Personally, I think it's always a good idea to wait 6 months or one year after your wedding to take a honeymoon. You're able to assess your financial situation a little better and wind down from all the craziness of the wedding and moving in together.
Have a fun fund.
Start a separate account or fund for doing fun things together. It may sound a bit odd, but unfortunately, once you get married, it seems like a lot of financial priorities shift. If you're working hard and trying to be extra careful with your money, too often "fun" gets forgotten. It's important for your individual happiness and your happiness as a couple to take time together and have fun. Whether it is going out to a nice dinner or having a night at the movie theatre, use your tax refund to start the trend.
Start a savings account together.
Starting, or adding to, a savings account is a great thing to do across the board. But specifically for newlyweds, it is the perfect thing to do with your refund. Besides the obvious of having money put aside, it gets the conversation rolling about what you are saving for as a couple. Will you be saving for the distant future such as retirement? Or will you be saving for more immediate things like an emergency fund, travel, or buying a new car? Putting the refund to good use is the perfect opportunity to talk about your financial goals and your financial future. It's much more effective and enjoyable to discuss these things while you're opening a savings account opposed to when you're low on funds. You'll also get the chance to discuss any big ticket items that one of you may be interested in like returning to college to change careers or opening a business.
Start a productive hobby together.
Along those same lines as putting money aside for entertainment, consider using your tax refund for a hobby you can enjoy together. Your joint hobby can be something physical, like learning to ski, going hiking, or playing golf, as well as something educational, like learning a new language together. Having a joint goal will strengthen your relationship even more. It will be tremendous positive encouragement to be motivating each other and learning from each other as you both tackle this new goal. You'll build your confidence, feel a great partnership, and accomplish something as a team.
What are some great things newlyweds can do with their tax refund this year?
More Finance Topics for Newlyweds
---

You can get my latest articles full of
valuable tips
and other information delivered directly to your email for
free
simply by entering your email address below. Your address will never be sold or used for spam and you can unsubscribe at any time.