Posted by
Kristen
on January 28, 2013
Tax season is a stressful time. With gathering all the documents, waiting on others who have to supply you with these documents, filling out the forms, figuring everything out, and finally calculating your refund it is no wonder why this time is associated with anxiety about taxes. But the light at the end of the tunnel, is for some of us, we will get a tax refund. But before you splurge your refund on something frivolous, there are some smart ways to spend your tax refund wisely.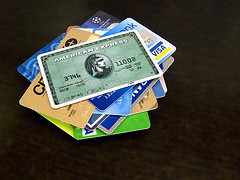 Photo Courtesy: Andres Rueda
Smart Ways to Spend Your Tax Refund
Here are ways to spend your tax refund wisely:
Pay down credit card debt.
If you have any credit card debt, there is nothing better than being able to throw a large sum into it. This is great since you are able to pay towards the principal balance instead of making a payment that is going largely towards interest. Paying down your credit card is like saving money since you are reducing the amount therefore reducing the amount of interest. You'll also get a smaller minimum payment out of it. To stretch your dollars even further, consider the 0% no fee balance transfer from Chase to avoid interest on your debt until it is completely paid off.
Put it in savings.
No matter what your plans and goals are, there's a good chance it involves having a savings account. Put the money in your account, and don't touch it. Research what type of savings account is best for the lifestyle you lead and check out the current interest rates.
Create an emergency fund.
If you don't have one already, start an emergency fund. Even if you have a great budget, there is always something unexpected that can occur. You might lose your job, your car can break down, you might need to fly to visit a sick relative or friend, home repairs may need to occur, and dozens of other things that happen more often than you think. When one of these horrible things happen, the last thing you want to be worries about is how you're going to come up with the money. With the help of your tax refund turned emergency fund, you'll be able to worry about one less thing.
Make some home improvements.
We're always putting home improvements on hold because of money, but now is your chance to get them mended. Fixing up your house and making improvements is not only making your home a better place to live, but it is also an investment since it is adding to your value of your home. Whether it's a large project like building a deck in your yard or replacing your roof, or something small like putting on a fresh coat of paint or getting your carpets cleaned, your tax refund will not be wasted.
Make improvements to your car.
Just like your house, there is a good chance your car could use some upkeep too. You can visit a mechanic you trust to give you an assessment of your car. You might need new tires or other types of general improvements.
Start a weekend getaway fund.
A common thing that people want to do with their refunds is to splurge on a vacation. I don't blame you. If you're like me, you're sick of the winter blues and burnt out after taxes. But, a great way to save money on your vacation and stretch out your dollar, is to take a few weekend getaways instead of one big vacation. This is great for many reasons. Driving instead of flying will most likely be cheaper. Spacing out your getaways keeps it exciting and gives you something to look forward to. Vacations are over so fast, and spreading them throughout the year will keep things entertaining and fresh. Also, you'll have to take less time off work.
Invest in your health.
When you're a diligent saver or trying to get out of debt, there are many things that get pushed aside. It's one thing to sacrifice your fashion or even the excitement of your social life, but it gets a little tricky when you start to sacrifice your health. So with your tax refund, you can invest in something beneficial for your health you normally wouldn't spend it on. Enroll in a yoga class, buy a gym membership, sign up for fun runs, purchase fitness DVDs, or even invest in work out clothing like running shoes. Stock up on vitamins or visit your doctor for a check-up if you haven't been in a while.
Save it for next holiday season.
While we're still recovering from the financial burden of this past holiday season, it may be a good idea to use your refund for next year. Between buying food and alcohol for parties, presents for our kids, friends, families, and coworkers, entertaining, and holiday events, it is definitely a rough time for the finances. To lessen the burden next year, put your refund in a savings account, forget about it, and then when the holiday season rolls around next year, you'll be in good shape.
Improve your job skills.
The job market is a competitive one to say the least. Whether you are looking for a job or just want to keep the one you have, there is always something you can do to build your resume, improve your job skills, and make you even more of a desirable candidate for a job. Think about your profession and brainstorm as to what you think could benefit you. Maybe it's enrolling in a class to learn a foreign language or taking a course in social media, photography, design, or another topic in your field. It could be registering for weekend seminars in your field or undergoing another type of certification. If you own your own business or work freelance, maybe you need to upgrade your supplies and equipment like a new camera, faster computer, or new cooking supplies. It can be as big as returning to school to get a new degree or as tiny as updating your business cards, but either way, your tax refund can get you started and provide and additional self employed tax deduction.
What are you doing with your tax refund this year? What are the smartest things to do with your refund?
More on Spending Your Tax Refund Wisely
---

You can get my latest articles full of
valuable tips
and other information delivered directly to your email for
free
simply by entering your email address below. Your address will never be sold or used for spam and you can unsubscribe at any time.