Posted by
Kristen
on February 18, 2013
Filing taxes can be stressful. It is even more stressful when you have a baby crying in the background, lunches to pack before the school bus leaves, and costumes to make for the school play. But on the upside, parents filing taxes can get some breaks for having kids (like education credits, dependent care credits and child tax credits), so why not use your tax refund to do something great for your kids. Not like caring for them everyday and paying for everything they need isn't enough, but maybe you want to make an investment other than a new toy or video game for them.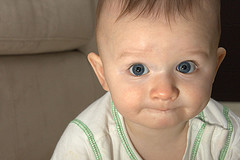 Photo Courtesy: efleming
Ways to Use your Tax Refund
Here are seven unique ideas for parents to spend their refund on their kids this year:
Put it in your savings account (or start one!).
Having a savings account is important for everyone, but if you have kids, you especially need to be prepared for a rainy day. If you lose your job or if another event happens, you'll really need to be able to pay your bills and provide food and shelter for the little ones. Not having to argue about money or create stress about money is one of the best things you can do for your child. Putting your tax refund in your savings account is a quick way to bulk it up. Then after you make a monthly or weekly budget for your family, you can decide how much should go in there from now on.
Start a college fund.
It may seem like a lifetime away whether your kids are infants or in high school, but either way college will be here before you know it. Take your tax refund, and open a savings account for their college tuition. The 529 college savings plans are a popular choice, but do research to figure out what is best for your child and your situation. Review 529 Plans versus UTMA Accounts and A Comparison of College Savings Plans for ways to get started. Putting away a little now will help them avoid massive student loan debt in the not so distant future. But just because you start a college fund, does not mean your kids shouldn't try to search for scholarships or apply for FAFSA to see if they are eligible for grants. And also ask yourself what you would do with this money if your child decides to take an alternate career path and not head for college.
Enroll your kids in a rewarding activity.
Even if you are already taking advantage of all the free activities at your child's school, the local library, your nearby park districts, and other city and community events, there might still be some other activities out there with a higher price tag. Now with a little extra money, you can enroll them. Maybe art classes, a sport your school doesn't offer, horse back riding lessons, or something unique you normally wouldn't be able to afford. Besides a fun, unique learning experience, you may discover what your child is passionate about and what their talents are.
Save for a specialized summer camp.
A notch up from an activity, use your tax refund to sign your kids up for a specialized summer camp. Normal summer camps are great and a lot of fun during the summer, but taking it to the next level to flourish a specific talent, hobby, or interest can be even better. Whatever your child's interest, chances are there's a camp for it. Specific sports camps, like basketball, volleyball, swimming, or football, camps for embracing the outdoors, educational camps, science or space camps, and there's camps for arts, theatre, music, cooking, and dancing. Besides being a fun experience, it's a good opportunity for your child to meet new friends who have similar interests.
Start a "college visit" fund.
Many parents have a college fund set up to help pay for their child's college tuition and other costs, but what about the high costs of applying and visiting? It's easy to remember tuition, books, and paying for the dorm, but the costs of the application process and the costs of actually setting out to visit one or even multiple universities can easily slip by. Application fees can cost on average $40 or $50 each, depending on the school. Also, in most cases, you and your child will want to visit the school at least once, not to mention additional trips for orientation, interviewing, buying books and supplies, moving into the dorm rooms or an apartment, or meeting with advisors before school starts to plan classes. Whether you're driving or flying, it's going to cost you. Plus, you're paying for overnight accommodations and food if it is far away.
Invest in outside activities and equipment.
Kids may be requesting iPads, computers, and video games, but try investing in some outdoor play equipment or sporting gear. For younger kids, outdoor play equipment and outdoor toys work well. For older kids, a swimming pool, bicycle, or roller blades are a great choice. These items are smart buys since they provide hours of entertainment. Plus, it's promoting physical activity and exercise which is a healthy, smart choice for your kids. Another option along those lines is investing in good quality camping gear. Even if you're new to camping, having a tent and other items allows you to camp overnight places for an affordable trip option.
Put it in the family vacation fund.
Using a tax refund to give your kids the amazing experience of travel is a rewarding and fun opportunity. As an avid traveler, there are so many benefits for traveling with your children. First, it's a great bonding experience for a family, and you are creating wonderful memories they will cherish. It's also an ideal way for them to learn first hand about new areas and different cultures. Whether it's history, culture, art, geography, or about the environment, there is something to be learned. Even if it is just learning patience while waiting in line at an attraction or trying new foods they normally wouldn't eat, they'll be taking back priceless experiences and life lessons.
What are good things parents can do with their tax refund to benefit their kids?
More Tax Topics for Parents
---

You can get my latest articles full of
valuable tips
and other information delivered directly to your email for
free
simply by entering your email address below. Your address will never be sold or used for spam and you can unsubscribe at any time.