Posted by
Kristen
on August 5, 2015
It's no wonder summer is a favorite season to so many of us. There are sunny days, warmer temperatures, a chance to hang outside, and tons of stuff going on in our communities. However, with kids out of school, having to entertain them every second of every day can seem daunting, and even worse, super expensive. Instead of breaking the bank this summer, here are some ways to save on entertaining the kids this summer.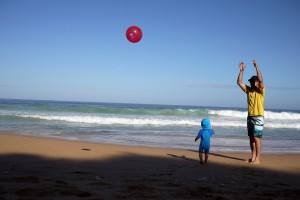 (Photo Credit: Salihan/Flickr)
Cheap Ways to Entertain Kids This Summer
Look into the local park districts.
Besides the obvious playground equipment, there are plenty of things going on at nearby park districts. Depending on where you live, you can find free classes, play groups, free access to their gym or sports equipment, and much more.
Find deals on activities.
While the summer is great for outdoor activities, sometimes it's just too hot or rainy or you need a break from the outdoors. Check out local indoor attractions, including batting cages, indoor amusement parks, arcades, museums, movie theatres, and so on. Many times, you can get a coupon or deal for signing up. Check their website to see if they offer reduced admission or discounts on certain days or at certain times.

Check out Groupon and Living Social for deals on various kids' activities such as reduced prices at museums, indoor gyms, water parks, and much more.

Sign up for e-clubs.
Sign up for the AMF Bowling E-club and you'll receive $20 off your next visit (for $5 off per person up to four people) and promotions throughout the year.

Dave and Busters offers a $10 bonus game play when you purchase $10 of game play for signing up for their e-club.

Sign up for the Chuck E Cheese E-club and they will send member only deals and a gift on your child's birthday.

Find deals for summer birthdays.
If you happen to have a child with a birthday this summer, sign up for birthday freebies with Bob Evans, Burger King, Captain D's Seafood Kitchen, and other restaurants that offer deals for your kids' birthdays. Also, K-mart offers a free $5 to spend for kids on their birthday for signing up for their kid's birthday program. Sign up for the Little Tikes Birthday Bonus program, which offers a birthday surprise.
Organize play dates.
Sometimes kids (and you) may just need a change of scenery. Take turns hosting a play group at your home with other families from your child's school, your community, or simply your family or friends. Keep it simple by everyone bringing a small snack to share.
Visit the library.
First, the library offers the obvious of plenty of books on all topics for your child to borrow. But depending on libraries near you, you can find reading groups, arts and crafts projects, classes and events, art showings, concerts, and more. You can also borrow DVDs for movies, documentaries, and more.
Check out museum free days.
Many museums offer free days throughout the summer so take advantage of them. Also, there may be lesser known, smaller museums that welcome free admission all year long so think outside the box.
Look into the tourism bureau.
Check out the tourism website for your city, town, county, and state. Chances are there is a list of free events offered all summer long. You might also find a tab for free and affordable things to do and attractions that you may not even knew existed.
Pack smart.
Whether it's a trip to an amusement park or simply a walk in your neighborhood, be prepared. Always have a snack on hand such as a granola bar, crackers, dried fruit, or nuts. This will prevent having to purchase something for much more while you're out. Always have a bottle of water nearby. Of course, always carry something to clean messy hands. An extra change of clothes (or two) can prevent having to purchase something new while out. This is also true for a sweater and long pants if it gets cold. In your car, it might be a good idea to keep extra sunscreen, extra bug spray, and extra snacks.
Find free events.
Summer is filled with free carnivals, festivals, fairs, farmer's markets, concerts, and so much more. Besides checking out your local library, park districts, and tourism bureaus for your area, keep an eye on the local newspaper and watch the local news for updates on things going on. Check out the calendar at your community center.
Find deals on outdoor play equipment.
Outdoor play equipment can equal hours of fun and entertainment. This is also true for outdoor games, sports equipment, and more. Instead of paying full price, check out used sporting good stores, garage sales, or buying used online instead of buying brand new. If you are buying brand new, be sure to visit the store's website first to see if they offer any coupons or a promotion for signing up for their reward program.
Stock up on sales.
Shop the sales on health foods and beverages. Buy fruit that is in season and/or on sale for a healthy snack. Stock your pantry with staples to have on hand so you're not tempted to go out for fast food or have to keep running to the store. Just like you usually do with your grocery purchases, keep an eye on expiration dates so items don't go to waste, gather your coupons from the store's website, coupon websites, the newspaper, and the manufacturer's website, buy generic when you can, and always remember your loyalty reward card.
Stock up at the dollar store.
Head over to the dollar store to create a summer secret stash. You'll find super cheap coloring books, toys, puzzles, games, books, and other gear that you can pull out on a rainy day when it's a battle to keep the kids' attention or they are bored. Keeping it a secret will surprise your kids and keep them interested.
What are your favorite ways to save money in summer with the kids?
More Fun Summer Activities
---

You can get my latest articles full of
valuable tips
and other information delivered directly to your email for
free
simply by entering your email address below. Your address will never be sold or used for spam and you can unsubscribe at any time.