Posted by
Kristen
on July 8, 2015
Everyone loves summer. The sun is shining, days are long, and temperatures are warm. Plenty of free outdoor activities, festivals, and more keep our budgets in check. It's especially great for kids to take a trip to the park or simply ride their bike around town. But regardless of how beautiful a summer is going, a rainy day is going to happen on occasion. Here are some budget friendly activities to do with the kids on those long, rainy days when going outside to play isn't an option.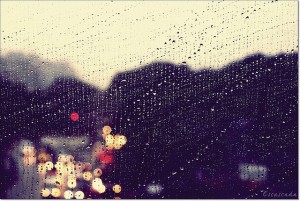 (Photo Credit: Yen H Nguyen/Flickr)
Cheap Ways to Enjoy a Rainy Summer Day
Head to the library. The library is a great resource for rainy summer days. First, the obvious, there are plenty of books for children to read. They can spend time browsing and reading there, and check out books to take home to keep busy. Second, besides books and magazines, there are plenty of specific books that can trigger even more things to do besides just reading. For every sport, hobby, craft, game, and more, there is a book. Borrow a cookbook with kid-friendly recipes or other fun activity books. You'll also find plenty of movies and TV shows on DVD (and maybe even some still on VHS) to borrow for free. Lastly, many libraries offer free events. You might find puppet shows, story times, crafts, classes, games, plays, concerts, and more.
Watch movies. A simple way to occupy some time is to watch movies. You don't have to head out to the pricey movie theatre. As I mentioned above, check out which movies are available at the library. If you have cable, see what movies are playing on TV. Sign up for text alerts from Redbox and e-mail notifications. The company often offers free movies or other promotions such as buy one red box, get one free.
Let them help you cook. Get the kids involved in what you're cooking. They'll have fun doing it plus enjoy their meal that much more. Depending on their age, you can find a recipe to match. Even if they're young, they can help you make homemade pizza by slathering on the sauce, piling on their favorite toppings, and of course, the cheese.
Check out free museums. Larger museums can cost a pretty penny, but there are plenty of museums that offer free admission. For example, in Chicago, the Art Institute of Chicago charges admission, but the Mexican-American Art Museum is totally free. Even for museums that charge an admission, check to see if they offer a free day or reduced rate.
Check out events at retail stores. Usually you'd want to stay out of any stores to stay on budget and avoid spending money. But there could be some benefit to taking the kids to the store on a rainy day. Many stores offer free classes and events periodically. Craft stores may offer art classes, cake decorating classes, or classes on painting or scrapbooking. Outdoor stores offer classes on camping, fishing, or safety classes. Book stores often have story time, readings, puppet shows, or other events. Go to a store's website for the calendar.
Sign up for a day pass at a family gym. Many gyms and fitness centers will give you a free day pass to check out the facilities if you're interested in possibly joining. Scope out which fitness centers have child-friendly amenities and programs. Pending the gym, you can find a pool, track, indoor tennis courts, indoor basketball courts, rock climbing wall, and more. Just double check the age requirements and just how child friendly the facility is. It's also a good opportunity to teach the kids about health, nutrition, and taking care of our bodies.
Play on the computer. Many websites, like Disney, Nickelodeon, and more, have plenty of games to play for free right on their website. You can also find free coloring pages to print out as well.
Get inspired by things around the house. Chances are you have items that could invoke a craft project or something else artistic. Break out the markers, crayons, and paint to make something with the kids. The same is true for dress-up or other games inspired by what you already have.
Take a trip to the dollar store. Let the kids pick out one item at the dollar store. They'll have fun trying to decide what to get and browsing through their options. Whether it's a toy, book, puzzle, game, or craft, they'll now be occupied for the rest of the afternoon with their new item. And best of all, it is only one dollar. It's also a good place to pick up some coloring books, art supplies, and other stuff to keep them occupied. For more see Is Shopping at a Dollar Store a Good Deal?
Head to a second run movie theatre. Instead of going to a regular movie theatre, check out what's running at the second run theatre instead. If you're not familiar with a second run movie theatre, it is simply a theatre that plays older movies that have already been out in the theatre for a long time. You may get a cheaper rate by going to the first movie of the day and also for signing up to their e-mail list or liking them on Facebook.
Find a restaurant where kids eat for free. Eating at home is generally cheaper, but if you can find a restaurant where kids eat for free, it may be a nice, cheap treat for them. Plus, as an added bonus it gets them out of the house for a while. Wrap up their meal to go to make it into two meals to stretch your value even more.
What are some other free or cheap ways to enjoy a rainy day during summer? What can you do around the house to entertain the kids on a rainy day? What about outside of the house? Where can you take them to have fun?
More Fun Summer Activities
---

You can get my latest articles full of
valuable tips
and other information delivered directly to your email for
free
simply by entering your email address below. Your address will never be sold or used for spam and you can unsubscribe at any time.