Posted by
Kristen
on August 6, 2012
Summer is my favorite season. The days are longer, the sun is shining, and there's always something fun to do. The problem I used to encounter is that with summer, I want to meet up with friends, travel, and do something new everyday. And then by the time fall comes around, I'm out of money. Summer can end up being expensive. I decided instead of going broke or not enjoying summer, I can balance it out by finding creative ways to save and still have fun. Here are six ways to have a great season without spending too much.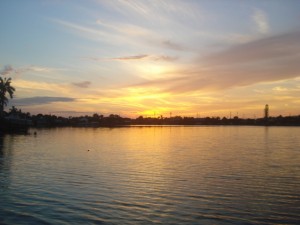 Photo source: Kristen
Inexpensive Summer Fun
Use your grill. Cooking outside turns the meal into a whole new experience. Take advantage of the warm weather, and make lunch, dinner, or even breakfast or dessert right on the grill. It's a great way to have fun with food and try new recipes without the price tag of eating at a restaurant.
Enjoy the outdoors. Enjoying the outdoors doesn't mean the same thing for everyone. You can enjoy being outside by people watching in a crowded city, by reading a book on the beach, picnicking at a park, or fishing by a lake. Whether it's biking, walking, running, or pushing a stroller, now is the time to get out.
Skip the vacation. My favorite thing to do is to travel, but if you're really trying to enjoy summer without spending a lot, opt not to take a big vacation. Wherever you live, there are plenty of activities going on during summer. Between festivals, farmer's markets, carnivals, and family and friend parties, you won't miss out on the action. If you have the travel bug, then take a day trip instead. Look for places driving distance that you can spend the day at.
Go camping. Instead of paying for airfare and hotels, give camping a try. There is a good chance there is a campground within driving distance from you so pack up the car and go. You won't have to pay for entertainment and expensive dinners. It's a great experience and a fantastic option to getaway for a day or two without the cost.
Check out free days. Look into free days at attractions that are usually too costly. Many times, museums, zoos, aquariums, and more offer days that are free either the entire day or for a portion. If you don't have luck with free days, ask if there are discounts for being a resident of the city, state, or for being a student if you are one.
Look for free festivals and concerts. Every city, town, and neighborhood has some type of event going on during summer. Check out what events are going on. Chances are you'll find art fairs, concerts and live entertainment, festivals, parades, food events, and much more. In Chicago, there are great ethnic festivals going on every weekend. The park district also offers movies in the park where you bring your lawn chair or blanket, a picnic basket, and watch a movie under the stars for free.
What are your favorite inexpensive summer activities?
More Inexpensive Summer Fun
---

You can get my latest articles full of
valuable tips
and other information delivered directly to your email for
free
simply by entering your email address below. Your address will never be sold or used for spam and you can unsubscribe at any time.