Posted by
Don
on October 1, 2013
Dollar stores have become a great way to save money on items. They've been around for a long time; however, ever since the recession began in 2008, dollar stores have seen a surge in activity. In fact, many of the businesses that own dollar stores are expanding the number of store locations to take advantage of the trend. The question is, are dollar stores all that they are cracked up to be? In other words, are they a good deal?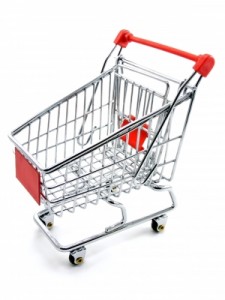 Photo Credit: Grant Cochrane
The Psychology Behind The Dollar Store
I don't have a degree in psychology, but I would venture that the appeal to the dollar store is that everything is $1. As a consumer, you can go into a dollar store and not have to worry about comparing prices to see which is a better deal. When everything is priced the same, there are no comparisons to make.
The added benefit for the dollar store is that as a consumer, you are likely to overspend. Sure, it's only $1, but that is the point. You are thinking that $1 isn't a big deal, so you buy it. Quickly all of your $1 purchases add up to $10. Over the course of a month, that's $40 extra. Granted you still could come in below your budget for the month, but you still wasted an extra $40.
Price vs. Size
One of the biggest "tricks" at the dollar store is size variants. When you are shopping at a traditional grocery store, you not only have to compare the price between two items but also the size to determine the better value. By stripping out the price comparison at the dollar store, many consumers ignore the size comparison. For example, a 16oz tube of toothpaste at the grocery store might run you $2.79. At the dollar store, the toothpaste is $1, but it's not a comparable size. In the dollar store it's a 4oz tube. You would need to buy three tubes at the dollar store, or $3 worth to match the price. Even then, you are spending an extra $0.21.
Quality
The other issue to be aware of at the dollar store is quality. Some foods are there simply because they are near their expiration date. If this isn't an issue for you, knowing you will consume it before that date, then it could be a deal for you.
Note that a dollar store simply cannot sell just any quality of food. There are still rules and guidelines it has to adhere to. In the case of fresh fruits and vegetables, the dollar store might get the "misfits", the items that aren't pleasing to the eye, but are perfectly safe to eat.
Again, the food at a dollar store is perfectly healthy to eat, it might just appear to be not as nice as what you typically see at the grocery store.
Good Deals Are Available
This post isn't to say you shouldn't shop at a dollar store. There are plenty of great deals, you just have to be aware as a shopper. You cannot simply go into a dollar store and think everything is a deal because it is $1. Personally, I buy my greeting cards at a dollar store, where I get them two for $1. Compared to $4.99 at the grocery store, this is a steal.
To be sure you are getting a good deal, note the product sizes and prices at the grocery store before buying at the dollar store. This will allow you to truly compare and make better buying decisions. Here is a collection of articles about things people found to be a good deal at the dollar store (and things that aren't):
Final Thoughts
If you are a smart shopper, shopping at a dollar store can save you a good amount of money when you shop. You just have to be aware of their "tricks" and how they make you think everything is a good deal when it isn't. With just a little bit of work (and it really isn't work, just noting the sizes and prices of the items you typically purchase when shopping), you can score the best deals at the dollar store and beat them at their own game.
What do you buy at the Dollar Store?
More on Frugal Shopping
---

You can get my latest articles full of
valuable tips
and other information delivered directly to your email for
free
simply by entering your email address below. Your address will never be sold or used for spam and you can unsubscribe at any time.