Posted by
Madison
on August 21, 2017
You can find unclaimed money for free. As more old data is put online, our resources for finding unclaimed money grow.
I found my missing money, submitted my claim for the money and got a check in the mail.
While claiming unclaimed money free was a $100 success for us, this man recently got $763,000 in unclaimed money! Can you imagine?
Find Unclaimed Money for Free
There are billions of dollars in unclaimed money. However, you do not need to pay an unclaimed money finder. You can do the searches for free yourself using many of the databases listed below.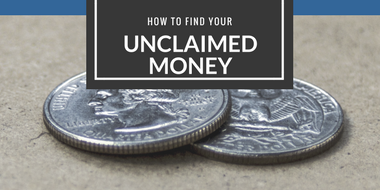 How to Find Money Owed to Me For Free
How can you find unclaimed money owed to you? There are multiple places to search for unclaimed money by person name for free. Some of the sites also use search based on social security numbers.
Depending on the type of money missing, there are various "who owes me money" free search databases. However, if you don't know the money is missing, you probably don't know what type it is! You might as well search all the categories.
Where to Look for Your Missing Money
How can you find unclaimed money owed to you? To find your missing money there are multiple agencies to search at.
You'll need to look in all the states you previously lived in. In addition, you need to search on any maiden names or prior names you may have used. In addition to searching for yourself, you may also want to search for deceased relatives.
Unclaimed Property and Bank Accounts
Unclaimed Retirement Benefits
Unclaimed Tax Refunds
Unclaimed Savings Bonds
New Unclaimed Money Search from Credit Karma
Credit Karma, the same company that provides free credit scores recently added an Unclaimed Money search product. It currently works for California, Florida, Georgia, Indiana, Iowa, Maryland, Massachusetts, Minnesota, Missouri, New Jersey, New York, North Carolina, Ohio, Oklahoma, Pennsylvania, South Carolina, Texas and Wisconsin.
Tips on Finding Missing Money
Search various states and names. Don't forget to search for your maiden name and other variations in your name due to misspellings. Also, search previous states that you lived in. I found my unclaimed bank account in my maiden name from an old address.
Avoid the Pay Sites. Because there are so many places to look for unclaimed money in your name for free, there really isn't a need to pay for the service. One site that readers ask me about is unclaimedmoney.com. I looked into their search and they charge between $11 and $129 depending on the length of the membership.
Routinely Search. This might be one of those exercises that you put in your calendar for every 5 years. As you can see, even though I claimed all my missing money before, some more turned up!
Free Money
If your search for claiming unclaimed money free doesn't turn up anything, you can always explore our updated list of free money offers.
Action Plan to Find Your Missing Money
Do you have any "lost" money? Try the free unclaimed money search and see what happens! Then submit a claim for your missing unclaimed money.
Did you find any missing money owed to you?
More Money Topics
---

You can get my latest articles full of
valuable tips
and other information delivered directly to your email for
free
simply by entering your email address below. Your address will never be sold or used for spam and you can unsubscribe at any time.