Posted by
Kristen
on July 7, 2015
Whenever I tell someone I'm a freelance writer, they are always curious about it. The main thing that people are not always bold enough to ask is but they are thinking, "do you actually make money as a freelancer?" And the answer is yes, you definitely can if you're willing to put in the time and effort. But there is definitely a "but". There are many things that you might not realize that go into freelancing and a lot of tricks to the trade. Being a freelancer is a great way to make extra money or if you work hard enough, have a great work from home job. Here are some tips to become a successful freelancer.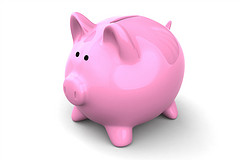 (Photo Credit: StockMonkeys.com)
How to Make Money as a Freelancer
Create an online portfolio.
Whether you're a writer, copywriter, editor, photographer, or anything else, create an online portfolio. You want to give people an easy way to see your work so they can hire you. Put your best work on it and show your versatility. You want to also have a clear way people can contact you.
Budget smartly.
Freelancing allows you to be flexible, make your own hours, and not be bound to a chair 40 hours a week. But it also means you are not going to have a steady income. I'll admit, it is a little rough getting used to one month earning much more than you expect and then a few months later earning much less. This means you have to have a flexible budget and be able to handle irregular paychecks. You also have to have some money saved. This way, if you don't get a new job for a while or you aren't getting paid right away, you will have the money you need to live.
Use social media to promote yourself.
Social media is a powerful tool as a freelancer. It's a great way to show off your work, form connections with people that can lead you to other jobs, and it's a good platform for letting potential clients know what you're capable of. Use Twitter, Facebook, Pinterest, Google Plus, Flickr, and whatever other social media outlets that would work for you. Keep it professional, and update it regularly.
Have an awesome LinkedIn page.
LinkedIn is the best way to establish yourself as a strong editor, writer, photographer, or whatever other skill you want to freelance with. Add all of your past experiences, any degree you have, relevant coursework, awards, skills, and anything else that makes you a good candidate. You can also show your work, and ask for recommendations from clients you've worked with in the past.
Hone your craft.
The best advice I got when I decided I wanted to pursue freelance writing was, "Write." It sounds simple, but you need to just keep getting better and putting more time into your skill. Besides practicing on your own, get advice from others in your field on what you could be doing. Take a class at a community college.
Start a blog.
Blogging is a great way to show your style of writing or photography. You can write about whatever you'd like, but keep it professional. Make the content something you would be proud to show prospective clients. Show your skill, accuracy, and attention to detail. It's a great way to get your work out there while you still don't have a lot of experience.
Pitch like you eat and sleep.
A normal worker goes into work everyday knowing that there is going to be a list of tasks and projects to do each day. As a freelancer, you don't have that. There is nothing. It might sound nice, but no work means no paycheck. You need to be regularly pitching and connecting with people that could lead to opportunities. In reality, many of your pitches will go unanswered, get rejected, or not get a response for a long time. The more you pitch, the better you'll get at it and the more positive responses you'll get back.
Understand you are a business now.
For me, being a freelance writer is like owning my own business. I'm marketing myself constantly, I have to keep track of payments (and sometimes hunt them down), keep track of my expenses, and maintain my contacts. I'm also juggling many different projects at once and have to maintain an extremely accurate schedule to adhere to deadlines. Also, you're not getting paid like an employee. You have to file taxes completely differently than if you were getting paid by a company on their regular payroll. Here is How to Calculate Self Employment Tax. Stay completely organized.
Network.
One of the best ways to find freelance jobs is to network with people in your profession. Start from the beginning. Think back to college – internships you had, people you worked with, teachers you had a relationship with, advisors you knew well, and classmates and friends. Then move forward to other positions you had. Even family and friends may know someone in your field that they can connect you with. Join professional organizations, and attend events that other professionals in your field will be at. Always carry a business card, and be ready to share your portfolio or resume.
Volunteer your services.
The last thing you might want to hear is to work without getting paid, but if you have no experience or contacts, it's a great place to start as a writer or photographer. You can find volunteer opportunities through local community groups, through Volunteermatch.org, or through blogs, online publications, and even print publications that do not compensate their contributors. Here's the deal with the whole working for free. Don't do it for too long, or you'll be wasting your time. But, it's a great way to get published and get your work out there. Only write or photograph things that you are proud of and that you want to add to your portfolio. After you've worked with someone, connect with them on your social media and LinkedIn pages. Ask for a recommendation, and ask them if they know of any positions that are paying. A little hard work can end up benefitting you in the end.
Resources for Freelancers
Here are some resources to use as a freelancer:
If you're a freelancer, what is some good advice on how to earn money?
More on Making Money
---

You can get my latest articles full of
valuable tips
and other information delivered directly to your email for
free
simply by entering your email address below. Your address will never be sold or used for spam and you can unsubscribe at any time.