Posted by
Kristen
on March 5, 2013
Do you feel proud of yourself when you and your family manage to save money on something? I know I do. But here's the problem: sometimes we get so caught up in finding a good deal, getting a great bargain on something, and saving money, that it actually is costing us more money, and we're not saving a penny. It sounds crazy, right? Well, it isn't as uncommon as you might think. Here are 4 common ways you might think you're saving, but you're actually spending more and a quick fix to get you back on track.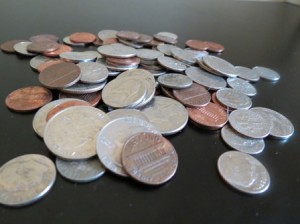 Photo Courtesy: Kristen
Buying cheap clothes
The thought of spending a lot of money on clothes and shoes is a waste to many. And I can understand that seeing how styles change and people's tastes can change just as fast. If people aren't really into fashion, it doesn't bother them at all to buy cheaper clothes. But certain pieces, like a suit for men or basic dress pants for women, don't change too often. The same thing with good, staple shoes like gym shoes and black dress shoes. Unfortunately, in some cases, you get what you pay for. Cheaper clothes have the chance to quickly fade and appear worn, shrink faster, and tear faster than more expensive clothes. If you're buying new clothes every season, you're better off just buying the more expensive product to begin with. More expensive clothes are usually made with higher quality materials and are made to last longer.
Quick Fix: There's a difference between buying cheap clothes and buying clothes for cheap. To save on pricier clothes, sign up for a store's e-mail lists where you can hear about sales and get coupons. Consider buying high priced items at an up-scale consignment shop or second hand store. You can even have clothes swap parties with your friends to share styles once you're sick of them. If it's something you wear constantly, invest in it so it's wearable for a long time and comfortable.
Clipping coupons
Even before Extreme Couponer catapulted couponing into a phenomenon, the idea that couponing equals money saving is the common thought. But sometimes people get so caught up in the idea of saving, that they clip coupons and buy things they don't even need. A lot of times coupons have deals if you buy three of something, you save one dollar. But if you didn't need three of it, you're wasting money. Also, coupons expire, sometimes aren't accepted, and could not work when you're at the register which could mess up your grocery budget.
Quick Fix: Only clip or print coupons for items you need or will actually use. If the coupon deal is to buy more of a product, be sure you are using it before it expires. You can do this by regularly doing an inventory of what you have and noting the expiration date. Be sure to pay close attention to the expiration dates and stipulations of the coupons, and keep an eye on the tally during check-out to double check they scanned properly and the amount taken off is correct.
Buying in bulk
Many times buying in bulk is more economical, but there are many ways this can go wrong. The same as with overbuying with coupons, if you're not using the product rapidly, there is a greater chance it will go bad or lose its freshness. Also, if you're not comparing the ounces of the product or the amount, it's possible it isn't much of a deal at all. If you're paying a monthly membership fee to shop at stores that offer buying in bulk, you might be wasting money as well if you're not using it often.
Quick Fix: Always keep an eye on when things expire. You can write the expiration date clearly on a post-it so you can see it more clearly. Freeze any extras items so they stay preserved longer. I buy fruit in bulk and then throw it in the freezer. It takes only a few minutes to defrost, and it makes smoothies that are much easier to make. For items like cheese and meat, learn how to store properly as to avoid mold, freezer burn, and just going bad in general. Consider shopping with a friend and family member on bulk items. This way, you're getting the item at the better price, but you don't need to go through a tub of granola bars or whatever else you want to buy. You can also split the membership to bulk stores with a friend as well.
Staying in instead of going out
I can't tell you how many times while talking to friends about their weekend plans they say, "I'm staying in to save money." I completely understand the logic. Going out to restaurants and bars can burst anyone's budget fast. But there are two separate problems with staying in to save money. First, sometimes it costs just as much to stay in. If you're ordering food, renting a movie, and stocking up on snacks, you may have just as well gone out instead. Second, if you're staying in as a chore, you're not going to be happy. You might just end up going out without a plan and spend more money than you want.
Quick Fix: If you're staying in, cook instead of ordering in. Instead of renting a movie, watch something on TV, online, or borrow a movie from the library. There's plenty of other fun things to do at home and ways to save on entertaining your friends and family like having a game night. Second, don't treat going out like it's the end all be all to your finances. Simply set a budget, and stick to it. Find fun, free things to do like wine tastings, free admission to museums, concerts or plays by local community groups, or outdoor activities like taking a walk or bike ride.
Have you ever thought you were saving money and then realized you weren't? What are common ways people think they're saving money but they really aren't?
More Ways to Save Money
---

You can get my latest articles full of
valuable tips
and other information delivered directly to your email for
free
simply by entering your email address below. Your address will never be sold or used for spam and you can unsubscribe at any time.