Posted by
Kristen
on June 21, 2012
Enjoying craft beer and wine doesn't have to mean spending too much money. Wine and beer may be one of the first things people cut out when they're trying to be more financially conscious and trim the budget, but it doesn't have to be. There are ways to learn about and drink wine and beer without breaking the bank, and here are seven of them.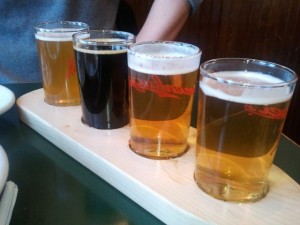 source: Kristen
Ways to Enjoy Budget Wines and Beer
Attend a tasting at a store. Stores that sell wine, beer, and other alcohol sometimes offer free or inexpensive tastings to get customers to buy the featured products. This is a great way to try new wines or beers and find what you like. Check local stores' websites or simply give them a call to ask if they have tastings. At many tastings I've been to, there's also been samples from local restaurants and discounts on your purchase if you end up buying what you're tasting.
Visit a winery and brewery. Wineries and breweries are the perfect place to try fresh products, learn about the brewing or wine making process, and to see where your favorite drink is coming from. Often you'll find free samples, reasonably priced products, and tours. Many of the breweries I have visited gave expert advice on the temperature to serve the beer, what glass to use, and how you should taste it.
Go to wine and beer events. Check out local events that feature wine or beer. Festivals, dinner paired with wine or beer, and other wine and beer events give you an entertaining way to try new wines, beers, or what to pair each with.
Have a tasting party. If you want to try a variety of beers or wine, have a tasting party with your friends. Ask everyone to bring their favorite, reasonably priced wine or beer to split the cost. Or choose a theme for the party like wines that pair well with desserts, seasonal beers, or a specific style, such as Merlot for wine or a Stout for beer.
Ask for a comparable beer or wine. I used to get disappointed when I would sample a craft beer or wine and then find out it was way out of my price range. So instead of missing out, I just ask the wine or beer expert at a local store if they can recommend something similar for a lower cost. Describe what you like about the drink, and they can point out similar styles or ingredients you're looking for in a good budget wine.
Join reward memberships. Just like department stores, a lot of specialty wine and beer stores offer reward programs. They may have a wine or beer club where you get certain beers each month or discounts off purchases. Even just signing up for e-mail alerts and sale papers can give you an idea of what's on sale and worth giving a try.
Buy in bulk. If there is one particular type of wine or beer that is your go-to, inquire about buying it in bulk. Chances are you'll get it at a much cheaper price than if you bought each bottle individually.
More Ways to Save on Food and Alcohol
---

You can get my latest articles full of
valuable tips
and other information delivered directly to your email for
free
simply by entering your email address below. Your address will never be sold or used for spam and you can unsubscribe at any time.