Posted by
Kristen
on October 25, 2012
When you are trying to spend less and save more, often going out with your friends or family gets cut off the list. I know that since I've been trying to deal with my student loans, going out has taken a backseat. The next option usually is simply having people over at your own home instead. It has to be a cheap alternative, right? Wrong. If you're like me, you soon realized that having friends over can be just as expensive as spending a night out around town with dinner and drinks. Whether it's a few friends or your entire family, the price of entertaining can really add up fast. With the holidays rapidly approaching, it's a perfect time to start finding ways to save on hosting get-togethers. Here are my 11 simple ways I save money while I'm entertaining.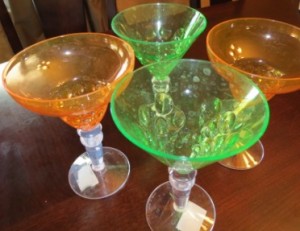 Photo source: Kristen
Ways to Save Money While Entertaining
Ask your guests to bring something. Anytime I invite someone over and they ask what they can bring, my natural reaction is to say nothing. But if your guests are offering, bringing one small item isn't going to bother them. If everyone brings one thing, it's a huge load off of your shoulders. To be courteous to your guest, don't get too specific. Simply ask them to bring an appetizer, dessert, or a drink so there is flexibility. Or you can take turns having a pot luck dinner at each other's homes.
Have a signature drink. A few years back I had a party where I tried to have everyone's favorite drink on hand. I selected specific types of beer, bought a bunch of different kinds of wine, and even stocked up with various types of alcohol with as many mixers to match. I ended up spending way too much. Instead, make a signature drink of the night. You can let people know what you'll have on hand so that if they want something else, they can just bring it.
Plan the meal in advance. Once you know what you type of food you are providing for the party, you can make a list and find coupons to save on the groceries. Planning in advance will also allow you to search sale papers to see what the best deal is. Besides choosing the most affordable option, pick dishes that are affordable, easy to prepare ahead of time, and things that are able to be served at room temperature so you can enjoy the party.
Use decorations you already have. The fastest way to save on entertaining is eliminating spending money on decorations. Use decorations and items you already have on hand. You can get creative with items you have around the house.
Visit the Dollar Store. If you do have to buy items for your party, skip the pricey party supply store or department store, and head for the local dollar store. You'd be surprised at what you'd find for entertaining purposed. My local store as festive table cloths, unique serving dishes, wine glasses, napkins, and much more.
Skip invitations. Forget spending money on invitations and stamps. If it is a more casual party, simply call your friends, send them an e-mail, or create an event on Facebook. Personally calling them on the phone is actually a great way to invite them. It gives your invite an extremely personal feel, and you'll be able to explain what the party is all about including if they should bring a drink or appetizer or if there's a theme. For a touch more formal, create an event on Evite, and send out invitations this way. Evites are totally free, and don't just include the basic graduation, birthday, and holiday parties. You can find invitations for themed parties, like Westerns or Fiestas, wedding invites, baby shower, and hundreds more. In addition to the convenience of the Evite, you are also able to type a detailed description of the party and show guests a map of the event. It also allows your guests to respond, make comments, and see who else is invited.
Limit the amount of people. Not that you have to leave anyone out, but try to hold back a bit. Each person you invite equals a higher cost. Instead of having a huge party, have a few separate gatherings. They are easier to budget and plan for and much more manageable. Suggest having an adults only party so you don't have to purchase special foods and drinks for kids. Make it clear to your guests that it's invite only so they don't bring along extra people.
Make a theme to your party. Making a theme to your party is not only a festive twist, but it's also a great way to save. Having a certain attire be worn, a type of music being played, or specific decorations make it feel like there was a lot of time that went into the planning.
Have a Sunday brunch. Entertaining for a Sunday brunch is cost effective since breakfast foods are super low cost, and there won't be a large amount of alcohol consumed.
Make your home comfortable. Festive decorations are great, but the most important thing to do to your home is be sure it's comfortable. Be sure you have ample seating so people are not too compact. It may sound simple, but clean up. Cleaning will make your house look better and make people feel more comfortable. Light a candle or have fresh potpourri so your house smells great. Have the music at a comfortable volume so guests can still have a conversation.
Be a good host. No matter how delicious the food is or how great the decorations look, if you're not a good host, it doesn't matter. The best part about a party is the people. Greet your guests, and be happy to see them. If there are people that do not know each other, introduce them so they feel comfortable. Start conversations with things that people have in common. Be hospitable by offering drinks.
How do you save money while entertaining? What are the most affordable meals to prepare for a group of people?
More on Frugal Entertaining
---

You can get my latest articles full of
valuable tips
and other information delivered directly to your email for
free
simply by entering your email address below. Your address will never be sold or used for spam and you can unsubscribe at any time.