Posted by
Kristen
on October 14, 2014
It's that time of year! Time for our annual holiday gift guide series! This week we are highlighting inexpensive gift ideas for the people on your list who love to travel!
While you might not be able to foot the bill for a nice vacation for the travel lover in your life this holiday season, there are plenty of affordable gift options to suit their voyages. Whether they love to go camping, take long road trips, weekend getaways, or go on extravagant, exotic vacations, we've got many great budget friendly gifts for people who travel this holiday season.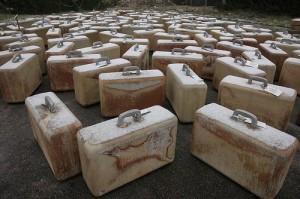 Photo Credit: masochismtango
Inexpensive Holiday Gifts for People Who Travel
Compact battery lantern. Whether your travel lover likes to go camping or takes road trips, it is nice to have a lantern or flashlight on hand for when it is needed. This particular small sized lantern runs for up to 15 hours on AAA batteries. Being small, it will fit into any suitcase or backpack or fit nicely into a car for easy access.
Travel tags. Travel tags are a simple, practical, and affordable gift for every travel lover. This way they can easily identify their luggage when picking it up at the airport or if it unfortunately gets lost, they'll be able to locate it that much quicker. This set of two tags comes not only in classic black, but also in pink, green, and bright yellow so they can stand out even that much more.
Luggage scale. Who would have thought that just a few extra pairs of shoes would cause a higher baggage fee for being overweight? With a luggage scale, it will take all of the guess work out for the travel lover in your life. Now they can pack appropriately without having to pay extra. This digital travel scale is an affordable choice.
Wrinkle release spray. Unfortunately, traveling for leisure or business can leave your clothes very wrinkled. This Lewis N. Clark wrinkle spray gets rid of those wrinkles that come with packing a suitcase, odors and reduces any static. Since it is a 2 ounce bottle, it's perfect for travel.
A gas card. With gas being so expensive, a gift card to fill up the tank is ideal for those travelers who love road trips.
Waterproof case. Regardless of what type of travel they love, chances are any travel lover is going to encounter water. Whether it's boating on a lake, water sports, spending time at the beach, heading to the hotel pool, or even camping or hiking where they could encounter rain, they will want to protect their gear from getting wet. The Dry Pak DP-65 Waterproof case is a blue waterproof nylon for storage while traveling. It's perfect for items like your phone, a small camera, keys, money, and a wallet.
Travel neck pouch. Your travel lover won't have to worry about getting a purse snatched or a wallet stolen with this travel neck pouch. With an adjustable strap, you could also wear it around your shoulder or even your stomach. It's ideal for keeping any identification, passports, money, and credit cards safe while traveling.
A travel book. You can find travel books and guides for whatever type of traveling your friend or family member loves. There are plenty of books for specific destinations or regions or types of travel, but you'll also find broader topics that can be more versatile. For example, Off the Beaten Path is a travel guide to more than 1000 scenic and interesting places still uncrowded and inviting.
Travel mug. Every traveler needs a sturdy travel mug for daily use. This Leak-proof Thermos holds 16 ounces of your traveler's favorite beverage. It has an insulation technology that keeps coffee and tea hot for up to five hours and cold water or juice nice and cool for up to nine hours.
Wall map. Your travel lover can plan their next adventure with a large map for the wall. This particular map is 24 inches by 36 inches. It's also dry erasable and comes with a dry erase marker so they can plan a route, make notes, or simply mark off all of the places they'd like to visit. They'll easily be able to wipe off their notes for next time.
Travel surge protector. This travel surge protector has a hidden swivel plug as well. It also includes telephone and Ethernet data protection information. The small size makes it ideal for throwing in a suit case or carry on for travel.
Emergency road assistance kit. For those travel lovers who like to take road trips or drive to their destination, they need to have the proper tools to prepare for an emergency while they are out on the road. This AAA Emergency Road Assistance Kit contains 42 pieces to help in a variety of situations they may find themselves in. It includes a AAA car care guide, booster cable, a flashlight, safety vest, poncho, duct tape, screw driver, six assorted sizes of fuses, four cable ties, and first aid supplies like bandages, antiseptic wipes, and sting relief. Hopefully they'll never need to use it, but it gives the traveler a nice piece of mind to know they are safe and prepared.
Travel organization tools. There are many organization tools for keeping luggage neat and staying together on the road. For example, this travel case stores jewelry or toiletries with six different compartments to keep items separate. Any woman who has traveled with jewelry only to open her bag up and find a ball of tangled necklaces and bracelets can appreciate this gift. The clear container allows you to easily see what each compartment holds as well. You can store it flat or roll it up to fit inside a backpack or purse.
What are some more budget friendly gift ideas for those on your list who love to travel? If you love to travel, what would you like to get this holiday season?
More Inexpensive Holiday Gift Ideas
Check out today's hottest holiday
Lightning Deals
. Hurry, they change fast and sell out quickly!
---

You can get my latest articles full of
valuable tips
and other information delivered directly to your email for
free
simply by entering your email address below. Your address will never be sold or used for spam and you can unsubscribe at any time.