Posted by
Kristen
on July 16, 2013
One of my biggest financial obstacles is by far learning to deal with my student loans that I racked up throughout college and learning how to make these hefty payments every month on a tight budget. According to USA Today, student loan debt is at an astounding $986 billion now and continuing to grow fast. These loans are really holding graduates back and many are going into default and having negative effects on their credit. Many students aren't going to realize the impact of these loans until it's too late. But there are things you can do to avoid student loans or if you already have them, work towards paying them down.
Whether you're a parent saving for your child's college, wanting to go back to college, or just starting out in college, consider enrolling in a program called Upromise, sponsored by Sallie Mae. Here's what it is and how to start earning extra money for your student loans.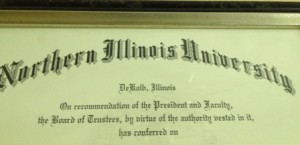 What is Upromise?
Upromise is a program that allows you to save for your or your child's college or put money towards existing Sallie Mae student loans you already have. Sign up for free, and start to earn money in a variety of ways towards your loans.
How does it work?
Register your credit cards, debit cards, and grocery store reward cards to your account. You will start earning cash back towards eligible purchases you make. The cash you earn with these cards and the other ways to earn below (like shopping online), you can put it towards an existing Sallie Mae student loan, savings account, 529 college savings plan, or even request a check. You can log on to keep track of your earnings and see how much you are saving for college.
How Do You Earn Money to Pay off Student Loans?
Online Shopping: All you have to do to earn money is shop through Upromise. Pretty much anything you want to shop for online is available on the site. Everything from clothes, electronics, home décor, sporting equipment, and flowers is available. Besides specific stores, you'll also find things like Groupon, AT&T, and Verizon Wireless. Shop by store, category, or stores that are offering special deals to Upromise members. Depending on the store, you can earn a percentage back that will go towards your loans. Many offer approximately 5 percent towards your loans, but it can also be more. You can also simply earn a set amount of money opposed to a percentage. For example, sign up for a new Virgin Mobile account, and you will receive $20 towards your loans. All you do is click on the link on the Upromise website while you're logged in. It takes you directly to the site you would usually see, but you anything you purchase gets notified to Upromise. And even if you don't want to pay for delivery while shopping online, you can choose to buy online but pick up in the store to eliminate any shipping fees. In addition to larger stores, you can also search for local, smaller businesses by typing in your zip code. Keep in mind that deals are constantly changing.
Booking your travel: If you're looking for a way to save on your vacation, Upromise can be a great place to start for deals. Plus, earn a percentage of whatever you spend towards your loans. Everything from hotels, airfare, car rental, and even attractions can earn you money simply by booking through Upromise. Booking sites like Orbitz and Expedia are on there, too.
Register your credit cards: You can register any of your credit cards and then anytime you are shopping, you have the potential to earn cash back to help repay your student loans on qualifying purchases.
Earn money while dining out: Once you register your credit and bank cards for the dining program, you can earn up to 8 percent cash back by dining at participating restaurants, purchasing gift cards for restaurants, and for take out and delivery as well. That 8 percent even includes the costs of any tax, the tip, and drinks as well. You'll even earn money by making purchases on Restaurants.com and on dining deals from Groupon. Simply search for participating restaurants by typing in the zip code where you are planning to dine out.
Earn while filing up the tank. Once you register your credit cards for the gas rewards program, you'll earn 1 percent cash back at Exxon and Mobil stations once you purchase at least 20 gallon in a calendar month. This is in addition to any Gas Rewards you already earn with your credit card.
Use Upromise coupons. You can load coupons from Upromise directly to your grocery reward cards. Once you make the purchase, not only do you get the benefits from the coupon, but you'll also get money towards your student loans.
Ways to Increase Your Upromise Earnings
Ask family and friends to participate as well. You can ask your family and friends to sign up by making an account and registering their cards. Then their earnings will directly go to you. Since it doesn't cost anything and requires little work, it's not a big inconvenience to ask people to help you out.
Share your guest shopping link. Once you become a Upromise member, you will get a shopping link. You can share this link, and then all people need to do is click on it whenever they're doing any online shopping. If they make a purchase through one of thousands of stores and services, you'll earn cash back towards your student loan. The site recommends sharing it on Facebook and Twitter, sending it to everyone you know, and even including it your e-mail signature.
Download the free Upromise App. Available for both iPhone and Android, download Upromise's app to continue to maximize your earnings while you're on the go. Once you download the app to your phone, you'll be able to find restaurants, services, retailers, and gas stations near your current location that can increase your Upromise savings.
What do you think of Upromise? Have you saved money towards student loans by using it? How else do you save for your child's college or pay off your student loan?
More Ways to Maximize Upromise
---

You can get my latest articles full of
valuable tips
and other information delivered directly to your email for
free
simply by entering your email address below. Your address will never be sold or used for spam and you can unsubscribe at any time.