Posted by
Don
on August 23, 2016
Getting laid off from your job is not any fun, regardless if you saw it coming or not. I know because I was there. Three years ago, I was working at a great job and performing well. Then one day I was called into the owner's office and was told I was losing my job. There was no sadness or even fear in the moment. I was at a complete loss. It was strange. Looking back, it still boggles my mind that I was let go, but I've accepted it. I am happy and in a much better place now because it happened. But at the time, it was stressful.
How to Survive a Layoff
Below are some tips for how to survive a layoff, should you ever find yourself in the same situation.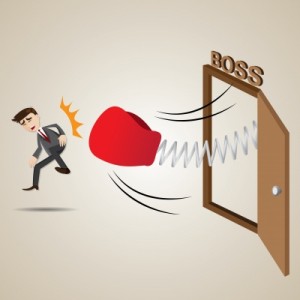 (Photo Credit: iosphere/FreeDigitalPhotos.net)
Plan for a Layoff Before it Happens
The first thing you need to do is to plan. Not after you get laid off, but before. You need to have an emergency fund. I know many people think that having a savings account with money in it isn't the sexiest thing, but trust me, it went a long way.
After the shock wore off, I started thinking about how I was going to survive. How would I pay the bills? Obviously I needed another job, but there was no guarantee I would find one quickly.
Knowing I had money to cover my expenses helped to ease a lot of stress. I knew I didn't have to take the first offer that came my way just to keep a roof over my head. I could be a little more selective in choosing a position that fit best.
With this said, I did alter my spending. Obviously I wasn't spending like I was when I had a steady income coming in. Cutting back and having money in savings was a life saver.
Read More: Hindsight is 20/20: What to do Before Getting Laid Off
Make a Schedule
After you lose your job, what are you going to do with your days? Again, coming from experience, you can easily waste it away. I was laid off on a Thursday morning. So I took that day, along with Friday and the weekend to take everything in and do a lot of thinking.
When Monday rolled around, I was on a set schedule. I was up at 7am and I had things I was supposed to do for the day. This also helped me to get through the layoff.
I could have easily slept in each morning and watched TV and movies all day. But I didn't. I set and kept to a schedule so that I could find a good job.
Read More: 7 Fun and Beneficial Things To Do While Unemployed
Treat Looking for a Job as Work
This leads me to the next point – work. Even though you aren't going to work, you still should treat looking for a new job as work.
That Monday morning, I woke up and began working on updating my resume. Then I began searching for jobs.
On Tuesday, I started to reach out to friends and former colleagues to see if they knew of any companies that were hiring.
While searching for a job didn't consume my entire day, I made sure I was still productive. I went grocery shopping, did the laundry, etc. I made sure that I didn't just become a lazy bum because I knew how quickly times passes. Before I knew it, it would be eight months later and I still wouldn't have found work.
At that point, interviews would be odd. The question was going to come up, "what have you been doing for the past eight months?" and I would either have to lie and say that I was really looking for a job without luck or be honest and tell them I was sitting on the couch all day watching re-runs.
I didn't want to get to that point, so I made sure I treated looking for a job like it was a job.
Read More: What to Expect When You File for Unemployment
Stay in Good Spirits
Finally, you have to stay in a positive mindset in the midst of a layoff. I could have been mad about losing my job, but I took it in stride. After all, fuming about losing my job wasn't going to change anything.
I took the approach that everything happens for a reason and trusted something better was on its way.
I also made a point to exercise a lot during this time as well since exercising releases endorphins and makes you feel good. It helped too! It helped me get through some tough days where I was feeling lazy. Just 30 minutes of lifting weights helped to get me motivated for the day.
Read More: How We Got Through 5 Months of Unemployment
Final Thoughts
Dealing with a layoff is tough, but you can get through it. The catch is you have to plan ahead for the emergency by saving money and then be smart should the layoff actually happen by being structured and keeping to a schedule.
If you can do these things and stay in a positive frame of mind, the stress of the situation won't be as debilitating at it can be.
More Unemployment Resources
---

You can get my latest articles full of
valuable tips
and other information delivered directly to your email for
free
simply by entering your email address below. Your address will never be sold or used for spam and you can unsubscribe at any time.