Posted by
Kristen
on June 10, 2013
The word "unemployed" has the ability to make anyone cringe. The thought of being without a steady income is scary. The irony of being unemployed is that you finally have all the time in the world to do whatever you want, but chances are, you're so determined to find a job, all you are doing is applying for jobs and searching for them online. Not to mention that the last thing you want to do is go out and spend money when you just lost your job.
But when you're unemployed, you need to do something else besides look for jobs. If you're consumed by your job search, you're going to start becoming very stressed and it can negatively impact your search and your overall mood and well-being and your relationships.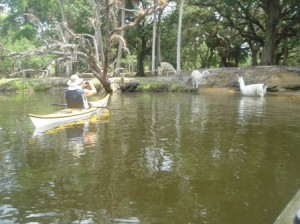 Photo Courtesy: Kristen
Things To Do While Unemployed
Here are seven suggestions for things to do while you're unemployed that won't break your budget and can actually help you find a job:
Learn a new language.
It might sounds like a daunting task, but learning a new language is a great activity to dive into while you're unemployed. First and foremost, even if you just learn basic terminology, it is something you can put on your resume to make yourself more marketable. Maybe you're in the fashion industry so you want to learn Italian or you're in the culinary arts industry and always wanted to learn French. Or even more basic, Spanish is an extremely abundant language throughout America and that is only going to steadily increase, so learning Spanish is a practical and useful choice. Regardless of which language you choose, you can find tutorials and videos online, books and CDs at your local library, and there may even be a free or inexpensive language class offered at your community center, park district, or community college. Even watching a foreign language on the television, borrowing foreign language films from the library, or trying to read the newspaper in another language can help. Plus, being able to achieve something will give your confidence a boost.
Volunteer.
Volunteering is an incredibly rewarding experience. It's humbling to help those less fortunate and give back to your community. Especially when you lose a job and are feeling sorry for yourself, volunteering can make you realize how lucky you really are. Volunteering is also a great item to put on your resume to show you are an active, well-rounded person. It's an effective way to network as well. There are countless opportunities for you to volunteer in your industry or field you are looking to reenter. If you are in the business industry, you can offer your services to non-profit industries. If you are a writer, you can offer to write press releases for them. Everything from artists, to those in the medical field, to administrative duties, and everything in between has an opportunity waiting for you. As I writer, I found a great opportunity to tutor children in writing on the website, Volunteermatch.org. Chances are if you're volunteering in your field, you will be meeting others who are in that same field as well.
Gain a new skill.
Just like learning a new language, learning a new skill that could be beneficial is a good option to put some of your time towards while you're unemployed. Whatever your position is, there is bound to be a new skill you could learn. Maybe it's typing faster, a new computer program, or a new writing style. Read trade publications and news articles that deal with your job type to get inspiration for new things you could be learning. You can also explore part time jobs to pick up new skills.
Network.
Networking is one of the best things you can do to increase your chances of getting a job. Look to your industry's local professional organizations to see when and where they meet. If you went to college, check out the alumni organization to see where they meet as well. Meeting up with past colleagues or anyone related to your industry or line of work is not only a way to hear about job opportunities, but also the best place for advice on what to do while you're unemployed and gives you beneficial social interaction instead of just sitting at home all day.
Get involved on social media.
Networking face to face is nice, but sometimes it can be a little more difficult especially if you recently moved or went to college in another state. But you can also network online. Join LinkedIn to create a professional profile that consists of your job experiences, education, awards, honors, interests, professional affiliations, and more. You make your profile, then connect with former co-workers, classmates, bosses, and anyone else you know personally and professionally. You can search for jobs, ask for recommendations from previous co-workers, teachers, or bosses, and reconnect with people. Don't forget about Facebook and Twitter as well though. Spruce up your photos and updates in case it is something that a prospective employer may look at it. Add your education, portfolio, and work experience to your profile.
Travel.
You might think the last thing you can afford to do is travel after you lose your job, but think again. There are many ways you can actually get paid to travel or travel for free. For low cost travel, consider visiting relatives or going camping to save money. While you are traveling, you can meet with professionals and connections in different areas, volunteer, and meet with prospective employers. You might love an area so much that you might consider moving there.
Start to freelance.
Whether it is your professional skills or a hobby, you can offer your services for a freelance or contract position to increase your income. Do you love to take photos? Offer to take photos for a wedding or another event. If you're a social media expert, offer your services to business to revamp their marketing. If you were an editor or writer at your last job, start freelancing. If you were a teacher, you can tutor one on one or offer group tutoring to whatever age group you taught.
What are some affordable, beneficial activities you can do if you are unemployed?
More Unemployment Resources
---

You can get my latest articles full of
valuable tips
and other information delivered directly to your email for
free
simply by entering your email address below. Your address will never be sold or used for spam and you can unsubscribe at any time.