Posted by
Kristen
on May 30, 2013
Finding ways to save money and pinching pennies is a great plan to be able to put more money towards debt, or better yet, put more money in a savings account to prepare for the future. But increasing your income is another vital piece of the puzzle for improving your finances. If you spend less and earn more, you'll be able to climb out of debt or bulk up your savings account significantly faster than just cutting back alone. Many people think they are earning all they can, and it's not feasible to earn more money. But actually, it is much more realistic than you think if you're willing to work for it.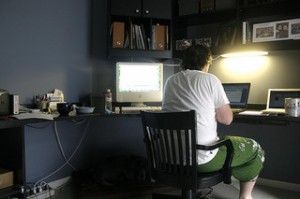 Photo Courtesy: ishane
Increase Your Current Salary
Many times earning more money doesn't seem like a reality when you're earning a fixed salary at a job, but it most definitely is. Research what other similar positions are getting paid using websites like Glassdoor.com and Salary.com, which offer an analysis of salaries. If there's a chance you can be earning more in your current position, go for it. If you can, speak to your employer and negotiate a raise. The best way to get a raise or increase your salary is to market yourself, make your skills known, share all the great things you've been doing and what else you plan to do for the company, and prove you're an asset in that position.
Here are some ways that may help you achieve a higher salary at your current work:
Learn new skills applicable to your position and industry by using online tutorials or visiting the library.
Take any classes offered by your employer.
Seek additional certifications and take classes offered at a community college.
Volunteer in your field to strengthen your current skills.
Offer to take on additional work, more responsibility, or work more hours to increase your income.
Take advantage of any employer reimbursed tuition. If your company offers to pay for you to go back to school to get a degree, consider going for it to increase your value as an employee. If they didn't value education, they probably wouldn't offer to pay for it. This proves that you are eager to better yourself and want to contribute more to the company. College is expensive so taking advantage of this feature alone can be like a several thousand dollar a year bonus. But do remember that going back to school will take a lot of time and hard work.
If you don't think you can get paid any higher at your current position, you can also consider searching for a higher paying job. Don't quit your job until you find a secure, promising, higher paying position elsewhere. When considering salary, also keep in mind benefits that can be a good financial bonus too.
Earn Additional Income
What are other ways to increase your income? How have you asked for a raise or earned extra money?
More Ways to Increase Your Income
---

You can get my latest articles full of
valuable tips
and other information delivered directly to your email for
free
simply by entering your email address below. Your address will never be sold or used for spam and you can unsubscribe at any time.