Posted by
Kristen
on January 7, 2013
The holidays come through like a whirl wind that could leave us exhausted. To me, it feels like we spend months preparing, planning, and anticipating all of the holiday events, and they fly by in a blink of an eye. Of course it's a season to spend time with our special family, friends, neighbors, and even coworkers to celebrate, remember what we're thankful for, and enjoy the warmth of the season.
All of the parties, presents, and holiday cheer are great, but they can leave our lives in a mess, literally. Our houses can be a chaotic and cluttered, and there's a good chance after the holiday season is over, our lives, and finances, can feel a little disorganized and chaotic.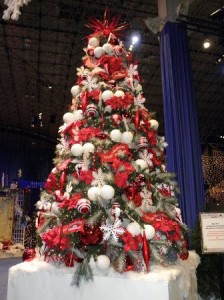 Source: Kristen
How to Get Back on Track After the Holidays
Here are cost effective tips to getting back on track after the holidays:
Dismantling Decorations
As much as you're eager to put the decorations away, don't rush. Carefully wrap glass objects so that they won't break before next year which is clearly a waste of money.
If there were any decorations you didn't use this year because they're no longer your style, get rid of them. Put them in a different area for a yard or garage sale, sell it on Ebay or on Craigslist, or simply donate it. This way you're reducing clutter and making it that much easier to get everything out next year.
If you happened to keep the envelopes your holiday cards came in, jot down the return addresses. This way it's easier to send out cards next season if you choose to.
Salvage any gift bags, boxes, wrapping paper, tissue paper, or bows to save money on gift wrapping for next year's season.
Don't throw away wrapping paper or bows, even if you don't think you can use them for a gift. You can use them next season for art projects for your kids.
If you're in the market for a few new decorations, after the season is the time to buy. You can find items for up to 80% off the original price they were just a few days before Christmas. Even things like holiday napkins, Christmas cards, cookies, and anything else holiday related will be very cheap.
Dealing with your family's new presents
Keep any receipts you were given with presents. Put them in a safe place until you are absolutely sure you're keeping it.
Check with a store's return policy. Even if you don't have the receipt, many stores will give you a store credit with a valid state ID. Most stores have a limited amount of time you can return so know ahead of time what you're working with.
Before you put your gifts away, consider doing a quick inventory of what you, and your family, already have. If you got a newer, better version of a purse, game, or anything else, you may want to clear out some room first. You can take your older items and sell them online or at a consignment shop.
Don't cut tags off items just yet. Be sure it fits properly and is comfortable.
Keep the original boxes and directions for a period of time. This way, if a toy or electronic has trouble, you can take it back.
Some items, like electronics, jewelry, or a piece of furniture, have a warranty if you activate it. Be sure to do so.
Before you put anything away, take a minute to learn its required care. A new coat may be dry clean only, a new phone may require it to be fully charged the first time for the best use, and so on.
If you don't like something, try to return it to the store you think it's from. You can do a quick Google search of the item to try and determine where it came from. Take it back sooner than later to avoid the price dropping or something happening to the item.
Handling Leftovers
Be sure to properly wrap and store any leftovers from dinner to preserve the freshness for longer.
Since many holiday dinners are similar to what's served on Thanksgiving, check out these 39 ideas for leftovers like turkey, cranberry sauce, stuffing, and mashed potatoes.
Get creative with your leftovers. Omelets, pasta dishes, stir frys, and soups are a great outlet for leftover vegetables and meats.
Consider freezing any sauces, breads, soups, or any other food that can be frozen.
Mending a broken budget
Tally up how much extra you spent on presents, holiday parties, entertaining, decorations, and even little items like postage and ingredients for cookies. Check your bank statements and credit card statements as well as any receipts you kept on hand. Knowing how much you spent will help you determine what you need to do going forward.
Instead of going out to movies, borrow movies from the library or watch movies on TV.
Besides trying to stretch out your leftovers from Christmas, try to use up what you have around the house. Just like retail stores, grocery stores will have after Christmas sales as well so watch for deals, clip coupons, and keep in mind ways to save on your grocery bill to save a little extra this month.
To make up for overspending during the holiday season, find ways to make extra cash in the new year like tutoring, babysitting, taking on extra hours at work, or selling some items you don't need.
To balance out an expensive season, do something drastic like start taking public transportation to work or school or carpool to save money on gas.
Find other creative ways to save this month like making your coffee at home, changing your habits for electricity, and other ways you can save before heading out the door.
How do you get your finances back on track after the hectic holiday season? How do you handle unwanted gifts, a house filled with decorations, and leftover food and drinks from holiday parties?
Check out today's hottest holiday
Lightning Deals
. Hurry, they change fast and sell out quickly!
---

You can get my latest articles full of
valuable tips
and other information delivered directly to your email for
free
simply by entering your email address below. Your address will never be sold or used for spam and you can unsubscribe at any time.