Posted by
Kristen
on November 19, 2012
Besides a massive turkey, remembering what we are thankful for, and sitting around the table with our families, Thanksgiving is widely known for leftovers. We cook so much that we end up having loads of food leftover.
But just because there's extra food, doesn't mean it's wasting money. In fact, cooking larger portions and utilizing the leftovers is extremely cost effective.
Thanksgiving Grocery Prices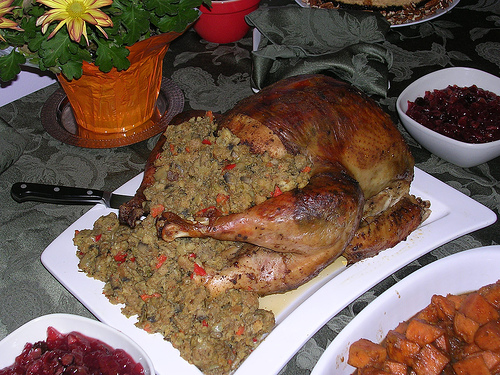 source: antonellomusina
Last year Madison shared her Thanksgiving grocery prices, specifically rock bottom Thanksgiving grocery prices.
Madison says:
Since I'm carefully tracking prices in my once a month shopping/cooking adventure, I thought it would be fun to share the lowest prices I bought our Thanksgiving groceries for this year. Check out the prices and let me know if you're finding something lower!
Turkey: $0.58 per pound
Chicken Broth: $0.33 for 14 oz
Sweet Potatoes: $0.99 for 3 pounds ($0.33 per pound)
Russet Potatoes: $1.49 for 10 pounds ($0.15 per pound)
Pumpkin in the can: $0.99 for 15 oz
Butter: $1.99 for 16 oz
Cream of Mushroom Soup: $0.59 per can
Cranberries: $0.99 for 12 oz
What are the lowest prices you are finding for Thanksgiving groceries?
Ideas for Thanksgiving Leftovers
Hopefully, you already remembered the ways to save money on groceries so your Thanksgiving meal didn't cost you to go over budget for November. Even if you were smart with your purchases by planning ahead, using coupons, buying fall produce that's in season, and finding great deals, the best way to get the most out of your meal is to use the leftovers. My family has always eaten leftovers, but let's be honest, by the second turkey sandwich, it starts to get old. Instead of eating the same boring meals or even worse, ending up throwing the food away and wasting your money, here are fun tips for common Thanksgiving dinner table choices and tips for storing leftovers:
Turkey
Bread and fry thick slices of turkey. Cover them with leftovers gravy.
You can take the same way you breaded and fried the turkey above, but then top it with a handful of mozzarella, provolone, or any Italian blend cheese for something similar to Chicken Parmesan. Serve with marinara sauce and any type of pasta.
Instead of chicken noodle soup, make a turkey noodle soup with carrots, celery, and parsley simmered in chicken broth.
Similar to above, instead of carrots, celery, and parsley, chop jalapeno, onion, red pepper, and cilantro for a Mexican twist on turkey soup. You can top with tortilla chips.
Going along with the soup idea, add dumplings along with the soup for a turkey dumpling soup.
For another soup idea, add broccoli florets or cuts and cheddar cheese for a cheesy, turkey soup.
Skip the boring turkey sandwich and add cooked bacon and cheddar and the grill up until cheese is melted and bread is brown and crispy.
Add avocado and pepper jack cheese to your turkey sandwich.
Layer turkey, mozzarella cheese, fresh basil leaves, mozzarella or another Italian cheese, and put into Italian bread. You can eat it as is or heat it up in a pan like a grilled cheese. If you have it on hand, you can even drizzle a little balsamic vinegar on the sandwich to make it taste like brushetta.
Shred turkey, mix with chopped romaine lettuce, Caesar dressing, croutons, and Parmesan cheese for a turkey Caesar salad.
For a heartier option, take the above salad and fill wraps or tortillas with the turkey salad for a great wrap.
Mix shredded turkey, chopped celery, buffalo sauce, and blue cheese. Fill the mixture up in wraps or tortillas.
Use prepared pastry dough to make turkey pot pies. You can fill the pot pies with any leftover vegetables you may have from your dinner as well like green beans or a broccoli casserole.
Shred turkey and season with taco seasoning. Serve with your favorite taco toppings like shredded lettuce, tomatoes, onions, cilantro, and sour cream and fill it in soft or hard shell tacos.
Have a turkey salad sandwich by shredding turkey and mixing with mayo or miracle whip, chopped onions, and chopped celery.
Shred turkey, mix with red sauce or stewed tomatoes, beans, onions, and chili seasoning for a turkey chili.
Sometimes all it takes to renew the dish is freshening up the turkey gravy. You can add sautéed green pepper, red pepper, mushrooms, jalapeño pepper, onions, garlic, or any of the combination to make a completely new gravy.
Mashed Potatoes
Add mozzarella or another type of Italian cheese blend, fresh or dried basil, and roasted garlic for an Italian style mashed potato.
Make a Shepard's pie. This English dish is generally beef, gravy, and various vegetables all covered with a thick layer of mashed potatoes and then baked. You can even substitute the beef and vegetables for turkey, gravy, and vegetables you have leftover.
Add cooked, chopped bacon, cheddar cheese, chives, and sour cream for a loaded baked potato mashed potato.
Mix in prepared or homemade pesto sauce and top with parmesan cheese.
Stir in some barbecue sauce and top with fried onions.
Mash in another cooked vegetable such as broccoli, spinach, or carrots to give the potatoes a new flavor and adding additional vitamins to them.
With a little egg to hold it together, fry up potato pancakes. You can serve them with apple sauce, sour cream, or gravy.
Stuffing
Add a cup of cooked, chopped Italian sausage and sautéed green peppers.
Add 1 chopped, sauteed apple and onion.
Add sautéed jalapenos and cooked chorizo.
Add cooked, chopped bacon and chives.
Stuff portabella mushrooms with cooked stuffing.
Take balls of stuffing, dip them in egg, then bread crumbs, and fry them up for a bite sized snack.
Put stuffing on your turkey sandwich.
Cranberries or Cranberry Sauce
Mix cranberries or sauce in pancake mix for cranberry pancakes. Top with cranberries and maple syrup.
Mix cranberry sauce in homemade or already prepared vanilla frosting, and top any cake, cupcakes, or cookies.
Ladle cranberry sauce over vanilla ice cream and top with chocolate chips. You can layer over any flavor of ice cream.
Put cranberries in homemade or prepared muffin mix.
Put a little cayenne pepper in the sauce and put it on a turkey sandwich for a spicy twist.
Add cranberries and pistachios to sugar cookie dough before baking.
Fill pastry dough shells with brie cheese and cranberry sauce. Bake until cheese starts to melt.
Top waffles with cranberry sauce.
Tips for Leftovers
Clean out your fridge ahead of time so you have plenty of room to store your food.
Once you're done eating dinner, any food should not stay out longer than 2 hours.
Leftovers can be stored in your refrigerator for up to 4 days, but always smell and taste the food to see if it has started going bad.
When wrapping up for leftovers, be sure to mark what it is so it's easier to get to.
What are your tips for storing leftovers? What are your favorite leftover meals from Thanksgiving dinner?
Check out today's hottest holiday
Lightning Deals
. Hurry, they change fast and sell out quickly!
---

You can get my latest articles full of
valuable tips
and other information delivered directly to your email for
free
simply by entering your email address below. Your address will never be sold or used for spam and you can unsubscribe at any time.