Posted by
Amanda
on May 19, 2010
We got engaged, we took the plunge, and we survived! My husband and I are now happily married, and have settled back into our home in Houston, TX.
I am now contentedly sitting back, enjoying all of the free time that has crept back into my schedule. You know what else I am enjoying? All of the extra money that we saved while planning our wedding.
The wedding industry is full of people with ideas and opinions about what the perfect wedding should look like, what is appropriate to spend for "the best day of your life", and what a bride simply cannot do without.
Perhaps this is why the national average wedding budget for 150-guests has ballooned to $30,000! But Paul and I didn't play their game. We did things our way, and we were extremely satisfied with the results.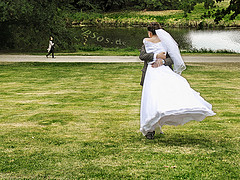 source: epSos.de
Wedding on a Budget
Here are ten things that Paul and I decided to not include in our day to keep wedding costs down and our approximate cost savings.
Borrowing Only One Item: We've all heard the saying that a bride needs "Something old, something new, something borrowed, something blue." But why only borrow one item for a wedding on a budget? Our friend let us borrow a beautifully handmade ring bearer's pillow and a set of cake cutting knives, my mother and grandmother let me borrow jewelry to wear with my gown, and my sister gave us a flower girl basket. Here are some other items that can be borrowed: centerpieces, veils, cake topper, etc. The sky is the limit! Cost Savings: $60
Professional Photographer and Expensive Prints: We used a great tip from the book Bridal Bargains, which as lots of great cheap wedding ideas, by going through a local university with a photographer department and asking the department chair to recommend a few students who are passionate about photography and who may wish to make some extra money on a Saturday. Despite everyone else's hesitations, our photos turned out beautifully, and we only paid $230! Plus our photographer was happy because it helps to build his resume. The other great thing about this is that you can request to have full rights to the photos, and so you can skip all of the expenses of printing out as many photos as you'd like. Cost Savings: $500
Limo: Our wedding and reception were at the same location, so there really was no reason to rent a limo. Even so, a limo was not on our priority list. If we had needed transportation to the ceremony site/reception site, we would have used either a friend/family member to drive us individually, or a rental car. Cost Savings: $250
Practice Hair/Makeup Session: Some brides may not be comfortable without doing a dry run of hair and makeup with their stylist before the big day, but I did. Before the day of our wedding, I spoke with the hairstylist about my idea, and let her know that I was flexible as well. My hair turned out beautifully! Also, I did my own makeup (I do not wear much, even on our wedding day). Cost Savings: $60
Engagement Photos: Admittedly, engagement photos are fun! Instead of paying for them, we asked a great friend to get her camera and meet us at a gorgeous park (where many others have their engagement and wedding photos taken at). Cost Savings: $150
Accessories: There are certain items that Paul and I considered to be accessories, and not necessary to our wedding day. These included monogrammed napkins, centerpieces (our reception was held at an Inne, and they had their own small centerpieces of fresh flowers), and a cake topper. Cost Savings: $150
Two Bouquets: A lot of experts (and friends and family!) will tell you that you need two bouquets—one to keep and one to toss. We really did not want to keep around a bouquet that we knew would rot/whittle away over the years, especially when bouquets are not the cheapest. Cost Savings: $50
Extra Layer on Cake: Many people add an extra tier onto their cakes in order to freeze it to eat on their first wedding anniversary. We saw no need for this. Cost Savings: $50
DJ/Dance Floor: Paul and I had a day wedding, and needed to cut our wedding budget down. One of the ways was cutting out a DJ and making our own CDs for the ceremony, cocktail hour, first dance/father-daughter dance, and reception. The music was played outside on a beautiful terrace, so we also did not have to rent a dance floor. Cost Savings: $750
Videographer: It may be tempting to want to catch your day on DVD so that you can watch it later down the road, but Paul and I wanted to memorialize our day through our memories and photos instead. Another way to get around this is by asking a guest to bring along their own camcorder. Cost Savings: $300
As you can see, just from our choices alone, we saved $2320.
What are some ways that you shaved money off of your wedding without compromising on what you wanted?
More Wedding Topics
---

You can get my latest articles full of
valuable tips
and other information delivered directly to your email for
free
simply by entering your email address below. Your address will never be sold or used for spam and you can unsubscribe at any time.