Posted by
Kristen
on May 13, 2015
Your wedding day can be the best day of your life filled with memories shared with your friends, family, and most importantly, your new spouse. But the expenses for the day can quickly add up, and if you don't stick to your budget, you can end up over your head in costs.
Follow these simple steps for creating a wedding budget and easy ways to stick to it.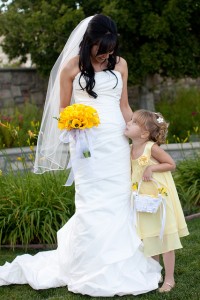 (Photo Credit: Ivan/groupdress)
How to Make a Wedding Budget
Determine how much money you have.
Before you can create an exact budget, there are a few important details to confirm. How much money do you have for a wedding? If either of you are lucky enough to have parents who are contributing, find out how much they'll be offering. Combine that with how much money you have saved and how much money you will comfortably be able to save from now until the wedding. Now you know how much you'll be able to spend on your day.You may need to wait longer to get married to save more. You should also consider the future. Are you planning on buying a home? Or new car? Did you want to travel together? Do you want to have children in the near future? Do you want to make a career change, go back to school for an advanced degree, open a business, or something else that can cost money? While the thought of a wedding can be very exciting, consider other big purchases you want to make as well. It will be part of your financial management as newlyweds.
Brainstorm what type of wedding you want.
The next step is deciding on what you want your wedding to be. A quiet afternoon barbecue will cost a lot less than an evening at a swanky hotel. There's also a huge cost difference between inviting 75 people and 375 people. If you're not willing to budge on a large wedding at your dream location but don't have enough money, you'll have to save up until you do.
Determine the total cost of your wedding.
Now that you know how much money you have and the type of wedding you're planning, you can figure out what you'll be spending the money on. Often people only figure the obvious costs of the party and the dress, but there are many little costs that add up. Sit down, visualize the entire day, and come up with a list of everything you'll need. Here's a general list of wedding costs. Go through it and add or remove things you won't need.

Other Events: Engagement party, bridal shower, rehearsal dinner, the bachelor and bachelorette party, and the honeymoon.
Attire: Groom's tuxedo rental, the wedding rings, the and accessories, hair and make-up.
The Big Event: Invitations and thank you notes, place cards, photography and/or videographer, flowers, décor including flowers for the ceremony, center pieces, and other décor, a sign in book for guests, a cake topper and cutter, gifts for the bridal party, ceremony costs including fees on where there ceremony will take place, paying the person marrying you, any vocalists or musicians, etc., a wedding license, entertainment including a band or DJ, food and drinks (including cake), transportation to the wedding, favors, hotel accommodations that evening, and more.

Make your budget.
Once you have the amount you can spend and know what you're spending it on, you can make your budget. List every single item you will spend money on. Find out average costs for each particular item in your area by calling vendors and asking and also asking married friends and family to see what you can expect. Disburse your total amount of money to each item until it adds up. Try to be flexible on items.
How to Save Money on Your Wedding
A wedding can be even more beautiful when you're able to find a deal or make a simple swap to save money. Here are some easy ways to save money on your wedding to help you stick to your budget.
Cut your guest list as much as possible. Every one person you cut, eliminates an invitation, place card, plate at the wedding, drinks, and a favor.
Consider an alternate time to your wedding. Friday and Sunday weddings cost less than Saturdays and every area has an off-season for weddings, which is often winter.
Keep flower arrangements simple. Use flowers in season or locally grown.
Attend bridal expos and other bridal events. Vendors often raffle off prizes and offer great deals.
Don't be afraid to try to negotiate with vendors. Be upfront with what you're looking for. Find a florist and photographer who are willing to work with you on your budget. There are plenty of great vendors out there, and a there's a lot of competition so they should be willing to work with you on your budget.
Find deals. Some stores offer free tuxedo rental for the groom if the groomsmen rent their tuxedos there. Salons or make-up artists may offer a free bundle for those who get their services done.
Use student photographers. Instead of professional photographers, make-up artists, and other service providers, consider using students or people trying to break into the industry. Chances are they're going to be willing to work at a fraction of the cost.
Ask friends and family for help. Besides students or people just starting out, consider asking friends or family that would be able to offer these services instead of a wedding present. They'll also be getting some free advertising from your wedding as well.
Be practical when you're registering for gifts. Really consider if you are actually going to use that gadget.
Ask for things you need. Skip registering for products, and register for gift cards or give guests the option to buy you something for your honeymoon.
Stick to Your Budget
If you stick to your budget, you'll avoid heartache later on. Skip things that you think are a total waste of money and spend your money on things you think are worth the extra money.
Entering a marriage with debt and stress is no way to start off your happily ever after. Once you are married, work on How to Manage Money in Your Marriage.
What are your best tips for saving money on a wedding?
More Wedding Topics
---

You can get my latest articles full of
valuable tips
and other information delivered directly to your email for
free
simply by entering your email address below. Your address will never be sold or used for spam and you can unsubscribe at any time.