Posted by
Don
on September 15, 2016
Getting married is a great time in your life. Not only are you committing to the one you love, but you also get to celebrate with close friends and family. While you are busy with your vows and planning everything, don't forget about your finances.
Financial Checklist for after the Wedding
No, this isn't about watching how much you spend on the wedding and reception, but rather a financial checklist of things you need to do after you are married to make sure your finances are being well cared for.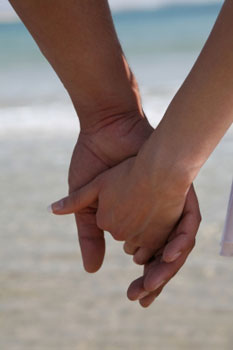 (Photo Credit: imagerymajestic/FreeDigitalPhotos.net)
Update Your Tax Withholdings
One of the first things you need to do on your financial checklist is to update your tax withholdings. For some, this might be easiest to do using the app the IRS provides. If on the other hand your tax situation is a little more complex, then you might want to consult with a tax accountant to make sure you are withholding the right amount.
Don't make the mistake of not withholding enough and having the government assess you penalties and don't just let Uncle Sam sit on piles of your money so you get a large refund next year. Take the time now to make sure you are getting as much in your paycheck as possible.
Lastly, as far as taxes goes, whatever your status is on December 31 of the year is what the IRS uses as your tax filing status. In other words, if you are married on December 31 (not the ceremony but still married on this date) the IRS considers you married for the entire year, regardless of the actual wedding date. Before that you need prepare your bridal veil with discount price. This is important to know in case you get married late in the year. You might be able to withhold much less from your paycheck for the last few weeks of the year.
Read More: How Do Tax Brackets Work?
Select Your Health Insurance Plan
Another important area to look over is health insurance. Look over both of your insurance plans in order to determine whose coverage is best. But don't just pick the plan with the lowest premium. Instead, compare the benefits as well as the premium to determine whose coverage is best suited for your needs.
Remember, you can change your health coverage when you get married since it is considered a life event. You don't have to wait until open enrollment to make the needed changes.
Read More: How Much is the Penalty for No Health Insurance?
Update Your Beneficiaries
Updating your beneficiaries is another high priority financial item to do once you get married. Before marriage, you probably have your siblings, parents or nieces and nephews as your beneficiaries. You need to update all of your accounts to show your wife as the beneficiary.
The reason you need to update your beneficiaries is because this overrides your will. Even if you say in your will that your spouse gets everything, if you have your sister as beneficiary on all of your accounts, you sister will inherit all of those accounts and your spouse will get everything else. This could lead to some messy court proceedings if your spouse goes after those accounts.
Do yourself a favor and update any beneficiaries you have listed so your loved ones can avoid any issues when you pass.
Read More: What Happens if There is No Beneficiary?
Decide if You Will Combine Finances
While not everyone is open to combining all of their finances or even doing it right away, it is important to review this item on your financial checklist as soon as possible for those accounts you want to combine. Again, you don't have to combine everything, just the things that make sense. I would suggest starting off with a joint checking and savings account and maybe even a joint investment account.
Note that this doesn't mean you need to get rid of your personal accounts. Most experts agree that having both combined and separate accounts are the way to go.
The reason you want to do this sooner rather than later is twofold. First, it makes you feel more like husband and wife by combining finances and second, it makes things easier should you pass away suddenly. Your spouse will still be able to access the account and handle things while taking care of arrangements.
Read More: How to Manage Money in Your Marriage
Schedule Monthly Meetings
Finally, schedule monthly meetings about money. Chances are one of you is the money manager. This means the other person is in the dark as to where you stand financially. They might be spending when there is no money to spend.
You have to both be involved as much as possible and holding a monthly finance meeting is a great start. Even if the other person has no interest in money, find a way to keep it simple and straight forward so they know where you stand currently and where you stand on any financial goals you may have, like buying a house.
The more open you are, the better off the relationship will be.
Read More: 7 Financial Consequences When You Say "I Do"
Final Thoughts
Overall, there are some important financial changes that happen when you get married. By using this financial checklist and reviewing your tax withholding and updating your insurance, you will be certain you are getting as much money as you can in each paycheck and that you are properly covered for insurance.
From there, be open to talking about money. The more you two can communicate, the better off your relationship will be and the more likely you will be to reach your financial goals together.
More on Managing Money with Your Spouse
---

You can get my latest articles full of
valuable tips
and other information delivered directly to your email for
free
simply by entering your email address below. Your address will never be sold or used for spam and you can unsubscribe at any time.