Posted by
Kristen
on June 7, 2017
Weddings are supposed to be about celebrating the love we have with the person we want to spend the rest of our life with.
It's about vowing to be together and celebrating that vow with our family and friends.
Unfortunately, many times getting married becomes all about money. People become so caught up with weddings and end up spending way too much.
Inexpensive Wedding Ideas
Of course, it's one of the most significant days in your life, but it's also one day. To end up in debt over one day is not a good idea. Going into debt for a wedding and having bills pile up is also the worst way to start a marriage.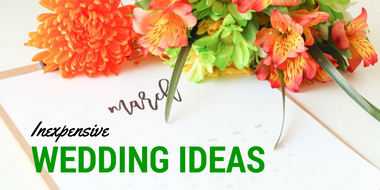 Inexpensive Wedding Ideas
Here are 15 inexpensive wedding ideas and simple ways to save money on a wedding:
Stick to a budget.
The same way a budget while you're saving for a vacation is important, you should also create a budget for your wedding. Between the attire, décor, invitations, and all that goes into the party, you may not realize how much you are actually spending. Determine what you can afford, list every item and what you'd like to spend, save for it, and then stick to that wedding budget. Go through the event thoroughly to account for all of the items you'll have to buy.
Do what's important to you.
Don't get into that trap of buying the best of everything and doing or buying things because that's what other people do or it's what you feel like you should do.
Think outside the box.
You don't have to have a traditional huge wedding at a hall. You can celebrate any way you want. I just had my immediate family at a restaurant and that worked great for me.
Cut the guest list.
Each person you invite is an addition to the tab. Stick to family and close friends or whoever else is most important to you.
Opt for a cheaper flower.
Just like you can save on your groceries by buying fruit and vegetables in season, the same works for flowers. Be flexible. Instead of a specific flower, think of specific styles or colors. Let your florist know off hand how much you want to spend so they can work with your price range.
Have your wedding during an off-season.
Depending on where you live, there are certain seasons that are cheaper to have your wedding in. This does sometimes vary from year to year. In the Midwest, winter and specifically March is an affordable time to get married. Since many couples are vying for a fall or spring wedding, you can find discounts on most things wedding related.
Plan your wedding during an off-time.
Besides not planning the wedding during a popular season or month, you can avoid popular days and times to save large amounts of money. Saturday evenings are the most popular, but you can save by having it Friday evening, a Saturday or Sunday afternoon, or on a holiday weekend.
Use amateurs.
Instead of hiring professionals, search qualified candidates that are just getting started in their careers or students for a cheaper rate. Hair stylists, make-up artists, musicians, singers, photographers – you can nab them just as talented in school or fresh out of school. Be sure to get recommendations or see a portfolio of their work before hiring them though.
Have an informal rehearsal dinner or shower.
You're just about to have a fantastic wedding, why spend a lot on a rehearsal dinner or v? Instead, go back to your house or a friend's house for appetizers and drinks or another affordable option. This is better because it's more relaxed anyway and gets everyone mingling more than it would if you were at a restaurant where you're in one seat. The same goes for a shower. Keep it simple to save money.
Search for deals.
Don't just settle on a price right away. The wedding industry is highly competitive, and you can find great deals out there.
Get crafty.
Many times if you can do something yourself, you can save a bunch of money. Instead of hiring a florist backdrops you can make your own bouquets with flowers from a market. Instead of buying favors, you can make them. You can even print out your own invitations.
Buy things second hand.
After your wedding, you'll realize you have a bunch of things you'll never use again. Use this to your benefit, and buy items used. You can search for wedding gowns on Preownedweddingdresses.com or at consignment shops. Even decorations, leftover favors, shoes, jewelry, bridal veils, and more can be purchased used but still look as good as new.
Be flexible.
Instead of renting a limo, rent a town car or a school bus or trolley for a large wedding party. Instead of hiring a photographer, just ask all your guests to send all of their pictures to you. Opt for a signature drink instead of a full bar. Most items on your list can be slightly altered to end up saving you money.
Register for the right stuff.
If you're having a wedding shower, before you begin your registry, figure out what you and your soon to be partner already have. Be practical while you're registering, and register for items that you actually need. People will have a tendency to want to buy you the "fun" gifts like a soda maker or a machine that makes snow cones. So opt for a good quality set of cooking utensils and pans so you can make your meals at home and other must have items. Also, register at a store that offers you the option to buy your remaining unpurchased items at a discounted price.
Hold off on your honeymoon.
A honeymoon is a big expense. Consider holding off on it until your one-year anniversary. This way you have plenty of time to plan it separately. It's a lot to handle to be planning a wedding and a trip at the same time. This way you can have something else to look forward to throughout the year.
What are other inexpensive wedding ideas?
More Wedding Topics
---

You can get my latest articles full of
valuable tips
and other information delivered directly to your email for
free
simply by entering your email address below. Your address will never be sold or used for spam and you can unsubscribe at any time.