Posted by
Amanda
on February 3, 2014
Do you have a happy Valentine's Day memory? Chances are your memory does not stem from the amount of money that someone spent on what they gave you or did for you, but rather the thought, care, and emotion that they put into your gift.
Let's recreate the elements that made that time memorable for you for our own loved ones.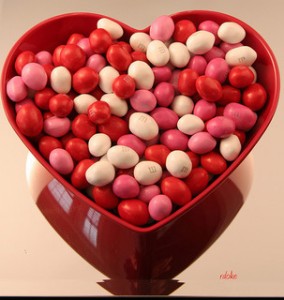 Photo Credit: Rdoke
Valentine's Day on a Budget
Find Out How to Fill Your Partner's Love Tank: Purchase The 5 Languages of Love, and take turns reading it with your partner. If you can figure out your partner's love language (both how they express as well as how they receive), then you can keep their love tank full all year long. Bonus: this is a great activity to do together! My husband and I each took turns reading this last year, filled out the quizzes, and learned a good bit about each other.
Set Up a Scavenger Hunt: Can you drive home at lunch and set up a scavenger hunt for your loved one? Imagine their surprise when they come home and find their first clue. Get creative with your clues, such as having them fill in a word of a popular movie line or poem he/she would know, and then having that word be the clue. If you want to take the hunt outside of your home, leave a few clues there and then lead them to a romantic location for the two of you where you will be waiting.
Put Your Feelings and Thoughts Down on Paper: Handwriting love letters is a lost art. Your beau would probably be quite happy to receive a handwritten letter from you. Not sure what to write about? Perhaps you could write about a memory that gives you a lot of happiness when you think of it, you could talk about the time you first met him/her and the story leading up to it, or describe to him/her the reasons why they are so important to you.
Pick Up their Favorite Bottle of Wine: Find out your partner's favorite kind of wine and pick them up a bottle on the way home from work. Light some candles, grab two glasses, and unwind together. If they're not into wine, try a six-pack of craft beer. Also see 7 Ways to Enjoy Wine and Craft Beer on a Budget.
Whip Up Fondue at Home: Fondue is a great, bonding experience because you are cooking the food together. If you don't have a fondue pot, don't worry! You can either use your crockpot, or heat everything up on the stovetop (and reheat periodically). Some recipes to try include: traditional Swiss fondue, Red Velvet Fondue, or any of the recipes from this website (yum!).
Put some Love into a Dessert: What's Valentine's Day without the sweets? To take your baking up a notch, try making cake pops, chocolate peppermint truffles, or white chocolate cheesecake. Do they have a favorite dessert? Make that instead.
Leave a Love Message in a Place that will Surprise Them: You could write a small message in lipstick on the bathroom mirror, pack them a lunch and include a note, put a card in their visor in the car, or even tape a card under the toilet lid (hey, it's creative, right?). The love note on top of being surprised will really elevate your gesture.
Cook a Decadent, Four-Course Meal at Home: Add extra ingredients onto your grocery list leading up to Valentine's Day, and create a menu (or text them the courses) that day to get them excited. If it was me, I would make chilled berry soup, Caesar salad, Spaghetti Carbonara with Peas, and cherry cheesecake (and then we would probably have to roll out of the kitchen).
Find a Babysitter: If you are parents, then finding a babysitter for the evening in order to spend quality time engaged on each other would be a wonderful gift. Even if it means dropping the kids off to spend time with their grandparents and heading home to watch a movie and cuddle!
Send them Off with a Hot Breakfast: Most likely you are both working on Valentine's Day (it's on Friday this year). Set your alarm for half an hour early and get up to cook a hot breakfast. Some ideas include breakfast tacos, Belgian waffles, or some good ole' eggs and bacon. Not into cooking that early in the morning? Make these recipes that cook overnight and are ready for morning: crockpot breakfast casserole, berry banana overnight oats, or overnight slow cooker apple cinnamon oatmeal.
How do you plan to celebrate Valentine's Day?
More Low Budget Ways to Celebrate
---

You can get my latest articles full of
valuable tips
and other information delivered directly to your email for
free
simply by entering your email address below. Your address will never be sold or used for spam and you can unsubscribe at any time.