Posted by
Kristen
on February 6, 2013
Having a nice time with our significant others doesn't, and shouldn't be, sacrificed to save money or get out of debt we're in. And on the other hand, having fun shouldn't be the cause of debt either. With Valentine's Day just over a week away here are some free Valentine's Day date ideas.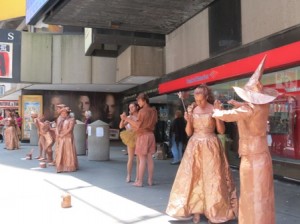 Photo Courtesy: Kristen
7 Free Valentine's Day Date Ideas
Here are 7 free or very cheap date ideas to explore for free on Valentine's Day:
Cook dinner together.
If attempting to save money at a restaurant doesn't work so well for you then try cooking together instead. Save money at the grocery store by knowing your ingredients in advance and clipping coupons. If you both are somewhat lost in the kitchen, just choose a simple recipe and work together to make it. It's less about a five star meal and more about working on something as a team. If you're advanced, you can try to recreate a meal you've had together like your first date, a memorable meal on a vacation, or even your wedding day dinner. For newer couples, make something that is special to you like a meal your parents made or something from your ethnicity or heritage.
Have a movie night.
You can skip going to the theatre and still have a fun movie night together. Between tickets, popcorn, and drinks, you could easily spend more than $50. Borrow a movie from the library for free, watch something you already own, or try to catch something on TV. To make it a little more interesting, have a theme. If you went to Italy on your honeymoon, watch movies that take place in the scenic country. If you both are outdoorsy, find a movie along those lines. You can even try to plan your meal around the theme as well.
Visit a museum.
Find a museum that offers free admission. In Chicago, the Art Institute charges, but there are many other art museums, like the Museum of Contemporary Photography and the Museum of Mexican Art, that are completely free. Just be flexible. If you have your heart set on a certain museum, see when they offer free days or free times to visit.
Take a fake vacation.
It wasn't until I visited dozens of other cities that I realized the true beauty of my own city, Chicago. You don't have to save for a vacation to have that same new experience and an adventure together. Treat your city or town like a new place. Explore neighborhoods or areas you've never been to, learn about the history, and check out free tourist attractions or street performers.
Volunteer.
Besides the obvious of helping others, volunteering is also a great thing to do as a couple. Try to choose an organization that means something to both of you. The website Volunteermatch.org allows you to choose your area of interest and location. You can pick if you'd like to help children, do something in the medical field, help the homeless, and many more options.
Watch a series together.
I'm not a huge advocate for excessive television watching, but I do have a good amount of favorite shows I enjoy watching with my husband. Watching a show together is a nice way to relax and take a break together. If you have a digital recorder, record a whole season to watch on a rainy weekend. Check your local library to see if they have television series on DVD available for borrowing.
Go through old photos.
In between our travels, one of my favorite things to do with my husband is to look back at old pictures together. It's a great way to pause and reflect on all the things you've been through together. Make a scrapbook, update picture frames around the house, and create an online album to share with friends and family.

What are your suggestions for free things couples can do together on Valentine's Day?
---

You can get my latest articles full of
valuable tips
and other information delivered directly to your email for
free
simply by entering your email address below. Your address will never be sold or used for spam and you can unsubscribe at any time.