Posted by
Kristen
on June 12, 2014
Multi-vitamins may cost money upfront, but they are worth it in the long run. Taking a daily multi-vitamin fills in the gaps of any vitamins or minerals you didn't get throughout the day. Even the most health conscious people, still may be lacking in a certain vitamin on any given day. Each vitamin or mineral serves a specific purpose for your body's needs from basic functionality to energy throughout the day.
Here are some tips on how to take multi-vitamins to make the most out of them and how to save money on buying them.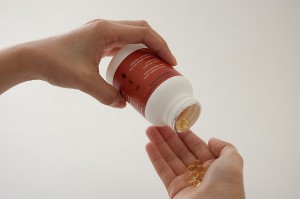 Photo Credit: Colin Dunn
How to Take Multi-Vitamins
Taking a daily multi-vitamin is an easy way to improve your overall health. Follow these easy tips to be sure you are taking it the appropriate way.
Talk to your doctor. As always, with any medications, vitamins, or changes to your diet, consult your doctor before you start taking anything. Multi-vitamins are great for the general public, but every individual person is different. Certain diseases, conditions, your age, or other aspects of your lifestyle can change the type of vitamin you take or if you should take them at all.
Choose the multi-vitamin appropriate for yourself. Multi-vitamins have evolved past the basic supplement. Today, there are specific vitamins for specific groups such as women, men, children, over 50, women trying to get pregnant, and teens. There are also vitamins for a specific area you may be concerned with like multi-vitamins to increase energy, extra heart health, or digestive help. After consulting your doctor, you can determine what vitamin is best for you so you get your money's worth.
Take your vitamin with food. Taking your vitamin with food increases the time it has to be absorbed in your body therefore improving its health benefits and stretching the benefits even more. This will also help to make this part of your everyday routine by taking it after the same meal every day. It also will reduce any discomfort you may experience in your stomach when taking the vitamin.
Consider cutting the vitamin in half or taking it before bed. It is not uncommon for a multi-vitamin to slightly irritate your stomach. If that is the case, try taking the vitamin before bed to avoid the discomfort. You can also cut the vitamin in half with a pill cutter and take each half at different times of the day. This also distributes the vitamins at different times throughout the day and can help you absorb the vitamins better.
How to Save Money on Vitamins
Even though taking a multi-vitamin daily can add to your costs if you have not been previously taking them, they can actually save you money in the long run. Taking a vitamin and getting those essential vitamins and minerals can mean less costly doctor visits, paying for fewer cold medications, and in the long-term, lower medical bills and health insurance premiums. Also, strengthening your immune system with multi-vitamins means less chances you'll have to take off work for a cold which depending your job, can mean loss of income. But there are also plenty of ways to save on taking a multi-vitamin. To lower costs on vitamins, follow these simple tips:
Buy in bulk. Vitamins generally have a long shelf life so buying in large quantities is a great way to save. Stores like Sam's Club and Costco are good places to look for bulk amounts of vitamins. Also, sometimes stores offer buy one, get one deals or have a larger pack, which could be a better deal. Just be sure you know what the expiration date is so you're taking the most potent vitamin possible and nothing that has gone bad.
Search for coupons. Brands like Centrum or One-A-Day offer coupons right on their website that you can print out. Visit a specific brand's websites, in-store coupons from grocery stores, and websites like Coupons.com for deals. You can also sign up for e-mail alerts for vitamin brands and "Like" them on Facebook and follow on Twitter to get coupons and learn about offers.
Keep an eye out for sales. As I already mentioned, vitamins are usually good for a while, so stocking up on them when they're on sale is a great way to keep costs low. Watch for buy one get one sales. Read the label to understand how to store them so they can stay fresh for longer.
Consider using generic. In many cases, the generic brand is almost identical to the brand name. Compare the labels to double check you are getting the vitamins you need and it is approved by the FDA. If you're curious about a certain brand, ask your doctor or a pharmacist.
Shop online. Companies like Puritan's Pride are a strictly online vitamin company that offers low costs and deals. It's a good idea to compare the ingredients and quantity of ingredients to make sure you're getting what you expect. The FDA sets the recommended dietary allowance which will let you know the specific amount of vitamins you should be getting each day.
Ask if your company offers discounts. Some employers offer full or partial reimbursements for health products you purchase as part of a compensation package, which may include some types of multi-vitamins. It doesn't hurt to ask your human resource department if that is something they offer or would consider doing in the future.
Final Thoughts
Taking a daily multi-vitamin is a quick way to improve your health. If you can't budget in the cost of vitamins or choose not to take them, be sure your diet is rich in essential vitamins and minerals. With the help of your doctor, identify the vitamins that are most important for you to be getting, and find foods that can give you the amount you need.
Do you take a multi-vitamin? Which vitamins do you recommend? How do you save money on your vitamins? What are some other budget-friendly health tips you have?
More on Your Health
---

You can get my latest articles full of
valuable tips
and other information delivered directly to your email for
free
simply by entering your email address below. Your address will never be sold or used for spam and you can unsubscribe at any time.