Posted by
Kristen
on May 27, 2014
It seems that staying young comes at price. The Wall Street Journal estimates that the anti-aging industry is a $261 billion industry. While trying to reduce the signs of aging, sometimes people think the only option is expensive creams and products or procedures. Instead, here are 12 budget-friendly tips to look and feel younger: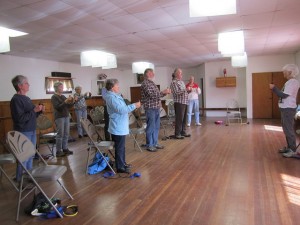 Photo Credit: Jinx McCombs
12 Cheap Anti-Aging Tricks and Tips to Look and Feel Younger
Exercise.
Exercise is a key to a healthy lifestyle, regardless of age. It will keep you at a healthy weight and looking and feeling good. Exercise is a fantastic anti-aging tool since you can keep your body toned, and it also can help build bone density, which diminishes as we age. Go for a walk regularly, and build your workout routine from there. Ask for a guest pass for a gym or athletic center. Once there, participate in classes to get some tips you can use at home. Join a community sports team. Watch professional exercise videos online or on fitness channels at home. Borrow fitness and exercise books from the library.
Exercise mentally.
Keep your brain sharp by taking time to exercise it regularly. Do puzzles, word searches, and brain teaser games. You can find puzzles online for free or visit the library. Learn a musical instrument or learn a language. Go to the theatre, orchestra concerts, and visit museums. Make regular dates with friends who participate in stimulating conversations and that make you laugh.
Eat healthy.
A lot of people try to look their best by applying lotions, exfoliates, and make-up. But many health professionals will tell you that it's not what you are putting on your body, but what you are putting in your body that will lead to better results. Eat a healthy diet filled with fruits and vegetables. To save money, buy fruits and vegetables that are in season and find what is on sale. Drink water and green tea. Find foods rich in Vitamin A (spinach, sweet potatoes, red peppers, carrots), Vitamin C (broccoli, oranges, cantaloupe), foods rich in Omega-3 (salmon, tuna, walnuts, and flax seed), and rich in antioxidants (dark chocolate, berries). Stick to lean proteins and natural foods.
Eliminate or reduce unhealthy foods.
Avoid junk food and unhealthy choices. Stay away from processed foods, high sugar, high fat, and other less desirable choices. Learn to read labels, and understand what you are putting in your body. Limiting the intake of these types of food will not only make you feel better, but you will also look better and it can help with the aging process. Plus, you'll save money by not buying junk food, and ultimately, save money on doctor bills down the road by not eating stuff like this.
Wear UV protection sunglasses.
Do you think of your eyes when you're thinking about helping the aging process? Protect your eyes by purchasing sunglasses that are UV protected. They will be protecting your eyes from harmful rays that could result in vision problems down the road.
Use sunscreen.
While getting out into the sun can promote a healthy amount of Vitamin D, the sun can also be harmful to our skin and result in premature aging. Apply sunscreen regularly – not just when you're heading out to the beach. There are many fantastic, affordable moisturizers that have a small amount of SPF that you could use daily. When you're going to be out in the sun for a longer duration or somewhere where the sun is stronger, apply a stronger amount of SPF. Don't forget to reapply throughout the day. Don't forget lip sunscreen or finding a gloss or lipstick with SPF in it.
Dress for the sun.
While sunscreen is helpful, it sometimes isn't enough to protect against the sun. If you're heading outside for a long duration, consider a wide brim hat to protect your ears and face. Wear a breathable, light-colored long sleeve instead of a sleeveless shirt to protect your arms. Visit outdoor stores for options on protective clothing that is still comfortable to wear in the sun.
Get more sleep.
Sleep is right up there with exercise and eating healthy to maintain a healthy lifestyle. Sleep can reduce stress and anxiety which causes havoc to our wellness and our skin. Sleep helps our skin look its best.
Follow a good skin care regimen.
The products you need and your skin care regimen drastically differs on your specific case. To find out, you can stroll past the skin care department in your local department store. The professionals will be happy to share their opinion on what skin type you have and what products would work best for you. Generally speaking, wash your face morning and night. Always remove make-up before you fall asleep. After you have a clean face, apply moisturizer at night.
Quit smoking.
Smoking will cause havoc to your skin, teeth, and overall health. Quit the habit for a healthier lifestyle. Not to mention that stopping smoking will save you hundreds or thousands each year.
Reduce stress.
Stress not only causes other health problems, but it can lead to premature aging. Start with determining what stresses your out. Write a list of everything from small issues to big ones. Next to each stressor, determine what you can do about it. If possible, eliminate the stress altogether. If you can't eliminate it, what can you do to make it better? Other ways to reduce stress are to exercise regularly, meditate, take up yoga, and eat healthy. Do things everyday to reduce your stress and make you happy. Read a book, paint, watch your favorite TV show, write in a journal, or take a relaxing bath.
Drink water.
Stay hydrated, and drink more water. Drinking water helps your health, your skin, and your overall health. You can cut lemons or limes to put in the water to infuse flavor in water. Plus, water is free! Carry a water bottle with you while you're running errands, exercising, or at work or school.
What are your favorite cheap anti-aging tricks?
More
---

You can get my latest articles full of
valuable tips
and other information delivered directly to your email for
free
simply by entering your email address below. Your address will never be sold or used for spam and you can unsubscribe at any time.