Posted by
Kristen
on February 10, 2014
Almost everyone files taxes, and there's no way around it. It probably has become second nature by now since you do it every year. But unfortunately, it is also a risky time for your identity. Between receipts, W-2, 1099s, and other tax documents being sent to your home in addition to filing the taxes themselves, there is a lot of your valuable information floating around.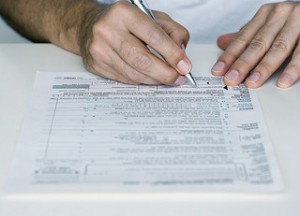 Photo Credit: kev-shine
Think about it. If someone got ahold of any of these documents they would know your full name, your date of birth, social security number, where you work, how much you earn, valuable account information, and the information of your spouse and children. But before you panic, there are plenty of steps you can take to keep your information safe during tax time. Here is how to keep your identity and finances safe.
How to Keep Your Information Safe During Tax Season
Check your mail.
There is a good chance you'll be receiving a lot of documents in the mail over the next few months. You may be receiving tax documents from your work or college, documents from your bank or other investments, papers showing how much interest you paid on a student loan, and much more. To avoid mail theft, check your mail regularly. If you are going out of town for a period of time, ask a trusted friend or family member to collect your mail. You can also visit the post office to have your mail stopped for a period of time.
Limit your e-mail use with personal information.
Especially as a freelancer, this time of year I am asked for my social security number by my clients as well as asked to fill out specific forms, like W-9s, and return them. Instead of sending information via e-mail, I request to give information over the phone or through a protected fax. Since e-mail is so easy to hack, I try to limit what information I put on my e-mails. You may receive tax documents via e-mail as well. If that is the case, you can print out the information, store it in a safe place, and delete the e-mail. If you are doing any tax work through e-mail, keep in mind all of the ordinary steps you would take to keep your e-mail safe. Make your password hard for someone to guess with a variety of uppercase letters, lowercase letters, numbers, and symbols. Change your password often. If you are logging in your e-mail from a public computer, such as somewhere at work or school, be sure to log out and clear your browser history.
Choose a reputable professional to file with.
If you're visiting a tax professional for assistance with filing your taxes, do your homework before. Are they working for an accredited place that you can trust? Do they have any complaints with the Better Business Bureau? Check out reviews online. Do they have positive feedback or have people reported problems? If they provide you with an electronic copy of your tax return, be sure it is encrypted.
Keep track of your paperwork.
If you're headed to an office to get your taxes done, make sure you bringing all of your papers and important documents home with you when you leave. This way you are making sure you are either storing or disposing of it in a way that is safe and secure.
Use the paper shredder.
If you're tossing any documents that you don't need but contain valuable information, use a paper shredder. Now if a scammer is going through trash, you won't have to worry about them having access to your social security number, address, account numbers, and more.
Beware of scams.
Be very cautious of anyone calling you or e-mailing you claiming to be the IRS. It is not uncommon for scammers to pose as the IRS to try and get valuable information from you. They may claim that they need your bank account number to get you your return quicker or they'll need to reenter your social security number or PIN number. A scammer may call to ask you your mother's maiden name or credit card information. Do not ever give out this information. According to the IRS, they will not initiate contact with taxpayers by e-mail, text message, or your social media outlets, like Twitter or Facebook. To report any issues, check out IRS.gov/phishing. Do not click on an e-mail attachments or links in an e-mail that claim to be the IRS. If you get any suspicious e-mail, you can immediately forward the e-mail to phishing@irs.gov.
If you're going to e-file, secure your settings.
Use all of the same precautions you use when you're filing while keeping your information secure. If you're filing your taxes online, be sure you are doing it from a secured network. Don't do it from a public network that is easily hacked. Double check that you are using a secure website, and it is the actual website opposed to a scam. If at anytime you have any hesitation if the website is authentic, contact the provider immediately.
Store paperwork in safe place.
Whether it is your W2 or your entire tax return, store this in a safe place like a locked file cabinet in your home office. Don't just leave important documents lying around to get easily misplaced or tossed around. Besides having them at your fingertips when you need them, you won't have to worry about them getting in the wrong hands. How Long Do We Really Need to Keep Those Papers?
Check your credit report.
As always, you should be checking your credit report from the three credit reporting agencies: Experian, Equifax, and TransUnion. If you spot anything suspicious or any errors, contact the agency immediately to take action to repair it. If someone has stolen your social security number during tax season and opened up a new account with it, it will appear on your credit report.
How will you keep your information safe during tax season? Have you ever had any issues with identity theft while filing your taxes?
More Tax Topics
---

You can get my latest articles full of
valuable tips
and other information delivered directly to your email for
free
simply by entering your email address below. Your address will never be sold or used for spam and you can unsubscribe at any time.